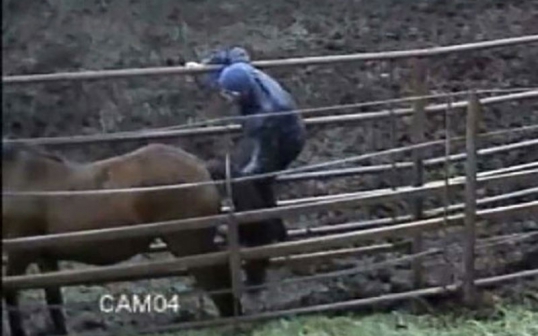 The man tried to set fire to the CCTV camera after the lewd act
His infuriated girlfriend dumped him after seeing the video of him with the horse
A disgusted girlfriend dumped her partner after he was allegedly caught on camera having sex with a horse.
The pervert, who has not been named, lit a cigarette and smiled after the apparent indecent act on a farm.
But when he noticed the CCTV camera, the man reportedly set fire to the bale of hay on which it was resting in a desperate bid to destroy all evidence.
Other cameras reportedly captured the man igniting the inferno near the oil-rich city of Ufa, west Russia.
Police arrested the man who has since been dumped by his girlfriend
Somehow, the footage remained preserved despite the arson attack and police investigated the matter.
The clip allegedly shows the man "pushing a mare into the corner of an outside arena, first touching her with his fingers, and then having sex with her."
"A young man who was shown setting the hay on fire did so right after having sex with one of mares. Whatever got into his head is still not clear. He has a girlfriend or rather he did have a girlfriend," said a Russian news report.
The man was immediately recognised by officers, who have arrested him on suspicion of arson and may face further charges of abusing an animal.
His girlfriend was "inconsolable, furious and humiliated," according to reports.
Social media users were also sickened.
"He should be castrated," wrote one person.
"This is rape of the horse. He must be punished," a further online comment read.
Another said: "This girlfriend must be deep in thoughts now."
Related Topics