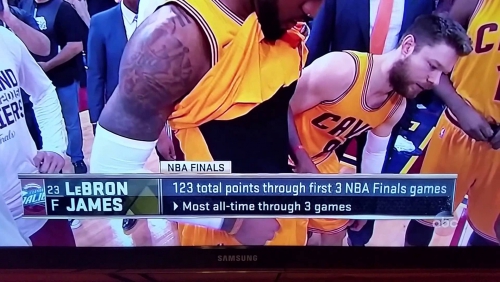 The basketball star accidentally revealed his manhood to millions of viewers on live TV after readjusting his shorts
The internet has gone into meltdown after NBA star LeBron James accidentally flashed his penis to million of viewers.
Supporters all over the world were watching the live TV broadcast at the time of the accidental flash.
James was adjusting his shorts before tucking in his jersey, during which he pulled down the black compression shorts he wore under his gold game shorts.
In doing so, he exposed himself to the audience which averaged about 18.5million viewers.
Predictably, Twitter soon went into meltdown after the incident.
One user wrote: "Did anyone else see LeBron James flash the camera?" while another added: "Am I the only one that just saw LeBron James flash mini-James?"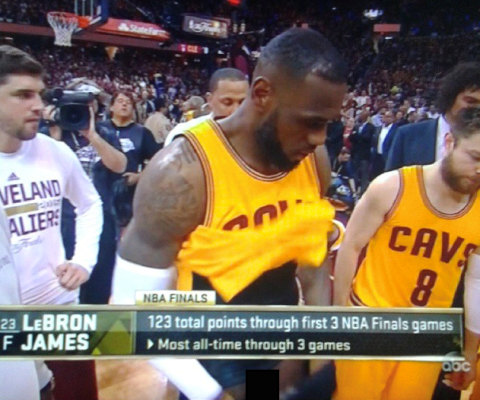 But the basketball star's disastrous night wasn't over after he accidentally fell into the crowd, just moments after showing the world his manhood.
James required stitches in the head wound as his Cleveland Cavaliers side were beaten 103-82 by Golden State Warriors.
A foul by Andrew Bogut caused him to fall off the side of the court, hitting his head onto a camera.
James lay on the side of the court while holding his head, as his team-mates and Cavaliers staff gathered round to ensure that their star man was not too badly injured.
James, playing in his fifth successive finals series, said: "I was just trying to regain my composure, and I was holding my head. It was hurting.
"I was just hoping I wasn't bleeding. But obviously the camera cut me pretty bad."
Related Topics