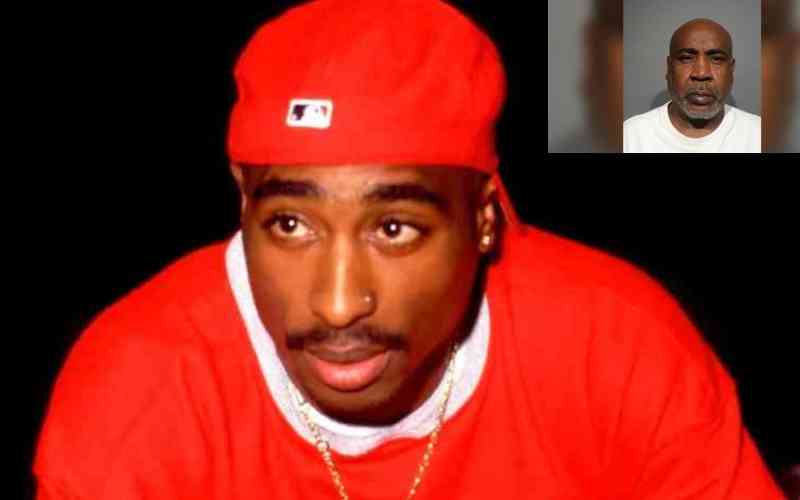 Over 27 years since the shooting of iconic US rapper Tupac Shakur, a man has been arrested in connection with his killing.
Duane Keith 'Keffe D' Davis was on Friday, September 29, 2023, indicted on charges of murder with use of a deadly weapon in a case that has been shrouded in mystery for close to three decades.
Davis, 60, was arrested while taking a walk near his Las Vegas home and had previously been on record claiming to have witnessed Tupac's killing.
In his 2019 memoir 'Compton Street Legend', Davis claimed to be one of the last living witnesses to the killing, admitting that he was in the Cadillac that pulled up next to Tupac's BMW at a red light in Vegas on the evening of September 7, 1996.
When asked who pulled the trigger on the 'Dear Mama' rapper during a 2018 BET interview, Davis did not mention any names.
"Going to keep it for the code of the streets. It just came from the back seat, bro."
In July this year, police searched the home of Davis' wife and seized a copy of his memoir, where he also mentioned Marion 'Suge' Knight as the other living witness to the shooting.
On the night of his shooting, Tupac had come from watching a bout between Mike Tyson and Bruce Seldon and was making his way to a club in Vegas.
At the time, police said the rapper had been involved in an altercation prior to the incident.
Around 11:15 pm, while waiting at a traffic signal, a white Cadillac sedan with four doors approached the passenger side of his BMW.
Suddenly, someone inside the Cadillac opened fire, hitting Tupac on four occasions: once in the arm, once in the thigh, and twice in the chest. One of the bullets penetrated his right lung.
He was taken to the University Medical Center of Southern Nevada where he underwent heavy sedation and was placed on life support.
Six days later on the afternoon of September 13, 1996, in the intensive-care unit, Shakur tragically succumbed to internal bleeding. He was 25.
In June this year, Tupac was honored with a posthumous star on the prestigious Hollywood Walk of Fame.
The event served as a poignant tribute to commemorate Tupac's legendary recording career and his enduring impact on music and culture.
Tupac's sister, Sekyiwa "Set" Shakur, graced the ceremony to accept the honor on behalf of her beloved brother, recalling his immense talent.
With an air of both pride and sadness, Set emotionally shared her thoughts on Tupac's journey to greatness, stating, "Tupac knew deep down that he was always meant for something great, and as his little sister, I had the privilege to watch that greatness unfold."
Set's heartfelt speech resonated with the audience, touching upon the indomitable spirit that fueled Tupac's artistry and his unyielding determination to make a difference through his music.
Tupac was one of the most prolific artistes of his time, having attained major success during his promising career which was cut short.
IMBD notes: "Shakur sold over 75 million records worldwide, making him one of the best-selling music artists of all time. His double-disc albums All Eyez on Me (1996) and his Greatest Hits (1998) are among the best-selling albums in the United States."
It adds; "Shakur is consistently ranked as one of the greatest and most influential rappers of all time, and he has been listed and ranked as one of the greatest artists of any genre by many publications, including Rolling Stone, which ranked him 86th on its list of The 100 Greatest Artists of All Time."
Related Topics