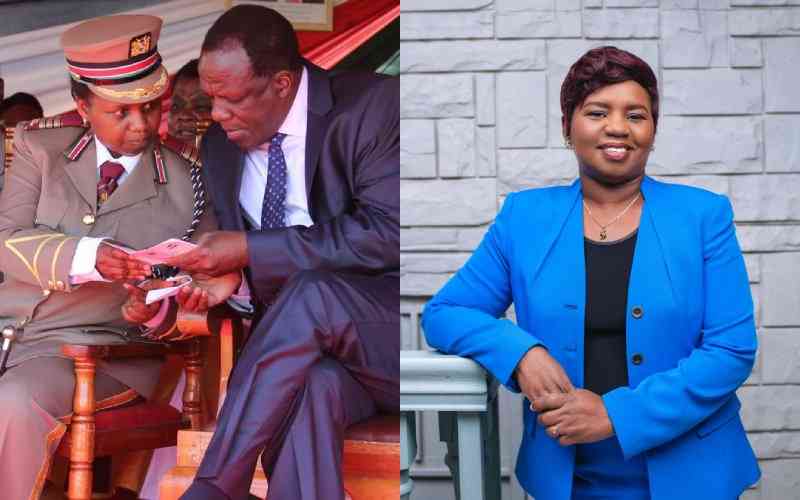 Makueni Deputy Governor Lucy Mulili is no stranger to authority, but her image today is a stark contrast to her previous life as an administrator. At one time she was usually in the Khaki uniform and peaked cap of a county commissioner, and district commissioner before that.
At home, she can make a mean cup of tea. And when it is ready, she will happily serve members of her family and guests alike.
She loves cooking. "I do very good mandazi, ugali, pilau and traditional meals like muthokoi with a dash of ginger," she says.
Muthokoi is her favourite meal: served with sautéed cabbages and pigeon peas cooked in coconut milk.
As we sit down for tea, she says that becoming a deputy governor is something she never envisioned in her younger years.
Even so, as early as her high school years, she recalls being fascinated with politics. "I read every newspaper I could come across," she says. "I followed keenly – even on the radio – everything that was happening. I was an avid consumer of local and national politics."
She would take part in political banter; listening to her peers' interpretations of the goings-on.
Her mother would joke that she was sick. Whenever there was a major political development, the old lady would tell her daughter: 'Na ile ugonjwa yako I hope haitakupea stress.' (I hope you are not stressed by that disease you suffer from).
It beggars belief that she did not join politics sooner.
As fate would have it, before any of Lucy's political ambitions could crystalise, she joined the civil service in 1997.
"I was appointed as a district officer. I worked in Nyeri, Kiambu, and Meru. Then in 2009, I was promoted to become a district commissioner, serving the district of Nyahururu," she says.
She also served as a county commissioner in Kericho, Nandi, Kakamega and Laikipia.
She enjoyed serving; except for the few misogynistic moments someone would ask, "Where is the DC?'" while standing in front of her, in her office.
Later, she would become Secretary of Administration; serving first at the Ministry of Education and then at the Ministry of ICT. For more than two decades she rose through the ranks in civil service.
She says: "I leaped into politics because I felt strongly that it was the right time. Plus, my experience in civil service had prepared me to take the risk."
Mutula Kilonzo Jr. won Wiper Party nominations to vie for the gubernatorial position in Makueni County then picked Lucy to be his deputy.
"I think my experience in public service, as well as my grasp of politics, qualified me for the job."
Despite coming from the calm of civil service, Lucy did not rest on her laurels: she hit the ground running; at times campaigning by herself, ensconced in a small entourage of handlers and Wiper aficionados.
She campaigned at sunset. She campaigned at noon. At times, the sun went down while she still canvassed the county for votes.
"Was it challenging?" I ask.
"Not really," she says, pointing out that Makueni County had already had a female Deputy Governor - Adelina Mwau.
"Our people were already used to a woman politician at this level, so it made it easier for me to go about with the campaign."
Fast forward, to August 9, 2022, thousands of Makueni voters lined up and voted. The Kilonzo Jr – Lucy ticket won by a landslide: garnering 214,088 votes. Their closest competitor had 63,252 votes. The duo would be sworn into office on August 25, 2022.
"My focus right now is to deliver on the pledges we made to the people of Makueni," she says.
Before this interview, this writer had followed the Deputy Governor on a few occasions as she went about her duties.
At her official office in Wote Town, there is always a slow trickle of county residents – mostly women – seeking an audience with her.
"We have an open-door policy. Anyone with an issue is welcome to visit. I try and make time to listen to everyone's plight.
"I have to see them. I listen to them. If I can address the issue I do. If not, I refer them to the right persons.
"Issues range from a family needing food to a parent in need of school fees; a patient with a medical challenge to women groups wanting to extend an invitation; villagers seeking solutions to water access, and so on. The issues are diverse," she says.
Her job as a civil servant, she admits, was far less complicated, something she says she had been anticipating.
"It was a comfort zone," she says. "But great people do not stay in their comfort zone - they take up the challenge."
As a DO/DC, her job was to articulate and implement government policies and directives. As a politician, she has to appeal to the people: entice them with sweet words while also working hard to deliver on what she (and the governor) promised.
When we made an appointment with her for the second part of this interview at her office she was gracious enough to squeeze an hour for us in her busy schedule.
It is a decent office; with a section for guests featuring leather sofas and an immaculate table.
The deputy governor's desk is robust and imposing. Behind it, her revolving chair and the flags of the nation and Makueni County.
"As much as I am here to serve every Makueni resident it is never lost on me that I distinctly represent the women constituency.
"One of the things I want to be remembered for is nurturing future female leaders – giving them hope to believe that women too can and should lead," she says.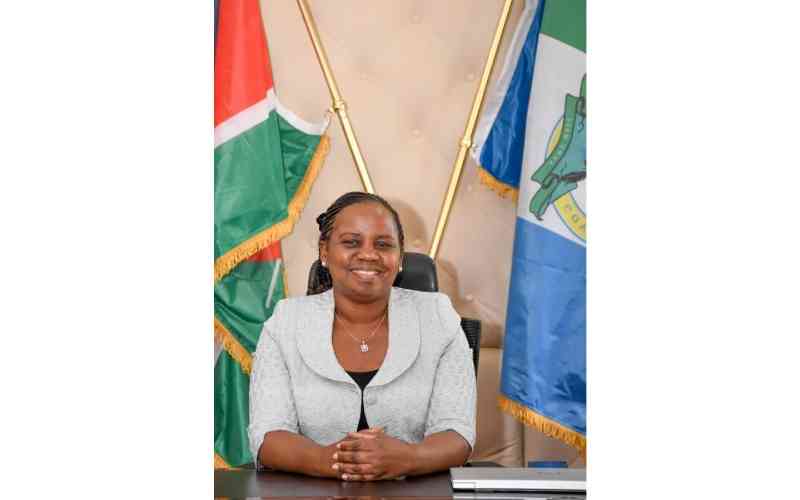 She says she grew up walking barefoot, fetching water in 20-litre Jerry cans over five or more kilometres, cutting grass using the sickle (for cattle), cooking with firewood and studying under a smoky tin lamp.
She shares a funny story about her first time in the city of Nairobi).
"It was 1990. I was visiting my aunt who worked at the Treasury. Life was remarkably different, to say the least.
"Water was available in the house – that felt so unusual for a girl who fetched water long distances," she says, amused.
The funniest incident, however, occurred one day when she accompanied her aunt to work.
"We walked into the treasury building. It had an elevator. It swung open and my aunt went in.
"I stayed outside thinking that she had gone into a toilet and needed some privacy. Only for her to come back and ask me to get in."
Lucy spent the earlier days of her life in Mombasa, where her father worked at Kenya Ports Authority.
She attended Makupa Primary before being transferred to a village school in her native Kilome constituency.
She sat for her O and A-level examinations at Mulango Girls in the then Kitui District; after which she went to Egerton University to study for a Bachelor's Degree in Sociology and History.
Today, she also holds a Masters in Contemporary Diplomacy and is studying for another in public administration.
Her typical day starts at 5am: she wakes up, reads the Bible, and spends an hour in meditation.
"At 6am I will go through my file. I usually carry one home to acquaint myself with what is yet to be done."
She will then prepare and leave for the office, where she purposes to arrive by 7am.
A year has elapsed since she took office, and she is yet to take leave. Doesn't she have a life of her own other than the job?
"Yes, I do," she says. "I have a family: I am a mother of four and a grandmother of one. Spending time with them is important to me."
Her idea of cooling off after a busy week is reading biographies. If not that, she would as well binge on gospel music by artistes like Kambua and Christina Shusho.
And when she needs to shake a leg she will switch to the slow and rhythmic tunes of Rhumba.
One year down, four more to go. Will the deputy governor achieve her ambitions in office?
Time will tell. In the meantime, she says, she is happy making the small (but impactful) steps to giving the people of Makueni clean water, habitable ECDE classrooms, healthcare and standing against sexual and gender-based violence.
With our one hour gone, Lucy begs to leave. And off she went: rushing to another one of the critical meetings in Machakos Town, all in a bid to serve the nation.
Related Topics