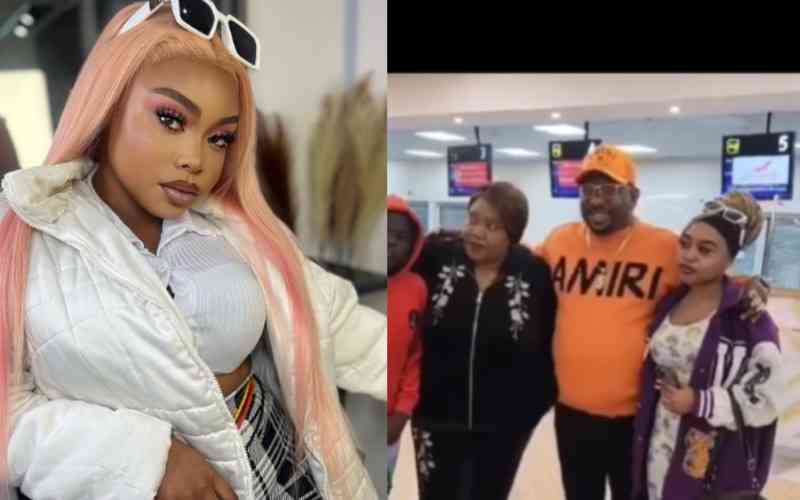 Former Nairobi Governor Mike Sonko was emotional as he saw off his daughter Sandra Mbuvi who is joining the University of Brighton International College, UK.
Sonko said it was a bitter-sweet moment for him but was proud of Sandra's achievements.
"With a heart full of mixed emotions tonight, I am very happy but sad at the same time seeing off my lovely daughter Sandra Mbuvi to London, where she'll be joining Brighton International University for a four-year course after graduating from St. Austins Academy, Nairobi.
"Dear daughter, I want you to know how proud I am of the adventurous spirit within you. Watching you spread your wings and embark on this exciting journey to study abroad fills me with happiness for all the opportunities and experiences that await you," he wrote in part.
Sonko said the house would feel empty as his wife Primrose Mbuvi will stay with Sandra in the UK for four months as she adapts to the new environment."A part of me feels a profound sadness, realizing how much I'll miss your presence, our daily conversations, and the warmth of your smile.
"The house will feel emptier without your laughter and that of your mum, who will also be away with you for four months as you adopt the new environment and culture. Safe travels, and may your journey and new life be filled with success and happiness. I love you so much," he added.
Sandra has always been her father's first line of defence whenever he faces social media backlash and earlier this year she asked Kenyans to stop bashing the former governor for flaunting cash.
Through a post on social media, Sandra said her father was upset and had every right to rant. She further called for a sober approach to the matter saying the public should not jump to conclusions before hearing his side of the story.
"Guys please stop attacking my father in that video. Everyone gets upset and if it were you in that position, you would have flipped even worse [sic].
"You all don't see things from his point of view but then so quick to jump to conclusions. He is human too," she wrote.
In the undated video, a visibly upset Sonko hurled insults at unnamed targets as he opened several boxes full of 100-dollar notes and 1000-shilling notes.
Related Topics