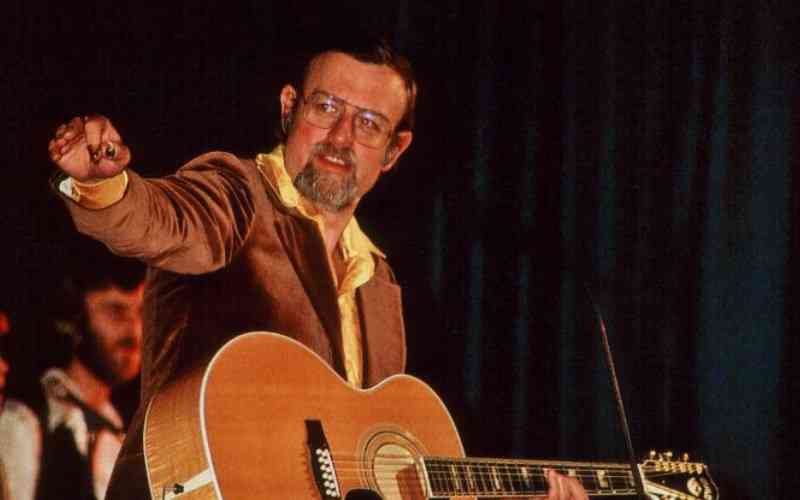 My land is Kenya, right from your highlands to the sea/You'll always stay with me here in my heart, here in my heart/You only got one childhood/And the memories that spring/When you see your house, the tree you climbed..."
Roger Whittaker's 1982 folk song fittingly goes, for the world-renowned singer was born and raised in Kenya.
It is a song that Kenyans remember him for in the wake of his death on Wednesday, aged 87.
The singer died in a hospital in southern France where he settled after an illustrious career spanning over half a century, according to a statement.
"His parents hailed from Staffordshire in England: his father came from a family of grocers; his mother was a teacher. The music of East Africa left a mark on Roger's childhood," a biography on his official website reads in part. Reports indicate that the couple ran a shop in Nairobi's Westlands, near present day The Mall.
The musician has been described as an extremely proficient whistler, with his extraordinary composition Mexican Whistler having reached number one in three different European countries.
"But it wasn't until he released Durham Town (The Leavin') that he got a Top 20 hit in the UK. The song's success took him by surprise, according to comments published on his website," wrote The Guardian, a UK newspaper.
Even for those who never set their eyes on Roger Whittaker, his enduring piece My Land is Kenya is a constant reminder of the beauty and splendour of his country of birth.
The song is often played during national days and other patriotic events and is in much the same league as the ageless Jambo Bwana hit, the unofficial social anthem in Kenya.
The song was not an afterthought. Whittaker spent his formative years in Kenya where his father, Edward, had moved in 1929 from Staffordshire, England, before marrying Viola, also English, the following year.
Whittaker was born on March 22, 1936. From their first home in Thika, young Whittaker must have marvelled at the lush beauty of the countryside.
On clear days, the snow-capped peaks of Mt Kenya would be clearly visible from his home. And so were the Aberdares Ranges where he would later spend a couple of years fighting for the British. The nearby Chania Falls cascading to join the Athi River must have filled his days with wonder.
At 14, Whittaker enrolled at the Prince of Wales (now Nairobi School) after which he was conscripted into the Kenya Regiment, postponing his dream of working in the medical field. For two years, Whittaker hunted the dreaded Mau Mau in the unforgiving terrain of the Aberdare Ranges.
Among the much sought-after freedom fighters hiding within the dense forest was Dedan Kimathi, who was captured in 1956.
In the same year, Whittaker (colloquially named Roger Waithaka by some locals) was demobilised.
"Despite fighting with the British colonial army in Kenya, he is also very popular in the country. His song My Land is Kenya, in which he professes his heartfelt love and connection to the country where he was born and grew up, is often played on TV and radio during national holidays or during election campaigns," BBC reports.
With his fighting days over, Whittaker turned his attention to the deferred medical studies, enrolling at the University of Cape Town in South Africa. However, he quit after 18 months to try his hand in teaching.
Still, his stint at teaching had its drawbacks as Whittaker lacked the qualifications needed to propel him to higher ranks.
"It was a very exciting time. I was teaching -and loved it! However, this was just an apprenticeship. I could go no further because I had no qualifications. The next hurdle was to find a suitable university," his online biography says.
The University of Bangor in Wales was his next stop where he studied zoology, biochemistry, and marine biology. He was a good performer in class, but could not starve his appetite for a good gig, hence his myriad globally-acclaimed compositions.
"Take your chance. Have a try in show business and if you haven't made it in ten years, come back here and teach. I shall always have a place at the university for you," his professor advised him. Showbiz got the better of him.
His final act for Kenya was in 1982 when he filmed Roger Whittaker in Kenya, a project enumerating Kenya's history.
His family remembers him as "an iconic artiste, a wonderful husband and father. He touched so many hearts with his music throughout his life and will always live on in our memories."
Related Topics