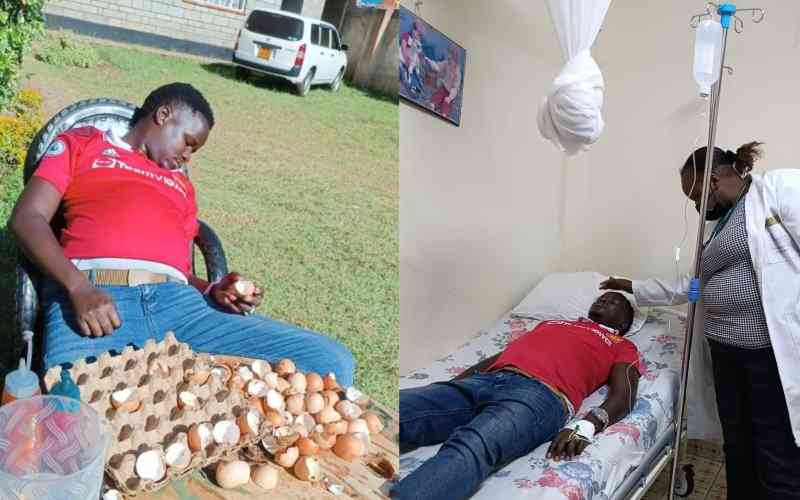 What began as a joke almost ended tragically for a 27-year-old Manchester United die-hard fan in Eldoret, Uasin Gishu County, after losing a bet.
Thomas Kiptanui Kemboi, popularly known as Kapkeno, had promised to consume a tray of boiled eggs if the Red Devils lost to Arsenal in the English Premier League.
The match ended 3-1 in favour of the Gunners and Kapkeno had no choice but to honour his pledge.
While in the company of his friends and videographer, the artist, famous for his hit song 'Wachawi' began a live session on his Facebook page, carefully peeling off the shells as he devoured the eggs, one after the other.
He had some salt and tomato sauce on the side to spice up his protein-laden meal but took frequent breaks to sip water lest he choked on the eggs.
"Due to the loss of Manchester United to Arsenal, I (Kapkeno) am fulfilling my promise of eating one tray of eggs for my fans," Kapkeno wrote on his Facebook page.
After devouring around 15 eggs, he suddenly collapsed although his friends thought it was a stunt.
In the video, Kapkeno's friends are heard bursting out in laughter while encouraging him to complete his challenge.
"We thought that it was all part of the script. We were hopeful that he could consume all the eggs. We did not think that it was a serious matter and that he could end up admitted to hospital," said Victor Kimutai, Kapkeno's videographer.
Kapkeno said that before passing out, he had experienced a fever and excessive sweating, and his stomach begun to swell.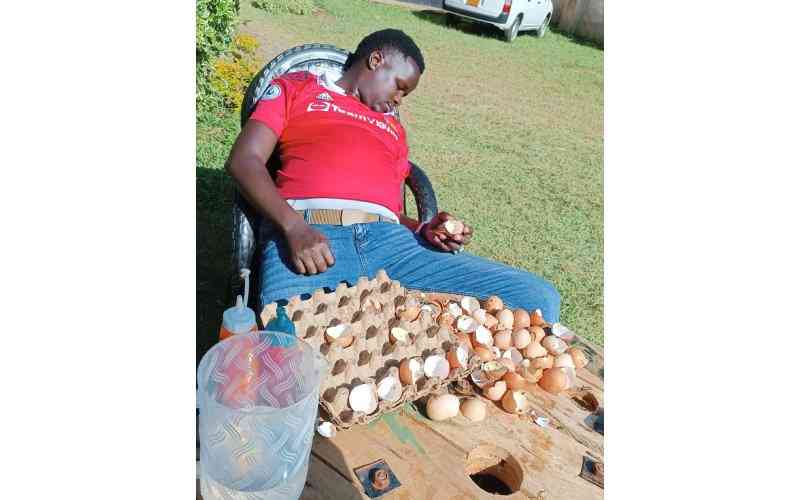 "One minute I was energetic and ready to complete the challenge before me and the next moment I was in hospital with an IV drip on my hand. I was diagnosed with constipation and was injected with three IV fluids. I am grateful that I am now doing well," narrated Kapkeno after he was discharged from hospital.
He later warned youths against irresponsible betting saying some might prove fatal. Kapkeno was, however, adamant that he would still continue rallying behind the Red Devils despite their far-from-pleasing start to the new Premier League season.
United currently sit 11th on the log after losing two of their first four matches. With the EPL taking a break to pave way for the international matches, it remains to be seen how Erik Ten Hag will turn around the fortunes of the English giants.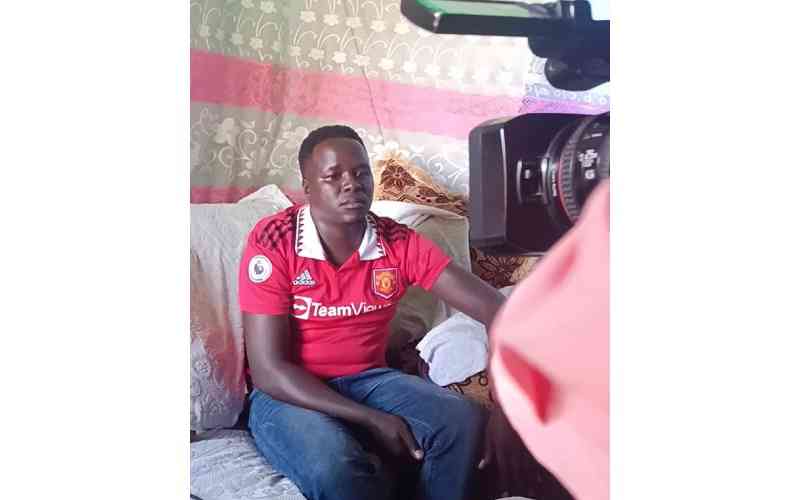 Related Topics