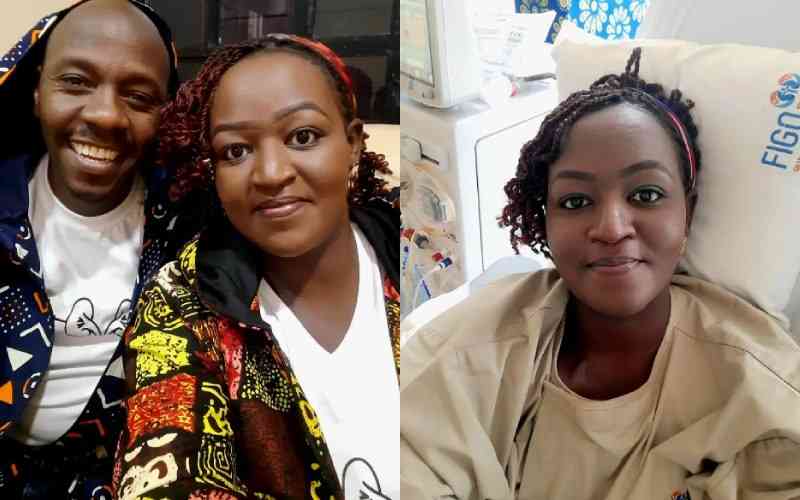 DJ Krowbar has taken to social media to ask for financial assistance to aid his wife Wanjiru Karumba's kidney surgery after she was diagnosed with Acute Kidney Injury (AKI) about two years ago.
In a video shared on his Instagram, the former Tukuza show host said his wife is due for surgery and needs Sh6million.
"Hello guys, Krowbar here, this is my wife, her name is Wanjiru. My wife was diagnosed with kidney failure two years ago. It has been a crazy journey but now there's light at the end of the tunnel. Heroes don't come dressed in caps, heroes look like this. This is Mercy, the hero in the story. This kidney transplant journey has three faces to it; pre-surgery, surgery and post-surgery and we need financial help on this journey, this is why we are asking you to stand with us," he shared.
The couple opened up on Wanjiru's condition sometime in 2022. The DJ explained that his wife's kidneys were functioning below 15% and therefore would have to undergo dialysis to help her manage the situation until a more permanent solution is available.
"Some of you might know but for those who don't know; here we go. Unfortunately in April this year, my wife was diagnosed with Acute Kidney Injury. In layman terms this means her kidneys are functioning below 15 per cent and we began a journey that took many weeks for us to accept the sad reality; dialysis."
According to Krowbar, if they hadn't made it to the hospital when they did, Wanjiru might not have made it.
"If we hadn't gone to the hospital the day we went today would have been a different story. So, for the last seven months, we have followed the instructions from medical practitioners as we faith in the rest of this journey. It has not been easy; other days we laugh till we cry, other days we cry because we are so beaten. All in all, @wanjiru_karumba and I chose to be optimistic, hopeful and courageous, taking one step at a time," he shared.
Taking to her social media, Wanjiru dedicated a post to thank everyone who held her hand during the difficult moment, especially her husband.
"To everyone who took time to whisper a prayer and wish me well on my birthday, thank you so much for the overwhelming love, I am speechless. To my amazing husband DJ Krowbar, you are truly the man of my dreams, thank you for being there for me on every step of the way and being my support system, I love you to bits babe. One thing I know for sure is what God cannot do does not exist. We shall testify of His goodness soon," she wrote.
Related Topics