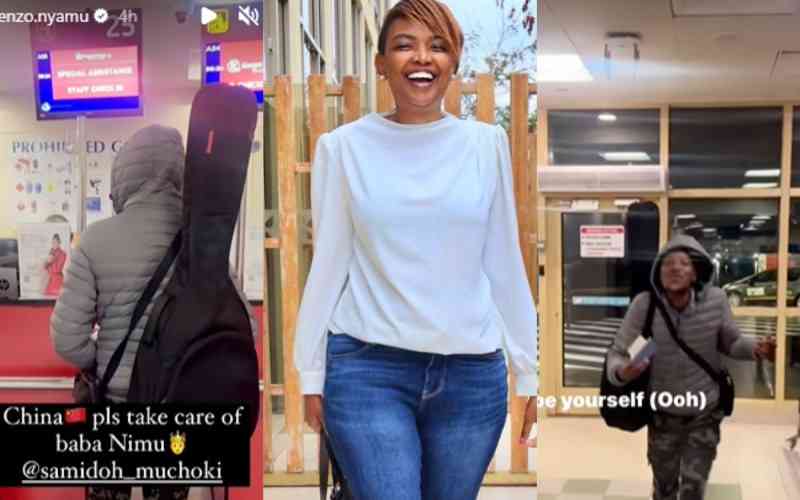 It is no longer a secret that Nominated Senator Karen Nyamu is madly in love with Mugithi star Samidoh, and she is not shy to express herself.
As the singer was heading out to China, Nyamu took to her Instastories to pamper him with love.
"China please take care of Baba Nimu," she wrote.
Nyamu had also recorded Samidoh as he went to board at the airport and the singer took time to turn around a blow a kiss.
Just last week, Nyamu shared a throwback photo of herself and Samidoh.
The photo, which was supposedly taken in Dubai in 2020, showed the two beaming with smiles while holding each other.
"TBT the year is 2020 in dubai. Wadau hapa ni kama nilikua nimepigwa ngeta ama na kuna simu yangu mpaka wa leo sijawai ipata, ilipotea hii siku," she wrote.
Samidoh swiftly responded by saying, "Ningejishuku lakini techno?………(In Nyako's voice)".
Nyamu also appeared to take a dig at Samidoh's first wife Edday Nderitu, after the US-based woman recently announced that she was done with Samidoh.
"Mtupe nimsanye" wrote the nominated senator.
A fortnight ago, Edday confirmed leaving Samidoh, clarifying that she is not in any polygamous union.
Through a post on her socials, Edday said she opted out of her marriage with the Mugithi star over what she termed as a toxic environment.
In a quick rejoinder, the Kairitu Gakwa singer said people who can't address issues privately often chase attention.
"If they can't privately address you, then understand their public criticism is only for attention.
"Don't take it personal!" wrote Samidoh.
Related Topics