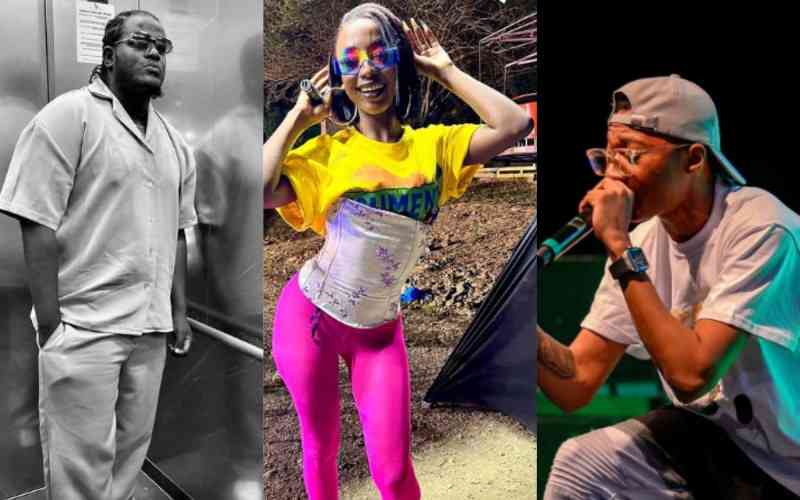 As an artistic movement born in the Bronx, hip hop travelled the globe and took root in Nairobi, shaping youth culture and giving voice to stories of struggle and triumph.
From the graffiti on city walls to the beats blaring from matatus, hip-hop is the soundtrack of urban life.
Its influence extends from the sprawling slums all the way to the affluent suburbs.
Hip hop first emerged in Kenya in the 1990s, pioneered by artistes like Kalamashaka, K-South and Hardstone.
These pioneers faced many challenges, including lack of access to resources and exposure. However, their passion for the genre and determination to build the scene resulted in innovative and uniquely Kenyan hip-hop.
It later gained popularity as artistes mixed hip-hop with other genres.
Talented hip-hop heads such as Kalamashaka, Kleptomaniax and Ukoo Flani Mau Mau led the movement.
Fast forward to the 2000s, the genre gained mainstream recognition and commercial success.
Artistes who shaped this era include Octopizzo, Khaligraph Jones and Camp Mulla. They produced popular, socially-conscious music and gained regional recognition.
By the mid-2000s, hip hop had become integrated into popular culture. It was common to hear hip-hop on prime-time radio and see artistes performing on national TV.
Artistes like Jua Cali, Nonini and P-Unit achieved commercial success and stardom. This period established Kenya as a hip hop powerhouse in Africa with a vibrant and influential scene.
Today, Kenya's hip-hop scene is thriving and will continue shaping culture. By giving voice to youth and addressing issues that matter, it has become an influential platform for political discourse and a medium for self-introspection.
Hip-hop has endured many changes since the 90s and 2000s, but still remains the country's most popular genre today thanks to the trailblazers of the golden age.
New School
And now, there are new faces taking the mantle and leading from the front. Artistes like Karun, Fena Gitu, and Boutross are gaining popularity with a distinctly Nairobi sound and style.
Some of these artistes have built a huge following through social media, enabling them to bypass major labels. They release music on their own terms, maintaining artistic freedom.
Their DIY ethos has inspired other up-and-coming artists. New collectives and record labels are forming to support emerging talent.
With artistes embracing both global influences and local roots, promoting positive messages, and supporting one another's success, the future of Kenyan hip-hop culture looks promising.
Over the years, different subgenres have been coming and artistes both international and locally have been riding on the wave.
Here are some of the most outstanding artistes active on the hip-hop scene in no particular order.
Buruklyn Boyz
The well-known music group hailing from Buruburu, Nairobi, was started in 2019.
Their hit song 'Nairobi' gave them a deserved grand entry to the music scene.
With Ajay's hard punch and well-thought bars and Mr. Right's wavy flow, him being the 'hook master', it is near impossible to beat their deadly combination.
With their album 'East Mpaka London' they gained recognition in Africa and also got their music played in Europe and America.
A highly anticipated project is in the works and it will be dropped hopefully before the end of the year.
Wakadinali
The well-known Kenyan trio comprising of Scar Mkadinali, Domani Munga and Sewersydaa has put Kenya on the map due to their popular music.
Wakadinali gave life to underground music in the country and this in turn gave them huge success over the years.
Their uniqueness in style makes them stand out from the rest and it is not easy to replicate their style.
Whatever comes out of Munga's mouth is pure musical genius, whatever Scar says, the streets jam to it and whatever Sewersydaa comes up with in his rap is a display of high rap IQ.
View this post on Instagram
Davaji
The young prodigy hailing from Kaloleni, popularly known as '1000 streets', is the definition of a 'youngin' with the heart of a lion.
His perfection in drill shines through in his music.
One can be as sure as day that whatever Davaji raps is a straight hit.
His most recent mixtape was received very well. He has also captured the fashion scene with his '1000 streets' brand.
There is a bright future ahead for Davaji.
Wangechi
Wangechi made her debut on the music scene with Hype Masters Entertainment. She then left for Nuke Recordings where she made her first mixtape 'Consume'.
She continued making a name for herself and in 2013, she featured on CNN's 'African Voices' segment where she was identified as a rising Kenyan musical star.
In 2015 she made an appearance on Coke Studio Season 3 where she partnered with Ben Pol.
She has also shared the stage with global icons such as Tim Westwood, Morgan Heritage and Ne-yo, whom she has collaborated with.
She recently dropped a song with Buruklyn Boyz, which shows she is in sync with an ever-evolving music industry.
Silverstone Bars
Popularly known as 'Double S Barz', Silverstone Bars has been on the music scene since 2014 as a recording artiste. She recognition in 2018, and was featured on 'Khali Cartel3' a well-known cypher.
She has since then collaborated with big names like Boutross, Scar Mkadinali and Buruklyn Boyz.
The uniqueness in her style is her delivery of punchlines and mixing Swahili and English in her lines with ease.
She has big potential to be even bigger.
Breeder LW
Breeder is the rapper poised to succeed Khaligraph Jones. His build, imposing demeanour and commanding presence fill the space with superstar quality.
The fact that the phrase "bazenga" is really used in everyday discourse shows how much of a trailblazer the rapper is.
Records like 'Bazenga Dadii' are examples of records that have taken on a life of their own on the streets.
Ssaru
Ssaru is one of the most well-known acts in contemporary urban Kenyan music. She is making her inroads into the mainstream and her energy is unmatched.
Whether it is for hit-making, news cycle headlines or clickbait, Ssaru represents women who want to speak their minds.
Her music revolves around dance music, covert raunch and no tongue-biting truths, among other things.
Trio Mio
Trio is undoubtedly the newest household name in show business. He is a gifted wordsmith and a dynamic hit-maker.
His agile voice and style have been compared to the great E-Sir and he is definitely poised for greater heights, musically speaking.
Related Topics