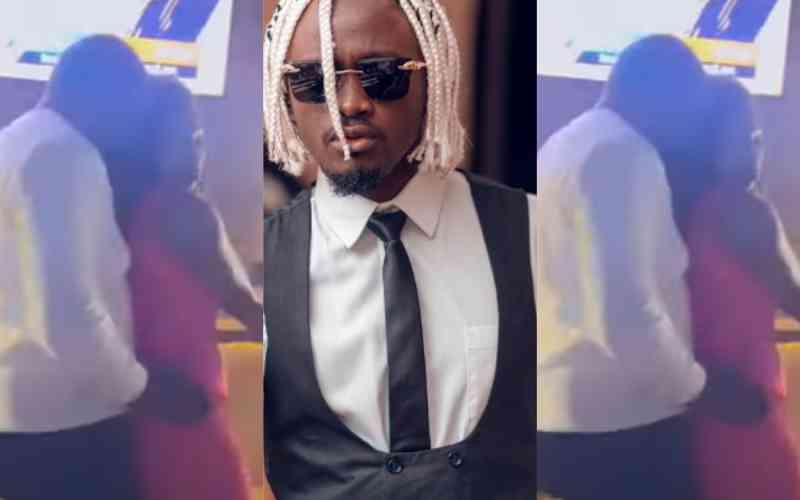 Content creator Terence Creative and YouTuber Diana Marua have caused a stir online following their dance video shared on social media.
In the video, Terence and Diana are seen dancing close together before the camera is panned to capture Bahati who was cheering them on as they hyped his new song Mukando.
"Na nilikuwa nimewa warn @diana_marua tukutane pale Youtube ya @bahatikenya #Mukando," posted Terence to which the YouTuber responded saying, "Acha tukate Mauno sisi, wakiandika story za Jaba #MUKANDO."
Although the couple seemed unbothered and having the best time of their lives, a section of netizens were quick to call them out accusing them of not respecting one another while others simply dismissed the dance style as harmless.
_karissabaya Atakama ni content that's too much marriage is not respected skuizi
isacaius_ Your body is the temple if God, respect someone wife and respect yourself too ………doing this in the name of content!!!!It's so sad. God have mercy
lynnet_kaku Tunataka kuskia bahati anasema nni
chemeli_joan Kenya ni inchi ingekua mbele sana if everyone was minding their own business
fraciahmartin It's just dancing nothing having fun
bmb.mf___evansss This is madness now‼️
tata.wanairofi Me, Bahati, and Milly Chebby same Whatsapp group.. watu wajibambe bila hasira Wala pressure.
Not too long ago Diana and KRG the Don were under fire over their interaction during a night out in the presence of Bahati and a bunch of their friends.
Setting the record straight, the social media influencer explained that Diana is like a sister to him adding that their seemingly touchy gesture was just them talking innocently.
According to KRG, the only time he interacts with Diana is when she is in the company of her husband and does not even have her mobile number.
"Diana ni sister yangu kimaisha. Nampenda sana. Mtoto wake wa pili mimi ni God father yake. Tulikua tu tunanongonezana. Tulikua tunadance tukienjoy. Siwezi mtamani na ata sina number yake. Tunaongeanga na Diana wakiwa na Bahati," he explained.
Addressing the matter in a previous interview, KRG stated that netizens blew the whole matter out of proportion when they were just having innocent fun.
"Diana is married. I am not her husband. Everyone should focus on their own lives. She is not a small baby to be controlled on how to live her life. I was not drunk not to understand what was happening. We enjoyed ourselves and went home," KRG said.
Related Topics