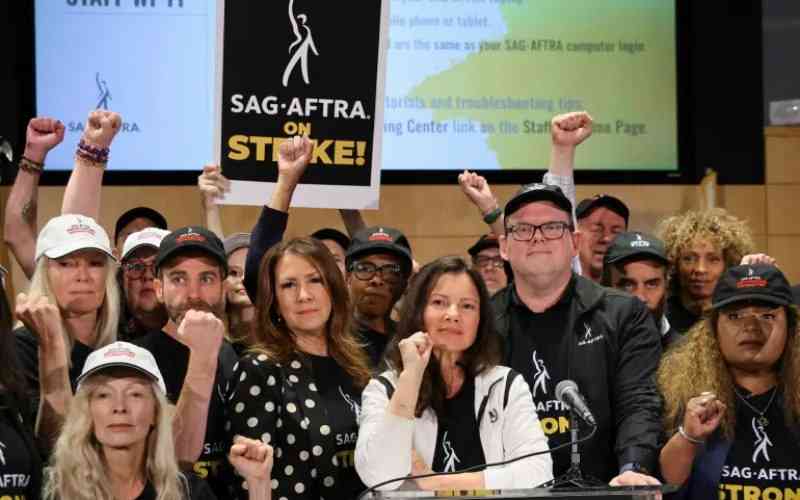 The Hollywood Writer's Strike has taken an interesting turn, with A-List Stars taking on the not-so-glamorous task of picketing alongside writers in the fight for better working terms.
Fans are used to seeing stars from top films up on the red carpet in designer brands and pricey jewels. And if it is not on the carpet making scheduled appearances, we see their images snapped by paparazzi on the go- and even then, they are more glitzy than your average Joe.
The Guardian reported on July 17 that stars like Jason Sudeikis, Rosario Dawson, Susan Sarandon, Olivia Wilde and Joey King have been showing their support, joining protests in the streets of New York and Los Angeles.
"The Ted Lasso star was asked how long he'd be willing to picket. He replied: 'As long as it takes,'" the report said on celebrated actor Jason Sedeikis.
It adds: "Rosario Dawson skipped the premiere of her latest film The Haunted Mansion in support of the strike."
Writers have been picketing the headquarters of major studios including Netflix, Amazon, Warner Bros., Universal Studios, and others, according to today.com.
The report adds: "Protestors have been brandishing signs demanding higher wages and targeting studio executives with tongue-in-cheek messages like, 'Give up just ONE yacht' and 'Pay your writers or we'll spoil 'Succession.'"
The writers asked for several changes relating to their working conditions, compensation structure, and threats to their jobs including AI. Many of their demands relate to how streaming has completely transformed the way the industry operates, as Time Magazine notes.
The New York Times reports in an explainer that the Writer's Guild of America, which represents about 11,500 film, television, news, radio and online writers went on strike after contract negotiations with studios, streaming services and networks failed.
If multimillionaire Hollywood stars are taking to the streets, is there something to learn for Kenyan actors and artistes, some of whom struggle to make ends meet? Are they getting a raw deal as well?
On its official Facebook page, the Kenya Actors Guild states that it works to bring local actors together for their betterment.
Peter Kawa, a film producer and actor says that many Kenyan actors are already aware of their worth and that the actor's guild is in the process of organising one of its first strategic meetings since the pandemic.
"I think it is a welcome idea to learn something from our international counterparts; considering that most times we look up to Hollywood and other established industries," Kawa says.
"As we speak, we just got some news from the Kenya Actor's Guild officials that we are working on having a special general meeting on August 7. As Kenyan actors, we want to start litigating and sorting out our issues. I believe that there is something beautiful coming up for our industry."
The producer adds that one major condition that needs to be looked into is the welfare of actors.
"I won't talk too much about payment, but the one thing that can stand out is welfare. Let us just be treated well, favourable working hours, free time to go and do other things and residuals; because most of our work is being explored through different platforms."
Speaking about royalties and residuals, Kawa notes: "However, most of these things are usually captured in the contract, so actors need to be very careful when going through their contracts. If they find anything they are not comfortable with, they should speak up earlier."
Kawa adds that training for valuing, visibility and social media as well as financial literacy is great in equipping actors with skills to navigate the industry.
"As Kenyan actors, we have been working towards Masterclasses and capacity-building activities, that help us understand especially the new things cropping up in the industry right now."
And in a 2022 Interview with The Standard Entertainment, actress Nyokabi Macharia reiterated the need for better working conditions for Kenyan actors.
"As an artiste, being well compensated and valued lets you put all your energy into the craft and do your best as an actor," she said.
The Associated Press reports on the undeniable union between actors, writers and producers in the Hollywood scene.
"Picketers emphasised unity between writers, who have been on the lines for more than two months, and performers, who are only on day two of striking — as well as the camaraderie between highly paid actors and those with spare screen credits who struggle to scrape by."
The report adds: "Kevin Bacon, who was among the famous faces picketing among unknowns outside Viacom headquarters in New York, said his presence was about 'seeing people out here and being aware that not all actors are super high paid actors, that they are working-class people who are trying to make a living.'"
It is no secret that there are pay differences between actors in Kenya as a local film industry professional tells The Standard Entertainment: "We can be playing the same role, or a similar role, and I might earn Sh10,000 while you earn 10 times more at Sh 100,000. These are some of the things that need to be addressed unitedly and with synergy throughout the industry."
Related Topics