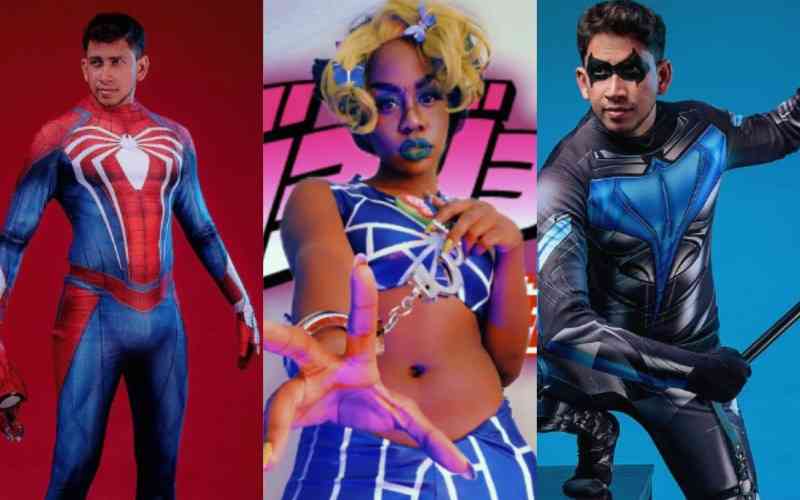 Think of your favourite character from a book, movie or any other work of fiction. Has it ever crossed your mind to dress up as these iconic characters and even replicate their mannerisms?
Imagine getting into an event where participants are all dressed like their favourite superheroes; Spider-Man, Star Wars Stormtroopers, Superman, Hulk, Wolverine, Iron Man, Captain America, Aquaman or Barbara Gordon.
Cosplayers aim at recreating the characters as accurately as possible, putting their own spin on them. They do this with the help of props, wigs and accessories.
As the fandom grew, there was a need for a community where like-minded individuals could meet and share their love of the art.
Today, some of the events where local costume players meet to talk about the art of cosplay include Nairobi Anime Meetup and Anime Kenya.
Although cosplay is fairly new to Kenya, the events draw in crowds of cosplay enthusiasts.
Naiccon is the most known and has been going on since 2014. They host the Kids Convention, the Nairobi Comic Convention and the Mombasa Comic Convention.
Omatsuri is a convention exclusively for anime and manga fans.
Love for anime
Jessica Joestar has been cosplaying since 2014. She loves anime and happened to make new friends who introduced her to cosplay.
She works in UI, UX design, an interface user experience and takes night classes to learn how to code.
"I got interested in (cosplay) because I love to experiment. I love to create things with my hands. Cosplay gives me the ability to think and come up with new things and see things you would not think would be possible," she says.
The biggest challenge she has faced when it comes to cosplay is the lack of access to materials and costumes.
"Out there, cosplay is already established. If we count all the conventions in the US that go on every year, that's millions circulating. This is a multi-billion industry so people have been able to invest money into coming up with new materials and distributing them. They have been unable to distribute in Africa because many do not know we have a community," she says.
Locally, cosplayers have to come up with solutions, experiment with whatever materials are available here and improvise. "You may see that as a plus because it enables us to make creative solutions to the problems that we have," says Jessica.
Jessica goes for thrift clothes needed to cosplay, but most of the time the costumes are really specific she has to make them herself.
"I feel that part of being an African cosplayer is to just recycle and minimise whatever costs you are using. There are a lot of people who also use paper and cardboard because you can use very simple material and it still looks good," she says.
Jessica admires black cosplayers, especially in the USA, because there were a lot of problems with how people viewed black cosplayers.
"When I started cosplaying around 2014, you could post your cosplay and then get random people leaving racist comments because you are cosplaying a white character. Black cosplayers have always been victims of that kind of bigotry online; you cannot do something for fun without someone bringing your race into it.
"But over time, I have seen the black community fighting back, making sure they know that is not okay. I can now comfortably post, it has made me more confident in what I do."
She says it is a lot more forgiving because she is in Africa because most of her audience is African. However, on platforms like TikTok where audiences from all over the world view your content, there will always be trolls and the best you can do is ignore them.
She recalls the first-ever convention in Kenya. She saw the poster and told her mum she wanted a kitting suit made to cosplay the Joker character. On the day of the convention, she wore her suit, put on face paint and left with her cousin and headed to the convention.
"I got into a matatu from Donholm to Sarit Centre with people staring at me the whole time," she says.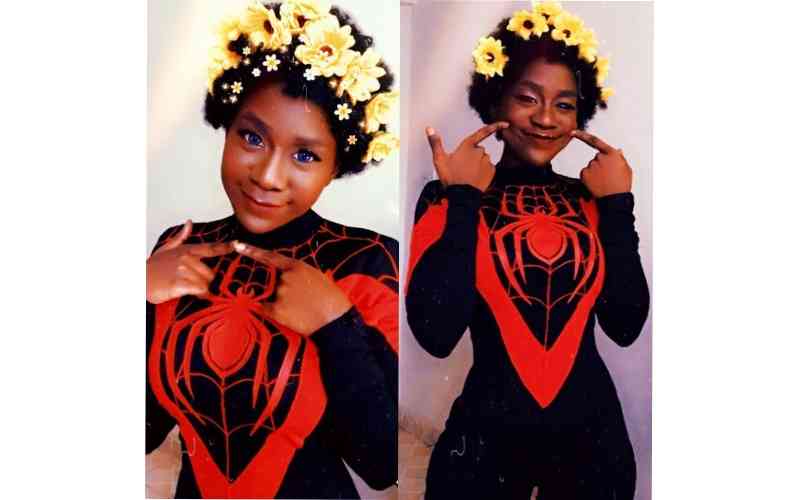 Jessica prefers group cosplays, which are more fun and provides opportunities to take fun pictures and videos or get into character.
Jessica's favourite cosplay was a character called Hawk from the anime My Hero Academia. "The costume has these big wings so it seems like it is taking up all the space. So it felt glorious to have the wings and want to work on more costumes that have wings."
Jessica believes she will be doing cosplay for a long time. "There is just so much to explore. I feel like we could never exhaust all of it.
Her advice to anyone interested in cosplay is that there is no right or wrong way to go about it and you do not have to nail all the details.
"You can start with the skills that you have. If you know how to sew you can use that. If you can crochet, work your magic on your outfits. If you know where to find good outfits, thrift. If you know how to do make-up you can start with that and learn more skills as you go along," she says.
Hobby and lifestyle
Arianne has been cosplaying since 2017 and was inspired by friends. "Being someone else, you have a day or however long to just see life from someone else's perspective," was her response when asked why she loves cosplaying.
Making cosplay outfits usually take a lot of time so time management is crucial. Like Jessica, Arianne thrifts in whatever she can and makes the rest herself.
For Arianne cosplay is a hobby and a lifestyle. She incorporates pieces inspired by various characters for her everyday style.
"I am a musician by trade and love to incorporate little things from anime or movies or just whatever I like at that time into my looks."
Arianne also enjoys crocheting.
Her favourite cosplay moment so far was when she helped her brother make a costume for a convention and he won third place.
"I prefer group cosplay because there is a sense of togetherness. I cosplayed with my friends around Halloween time and you end up forgetting the looks people give you because you are with friends having a good time."
Arianne looks up to her friends and local cosplayers.
"Jessica (jess.no.maybe) on Instagram and Xavier are so good at making such amazing outfits and costumes. Asgard (theasgardoescosplay) who posts almost every day is another cosplayer I look up to so I am always excited to see what they do."
Her advice to anyone who wanted to get into cosplay is you should just do it and have fun with it.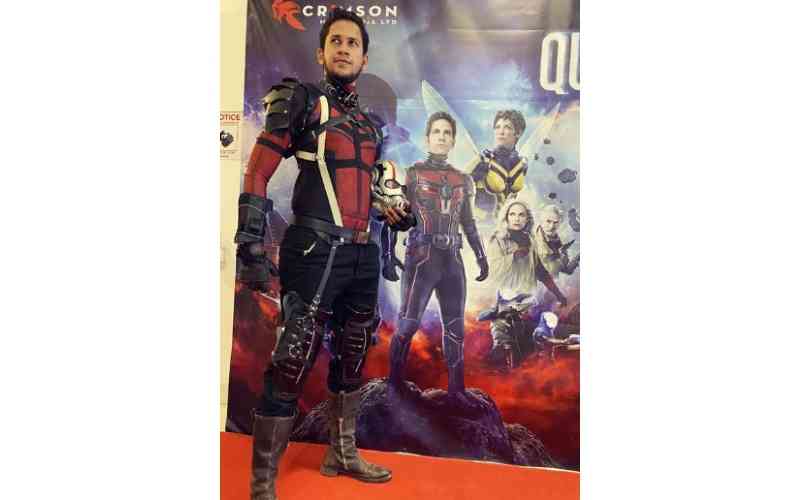 Cosplay community
Early this year, Nairobi played host to a Cosplay Community – Kenya – workshop held at the Nairobi Game Development Centre, Parklands.
Organised by Movie Jabber's Cosplay Community Workshop (#CosComKE2023), the platform is one where cosplayers come together to exchange ideas and learn from each other.
It is facilitated through live panels and question-and-answer segments hosted by local and international talent, as well as other fun activities.
Tickets were only being sold to 150 attendees online. Participants – cosplayers – were encouraged to come in cosplay.
The trend has been growing in the last five or so years when cosplay combined with comic, animation and gaming started becoming a mainstay in modern-day entertainment in Nairobi city.
In 2017 for example, Nairobi hosted the Kenya Cosplay Convention at TRM Mall Convention Centre, a fun event that emphasised the showcase of costumes to portray characters from fiction, especially from manga, animation, and science fiction.
Participants wore costumes and fashion accessories to represent a specific character in comic artiste work, comic books, cartoons, video games, eSports games, visual art, animation, live-action films and television series.
But this is not just a Nairobi craze. It is a trend gaining traction across the world.
Among the biggest cosplay meetups include The Singapore Manga, Anime, Games and Cosplay Assembly in Singapore, The Vancouver Anime Meetup Group and the SoulGeet.com Geek Singles Nights; the Geekpub in London, the South East Geek, also in London and the Masquerade Soirees, Costume Parties and Elegant Evenings in Long Beach, California.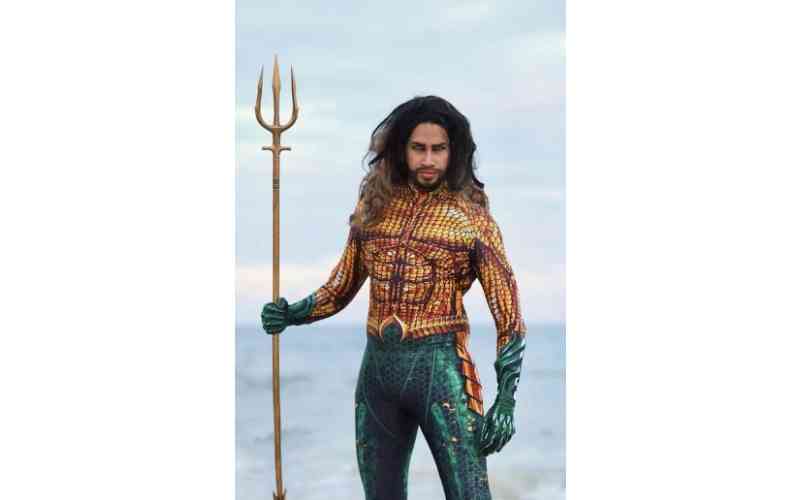 Related Topics