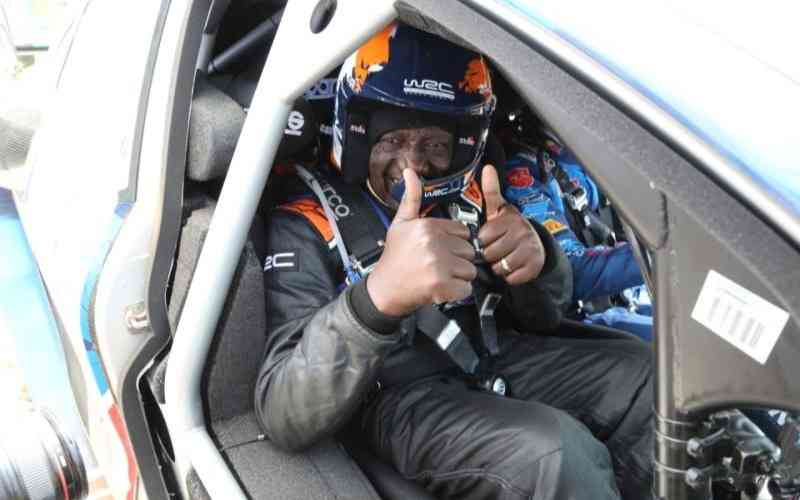 President William Ruto officially waved off the 70th edition of the Safari Rally on Wednesday, June 21, 2023, before getting a front-row experience courtesy of M-Sport Ford Puma driver Pierre-Louis Loubet.
The Head of State, albeit hesitantly, wore the rally attire, complete with a helmet and joined Loubet in his car, ready for a 5.4-kilometre high-speed drive.
The Frenchman was instructed not to drive too fast and he knew he had to be extra careful due to the responsibility he carried, literally.
Off they went, navigating through the Loldia section. Loubet's eyes were focused on the road as he could not afford to make any mistake and during the drive, the President was asked whether he was enjoying the cruise.
He gave a rather nervy thumbs up.
After a few minutes it was over and Ruto sighed in relief. You could tell he couldn't wait to get out of the car.
"I don't know what to say, that thing is crazy!" he beamed, gesturing towards Loubet's Puma.
"Absolute madness - but it is an experience you cannot forget. The sheer speed, you can hardly see the road, you can hardly see the bends. These guys are really professional, it's a life-changing adventure.
"If you ask me whether I want to do this again….ummmh I am not sure," he said, bursting in laughter.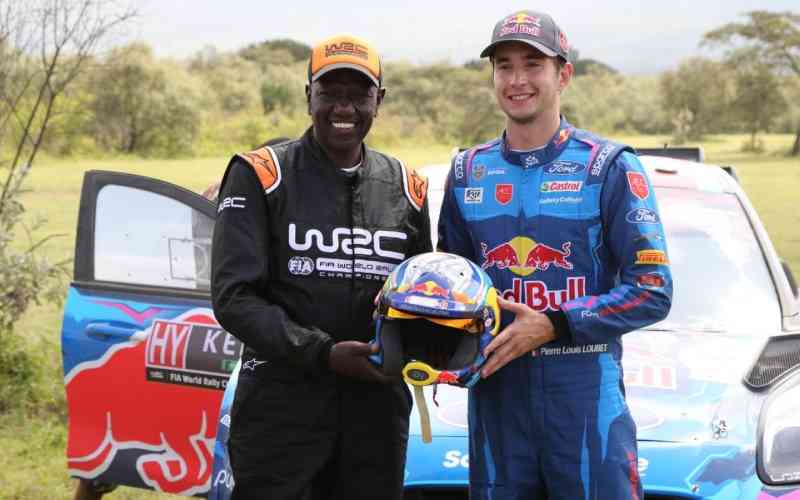 Ruto also emphasized on WRC's impact in Kenya saying it is a carnival that Kenyans love to be part of and it is a unifying element.
"Millions of Kenyans are engrossed in this. We will have great difficulty tomorrow and Friday to keep everybody at work! Those who have reasons will look for those reasons, those who don't have reasons will look for excuses. I will be working tomorrow, unfortunately for me," he joked.
Later, Loubet admitted that he broke a few rules by not sticking to the speed limit he had been instructed but was grateful all went well.
"When I was told not to go fast and I went fast, I knew I had the biggest responsibility. It was a bit stressful but it was fine," he said.
Championship leader Kalle Rovanperä will be the man to beat as action gets underway on Thursday afternoon and excitement is already building up as Kenyans have begun heading to Naivasha for an action-packed weekend.
The weatherman has, however, warned of heavy downpour so it would be prudent to carry a few warm clothes.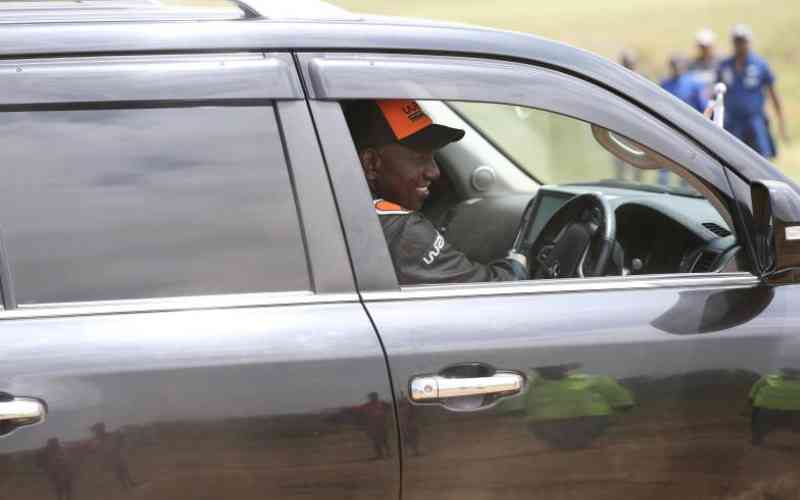 Related Topics