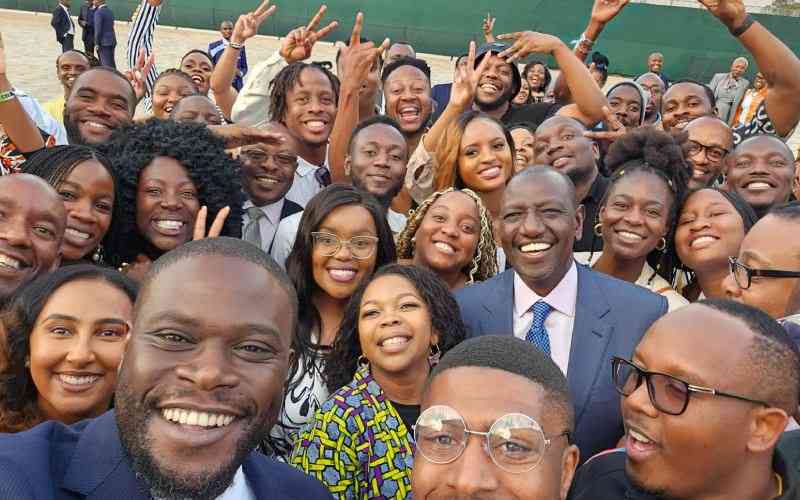 It all started with their last week's invite to State House where the Talanta Hela Initiative was being launched by the President. The discussion on how the youth and more so creatives – among them musicians, fashion designers and models, actors, and other participants in the arts space – had been factored in the proposed budget would benefit went louder after the annual budget was tabled on Thursday.
"I express my appreciation to the President for his commitment to youth accessing entrepreneurship skills and employment opportunities. The Kenya Industry and Entrepreneurship Project (KIEP) is contributing to the bottom-up economic transformation agenda of increasing the manufacturing sector contribution to the Gross Domestic Product (GDP), creating more jobs, attracting more investments and creating export ready firms," said Cecilia Mwangi, the Miss World Kenya 2005 crown holder and innovation ecosystem manager for the Kenya Industry and Entrepreneurship project.
On her part, the former beauty queen was celebrating the proposed budget allocation of Sh1.5 billion for the Kenya Industry and Entrepreneurship project in which is a Sh300 million for the Kenya Youth Employment and Opportunities project and Sh332 million for the construction of industrial research laboratories.
"I think we are headed towards the right direction. Last week, the president announced that 10 per cent of the government's advertising budget would go to content creators. It was the first time for as many creatives to step into State House and dine with the president and he was really cordial with them. That is not forgetting that the previous week, the president had also hosted the Kenya National Drama and Film Festival winners in State House, Nairobi, where he committed the government's support for the creative economy," said Guardian Angel, a musician and content creator who was among those invited to State House.
The 10 per cent advertising budget in context amounts to Sh30 billion.
Come mid this week, President William Ruto had yet another date with creatives, at State House, where he met Black YouTube content creators in State House from the UK, Canada, the US, South Africa, Nigeria and Kenya. During the meeting, content creators welcomed the news of reduced tax. Initially, it had been announced that they would be required to pay 15 per cent withholding tax on income earned from digital content monetisation.
The creators experienced the rare honour of being hosted at State House by the President who has shown a keen interest in the digital space.
"We welcome you to enjoy the magical delights, charming hospitality and natural beauty of Kenya as you witness for yourselves what YouTube is doing for our vibrant creative and digital economy, and contributing to our bottom-up agenda for economic transformation," Ruto told the Youtubers.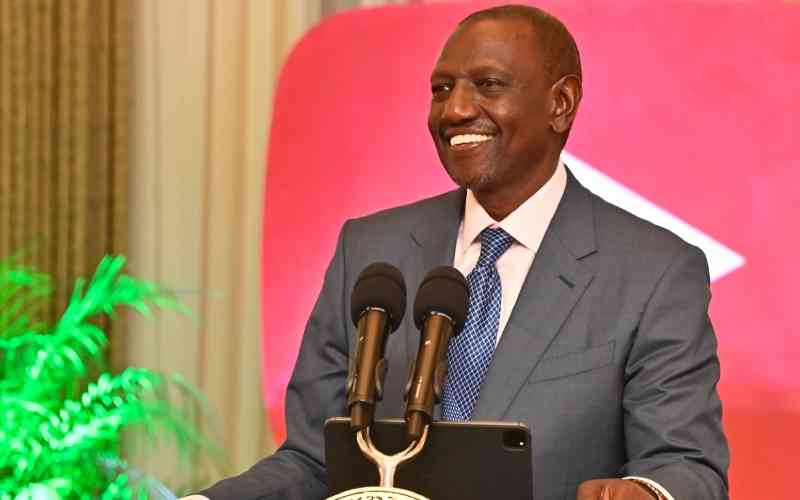 "Them being able to be welcomed by His Excellency is phenomenal. I have never seen that before, where you have a leader of a nation really embracing the power of the creative economy in terms of being able to create jobs for the country and for our continent. Having someone at that level recognize the importance of creative jobs and opportunities for young people is remarkable," said Alex Okosi, YouTube's Managing Director for Emerging Markets, EMEA.
During the Talanta Hela Initiative launch, the President said his government's commitments included leveraging the country's digital prowess to enhance the creative economy's position as a significant sector. He also pledged the government's commitment to protect intellectual property rights as the foundation of effective monetisation and mainstream the development of arts and culture infrastructure.
"The second (Talanta Hela) pillar entails interventions to formalise the creative economy, actualise its full potential and enhance its contribution to the national GDP beyond its current share of 5.3 per cent. To do this, Talanta Hela will pursue the enhancement of intellectual property rights, streamline royalty administration, establish fully equipped creative hubs, support for fashion and pageantry, rationalise the reward and incentive systems for creatives and support nationwide grassroots creative talent search, development, promotion, and monetisation," President Ruto said.
"The government has prioritized expanding the space for creativity, including freedom of expression and protection of intellectual property rights. We will also strengthen mainstreaming of arts and culture infrastructure and support cultural production and the creative economy. We are also cognizant of the brand value of Kenyans participating and excelling in international sports arenas as of ultimate importance," the National Treasury Cabinet Secretary Njuguna Ndungu as he presented the Budget Statement to Parliament on Thursday, in which he proposed an allocation of 6.4 billion under the Sports, Arts and Social development fund.
Content creation is quickly becoming a major income earner for young creatives in Kenya as the digital space expands. Some of the popular content creators in Kenya include Eddy Butita, Azziad Nasenya, Vincent Mboya, Awinja Nyawalo, Njugush, Milly Chebby, Joy Kendi, MCA Tricky, Mamitto Eunice and The Wa Jesus Family.
The number of Kenyan channels on YouTube making over Sh100,000 in revenue has risen by 25 per cent from last year at this time, with more than 14 channels having more than 1 million subscribers, an increase of 110 per cent in the same time period.
In Nigeria, over 45 channels have more than 1 million subscribers, an increase of more than 50 per cent, year on year. In South Africa, 25 channels reached the 1 million subscriber mark, an increase of over 30 per cent.
The digital superhighway is set to expand even further, as Google has partnered with the government to provide 25,000 free Wi-Fi hotspots across the country in order to improve internet access. Google has invested 5 million USD to enable government institutions install local area networks and to connect them to the national fibre-optic backbone infrastructure.
Kenya's creative sector's evolution is attributable to many factors including the expanded digital environment, characterised by increased consumption of creative works, improved Internet infrastructure, better legislative framework, and a growing global interest in Africa's creative sector.
Collectively, these factors have created opportunities for diverse revenue streams, especially for the youth who make the biggest number in the population and whose innovative and creative talents have thousands seeking entrepreneurship opportunities for the betterment of their livelihoods.
And even though artistes can now see their art begin to pay, the truth is that the sector has been ailing for years and key talents have suffered due to lack of structures – especially policies – in a space where opportunities loom even with the potential to play a role in boosting the much-needed economic recovery of the country.
A week ago, players in the music sector witnessed the signing of a MoU between the three main Collective Management Organisations (CMOs); the Kenya Association of Music Producers (Kamp), Performers Rights Society of Kenya (Prisk) and Music Copyright Society of Kenya (MCSK), organizations that collect and distribute music royalties on behalf of musicians. The move that was witnessed by the Sports, Youth and Arts Cabinet Secretary Ababu Namwamba aims at easing the burdens of royalties' collection in the view of maxmising on revenue streams that will see musicians and other creatives earn more from their intellectual property.
The move comes after a prolonged silent war between the CMOs, their members and the government regulator Kenya Copyright Board (Kecobo) over royalties collection and transparency issue.
"This, for me is a last chance saloon, last chance saloon in the sense that we either get it right this time round or we are stuck in an endless vicious game. This is a last chance. The creative industry is a mega industry world over. It is a key driver of any economy providing livelihood to millions of people. You go to the US, UK, Germany, South Africa, Nigeria and even our neighbours in the East Africa community like Tanzania who are monetizing this industry," Namwamba said.
"Conservative estimates, which we have worked out with yourselves (CMOs) indicates that the music industry alone should be able to give us Sh4 billion, annually, quite easily, yet the figures we are talking about here are quite miserable which means something is not right. We are here because we want to fix this. I am looking for solutions," he emphasized thanking the CMOs for choosing to work together.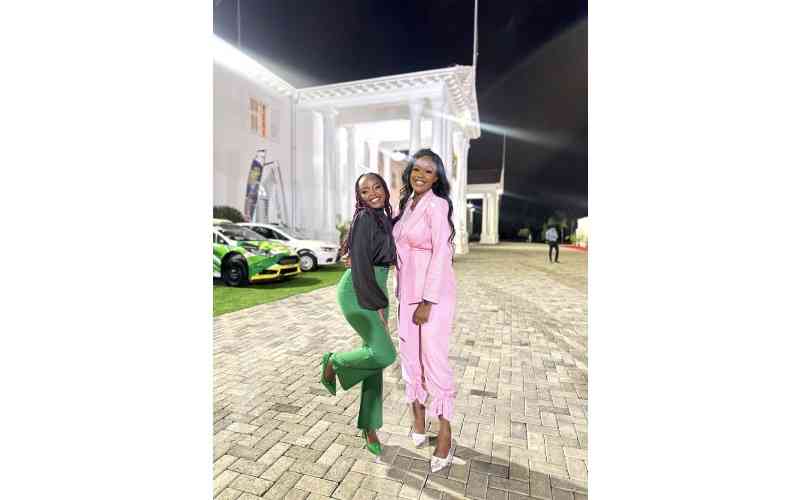 Just like musicians, online creators want the government to involve them in every move it is making in streamlining services in the creative industry.
"We need a structure that is started by creators, for creators, but enabled by the government so that even as we are having these conversations, it is a two-way traffic. It is not, 'I am telling you this is what we are going to do.' It needs to be, 'If you are going to spend this kind of money on creators, here is how we feel it should be done," says Sebastian Ngida, a YouTuber.
The creative industry is one that can spur economic growth. It is a low-hanging fruit and artists agree that with data being availed to them, content will be easy to make.
"All any creator needs to get started is a smart device. We would very much appreciate policies that would make these devices accessible and affordable to us as creators. Give us the ability to upload and distribute our amazing African content by making internet affordable and accessible to creators," says Youtuber Susan Wahome who runs the YouTube channel Suzy's Homestead.
Related Topics