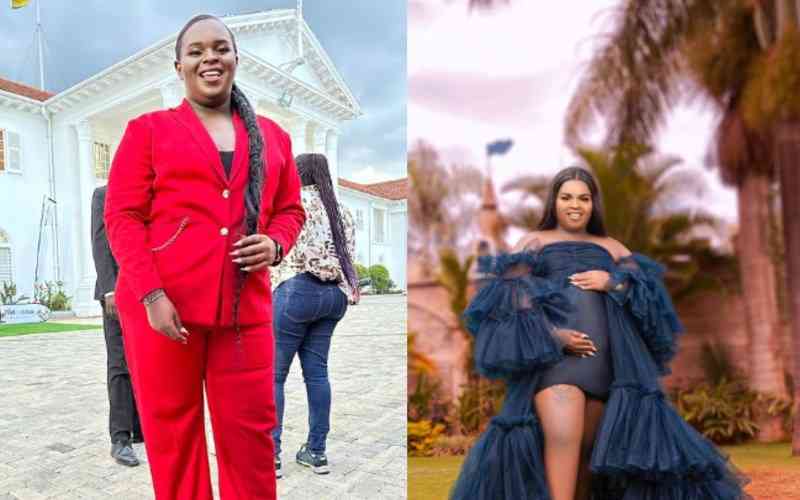 TikToker and content creator Kelvin Kinuthia has left netizens confused after sharing pictures of what looks like a maternity shoot.
In the picture, the cross-dresser is seen donning a long black dress and holding his stomach to mimic a bump with the caption, "Can't wait, I'm in tears," followed by love hearts and a pregnant woman's emoji.
No sooner had he posted than curious netizens camped on his comment section to air their varied opinions.
lizmelody36 Me niko confused nicheke am nilie
Kambua-Maknae Can't wait what kinuthia?
Its._dianah Instagram hawana voice note na I have alot to say
Therealchris_calix's Sasa aka katoto katanyonya nini
_fw_nessa_'s Ata kama ni clout chasing
Kenyan_sugar00 utazaaje wewe @officialkinuthia_ mtoto atatokea wapi
Kinuthia followed up the apparent maternity shoot picture with a video stroking his stomach as though feeling a bump and netizens could not keep calm.
Sometime last year Kinuthia claimed to be expectant after a fan asked him on why he had a protruding stomach.
Sharing reasons for his response in an interview with Mungai Eve, the social media influencer stated that he was tired of being asked about his stomach and that he was indeed expectant.
"I have been posting a lot of videos and people comment on the comments section especially TikTok asking Kinuthia ako na mimba? Nashangaa surely so I joke around with people like one person asked me if I was pregnant I told him I am pregnant mimba iko," he told Eve.
Gastric Balloon
Since Kinuthia is unable to conceive, genetically speaking, fans are convinced his post has something to do with an upcoming surgery or procedure.
In November 2022 Kinuthia spent over Ksh450, 000 to undergo a gastric balloon procedure in an attempt to lose some weight explaining that working out was not giving him the results he desired.
"I cannot manage to stay consistent in the gym. The only workout I can bear is dancing on TikTok. My body burns calories well so TikTok dances are enough."
"I'm staying with it for 4 months and then I'm done. I'm aiming to lose about 30kgs by the end of 4 months. I spent Sh450,000," he said.
Related Topics