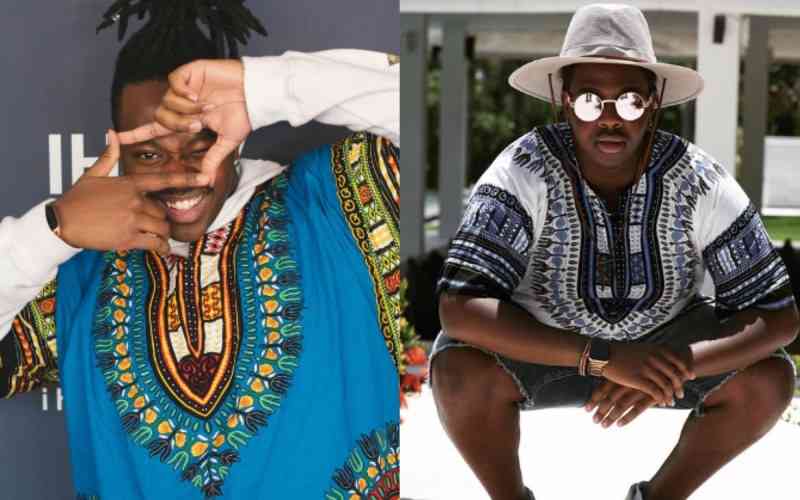 Komanii's sound gravitates towards hip hop and draws inspiration from the likes of Chance the Rapper, Aminé and Childish Gambino. It led to his iconic first track 'Spend'. He released his first EP, Niko Tayari in 2018. Since, he has teamed up with up-and-coming artistes in the industry, with features on the single 'Gala' with Ayon, Mukherji and Elrim, and 'F.O.M' with Troye Raustein.
He has since released his singles 'Habibi Cafe' in 2021, 'Try Understand' in 2022, and 'TWENDE' in 2023. Komanii is deeply invested in his work and has mixed and mastered his own music, as well as produced for others.
He has also designed sharp visuals for his hit single 'Roll'in', featuring Lawry L and Kris J. Among his influences are leading artistes in the game, including J. Cole, Kendrick Lamar, Kanye West, Russ, JID, Kehlani, Jidenna and many more.
When not toiling in the music scene, Komanii expands his artistry as a prominent fashion designer, aiming to soon release his own debut collection.
How would you describe Komanii?
I am a true creative who loves to explore and navigate the music and fashion worlds. My music is an uncompromising expression of my journey through life. My mission is to create emotive, compelling songs that my fans can truly connect with. In my own time I also enjoy cooking, designing apparel and exploring new countries.
Tell us about your upbringing.
I was born in Nairobi and grew up there until I was 12. I have also lived in South Africa, Nigeria, USA, U.A.E, and now the United Kingdom. Thanks to this, I have been able to gain a wealth of exposure to different cultures around the world, which has influenced my music and perspective on the world and day-to-day interactions.
What would you say is your sound?
My music is ever-evolving and falls predominantly within hip-hop, R&B, pop, and Afro. My sound is smooth, unique, alternative and my own.
Having experienced different countries what is the major difference with our music industry?
I left +254 quite you, so I don't have a strong reference of the music industry, but I will say that sonically I can see the differences. I hear a lot of new-age artistes coming up in Kenya who, like myself in a way, have found a way to merge their roots/culture with popular Western music to create new and interesting fusions and sub-genres. My most recent song 'Twende' was described as "Emo rap" by Kenyan Vibe outlet.
What and who inspired you to do music?
Growing up, I always loved music. I played different instruments and was also in a band in high school. My biggest inspirations though would have to be the likes of J.Cole, Russ, Aminé and many others. I am also inspired by life and the world around me every day.
What are your earliest memories of rap music?
Some of my earliest memories of hip hop music, and I guess R&B, would be being on the school bus (age 11/12) hearing the likes of T-Pain, Kanye West, Timberland, Chris Brown, Beyoncé and Pharrell on the Radio.
Since you dropped your debut EP 'Niko Tayari', how has the journey been and what have been your biggest lessons so far?
I have learned a lot about myself and the people in my life. Lessons are necessary in life, so I choose to embrace them. I think the biggest lessons have been to back myself and believe in myself, put in the work and it'll pay off.
You wear many hats in music, how did that happen?
I sing, rap, I'm a songwriter, and producer. This came about because when I first started creating my own music, I didn't have anyone to guide or teach me, so I taught myself through experimenting and watched many hours of YouTube videos. I was able to teach myself how to produce through tutorials. The singing and rapping came more naturally.
Who have you worked with and who would like to work with, especially from Kenya?
In the past, I have been able to collaborate with Samuel Amo Febi on my track "Rolling", which we shot a music video for in 2018. I have also worked with many talented friends and colleagues. In the future I would love to work with my favourite artistes like J.Cole, Aminé, Russ, J.i.d and Kehlani just to name a few. In Kenya, I would like to work with upcoming artistes as well as the likes of Bensoul.
What would you say ails Kenyan music in particular hip hop?
The issues Kenyan music is facing would be the administration and handling of music royalties. After conversations with colleagues in the creative industry there I have learned the issues with the current framework, which results in many artistes not earning their appropriate shares in royalties revenue from streaming, sync, and performances. After listening to some of the recent waves of Kenyan hip-hop music, I think the trajectory is positive and exciting. I have heard music from talented, creative individuals who are able to (like I said earlier) fuse local and Western music styles to create amazing music.
What next for Komanii?
I'm always working on new works. I will have a couple singles for the summer and possibly a project towards the end of the year, stay tuned!
Related Topics