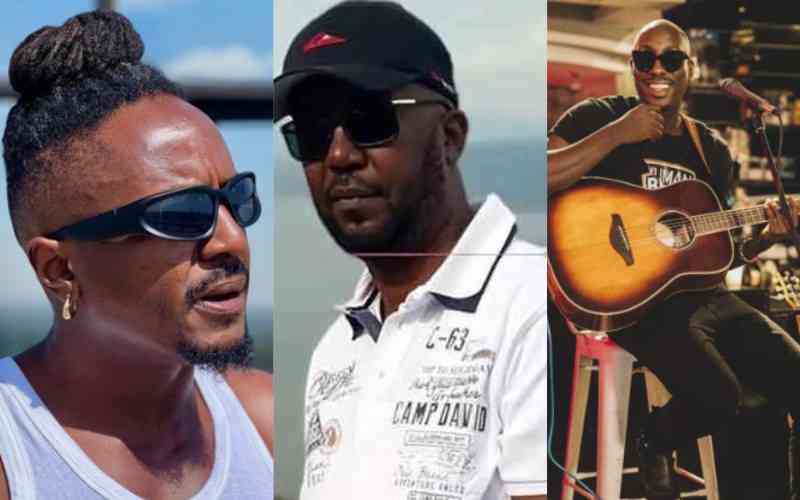 Sauti Sol band members Savara Mudigi and Bien Baraza have denied snubbing Andrew Kibe during their US tour, saying they have no idea who he is.
Addressing the matter during an Instagram live, Savara is seen questioning his ally on who Kibe is before stating that he does not know what he does.
"I've never checked him out. Who is he? Does he have an online radio? Does he do some dope stuff? What kind of media, one that needs people to click on pages, meaningful media or what kind of media does he do? Who is he, like those people who give social commentary or what? No, I don't know him. I can't ignore someone I don't know," said Savara.
Bien, on the other hand, questioned who the former media personality was while on a phone interview with Milele FM's Ankali, saying he has never met him.
"I don't know that man. I don't know who Kibe is. I'm surprised people are talking about Kibe I don't know him, I've never seen him or even heard of him. Is he an artist who sings or what does he do? I've never met him," said Bien.
This comes hardly a week since Kibe accused the boy band of turning down his offer to meet.
Airing his disappointment on his YouTube channel, the vocal social media influencer admitted that he did not expect to be turned down.
"While I'm there I tell the promoters I want to meet Sauti Sol because I'm a big deal, I know that plus Sauti sol are people I totally enjoy their music and he answered me saying they are not interested. I had a humbling moment and came back to earth. Sometimes you might walk around thinking you are a big deal but you are not. What I'm doing here is nothing," he ranted.
Kibe rose to fame during his radio co-host days at NGR and Kiss FM.
However, he later lost his job at Kiss FM and started his own enterprise, Rogue radio.
"I gave my notice three months ago because I was being censored on the content I could put out on national radio. On social media, I can put out whatever I want without limitations, things I couldn't say on the radio. I am glad to have worked with Kamene and I hope she will join me in the digital space as well," he said at the time.
Soon after the launch of his radio station, Kibe relocated to the US where he started his own YouTube channel which has a considerable following.
Related Topics