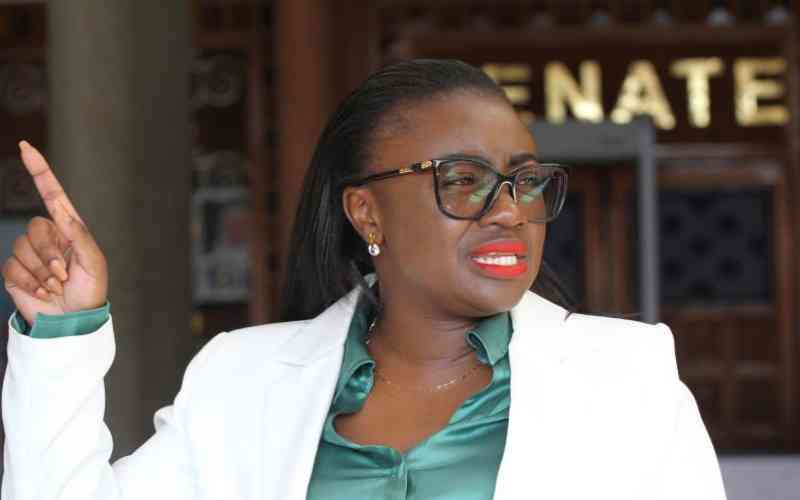 "I do not regret one moment in my life." This is a quote by British actress Lillie Langtry, but these words can well describe the life of nominated Senator Gloria Orwoba.
For her, there are no regrets in life, just lessons, except, she wishes she had joined politics much earlier.
"I have done everything I wanted to do, I studied architecture which I always wanted, I wanted to get into leadership, and now I am. I feel like I have surpassed all the things I wished for as a child," Orwoba says.
Gloria Orwoba hit headlines soon after she was sworn into office as a senator.
Earlier this year, Orwoba walked into parliament in period-stained trousers. Her objective? To shine a light on, and end, period shaming.
The 37-year-old mother of one raised by her father, alongside three sisters, says she is passionate about life. "My father raised us single-handedly, back in the '90s, you can imagine how weird that was.
So where was Orwoba's mother? She refuses to speak about this.
"My father represented us in school, also in forums where naturally a mother was expected to come, and that is how I began to be assertive," she said.
For her, there was always a need to defend a position, "slowly as I grew to understand life, I moved what people called defensive to affirmative. I am more of I know who I am and what I bring to the table."
She says people tend to label people who know what they want as tricky.
"My father's style of parenting was disciplinarian, when you do something wrong, there were consequences. I grew up knowing that every action has a consequence."
She says that this fundamental principle is still very important to her, and she carefully analyzes situations before taking action. "I take pride in what my father taught me, he taught us the ability to speak up because he was very firm," She says that over time, she learned that she could not remain quiet and afraid to speak up.
"We realised he would never change his parenting style, so if we wanted something we had to ask," she says.
Gloria grew up in Nairobi and spent most of her holidays in Kisii alongside her family. Her childhood she says, was fairly nice; "a lot of lessons, we had a routine, Saturday go to church, Monday to Friday in school."
She took up sports while in primary and played lawn tennis. In high school, Orwoba, a professional swimmer, took up swimming and was active in the drama club.
"I miss having community's where we had joint activities," she says and recalled being part of a seventh-day Adventist choir called Christ Ambassadors where she sang alongside Sauti Sol's Bien Aime.
Orwoba wore makeup to school on her first day in Form One, "this same makeup that people are disturbing me about Kwa mtandao."
She was summoned by the deputy head girl then, and told her to go wash it off.
At puberty, Orwoba did everything that comes with it; the dancing, the singing, the make-up… you name them. This would earn her a title of a problematic child.
"They should have said this is a leader, or I was just being a teenager, instead of problematic. At puberty, I was excited about everything. I explored everything and I completed it." She bought her first car at 19. She always wanted a car because her family didn't have one. "It was a very small car but it was a car, I was so proud of it. It was very old, sidhani there was a gearbox there," she laughs.
And when she found herself in Parliament, Orwoba took up a cause close to her heart. She presented a bill in Parliament advocating for the provision of free sanitary towels for women in prison and school girls.
"My father used to take us shopping and we'd buy sanitary towels when he is not looking because we were embarrassed," she says.
In her advocacy for eradicating period poverty, Orwoba says the society is not doing enough, "it will take so many bold actions of many people to get us there."
"There is always an assumption that only mothers should care about a child's menstruation, it is unfortunate because the shaming is passed from generation to generation. We are all here because somebody missed a period, so why are we not talking about it?"
So why did she walk into Senate with period-stained trousers?
"My message was, if we are going to stop period shaming, it has to start from places like parliament. I had a conversation with myself, I thought, so I'll go back home and miss the session because I am afraid that people will shame me, the same thing that I always talk to girls that they shouldn't feel ashamed or miss class because of period stains," she says.
She says she had to convince herself that going back home was doing the wrong thing, "I wanted to walk the talk".
Her bold approach stirred controversy and gained her some notoriety.
"I just pushed it aside, I know it's not a good thing, I have to deal with it. I just blocked people on social media, I think I have become busy around the positive elements of it, and maybe that is my way of dealing with it, ignoring," Orwoba says.
Orwoba who ran for the Member of Parliament post in Bobasi but lost in party primaries, is still looking to run for the same seat in 2027.
The outspoken senator who looks up to Millie Odhiambo. "I love Millie Odhiambo because she is normal. She is real and doesn't put up political faces."
Orwoba lives by the belief that "you can do 1000 things and be good at them, or you can do one thing and be excellent. I am learning to channel my energy on one thing and being excellent at it because the impact you create when you channel it to one thing is better."
In her free time, Orwoba like to sleep –a bit too much- she loves to watch television too, because growing up, her father used to restrict them to only watching the news.
"I love to travel, I have a glass of wine, I listen to music a lot," she said noting that she hasn't traveled in a while.
She started her professional career in architecture at the United Nations, Nairobi.
Later, she would become a projects manager for Daughters of Africa in 2010. She went to the Netherlands to become a manager for all African productions. Shortly after, she came back to Kenya because her son was still very young.
It was around this time that Orwoba met a man she liked and married him, taking a break from her career. "We moved to Sweden where I set up a company doing consultation for the local government on immigration stuff," She says.
She is married to a Danish military man.
It was while in Sweden that she started following politics. "We then moved to Denmark after which I came back to Kenya in 2019."
Her journey to join politics, however, was not easy.
"I wanted to join party politics, all my friends from (Raila) Odinga's camp advised me to join politics but shouldn't vie because I had just come back to the country," Orwoba says. At first allying herself with Raila Odinga.
"Someone told me nobody knows me because I never go to TV. So I started going for shows, and from there the President scouted me," she says on how she landed in the UDA camp.
"When I think of all the life decisions I have made, I was just shamelessly unapologetic," Orwoba says.
She, however, believes that having it all as a woman is a myth.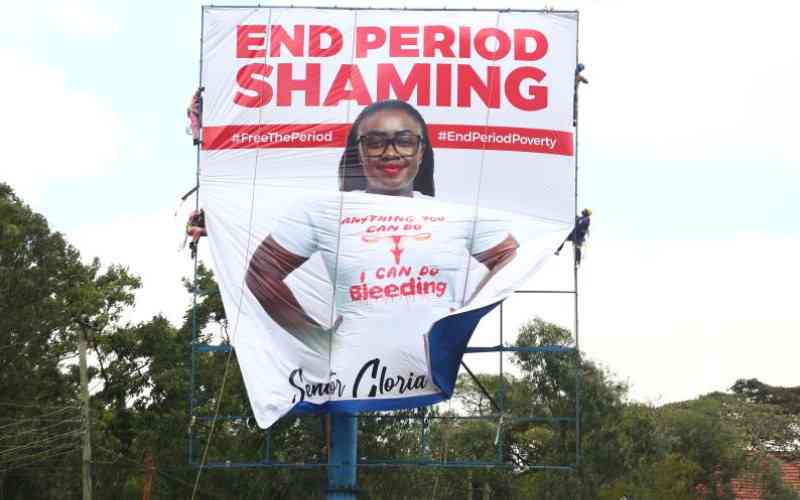 Orwoba has had to forego some of her hobbies like swimming, because as a female politician, she is disadvantaged. "I used to love swimming in public because I love the competition, I can't go anymore, because someone will take funny pictures."
"I am trying to find a way to adjust, I used to out and enjoy a glass of wine anywhere, but now I can't do that. But my male counterparts still carry on with their lives."
Orwoba as tabled five bills in Parliament.
The sanitary towel provision bill seeks to end period poverty by providing free sanitary pads to school girls and prisoners.
The Data Protection Amendment bill seeks to safeguard Kenyan data by restricting storage within Kenya. Then there is the Konza Technopolis Bill, which seeks to give Konza a legal framework to operate.
And the Swahili for Immigrants Bill seeks to preserve Kenya's history and culture by ensuring all foreigners learn Kiswahili if interested in living in Kenya. The Election Act Amendment Bill proposes that people seeking political seats should do a short course on the roles of respective seats.
Related Topics