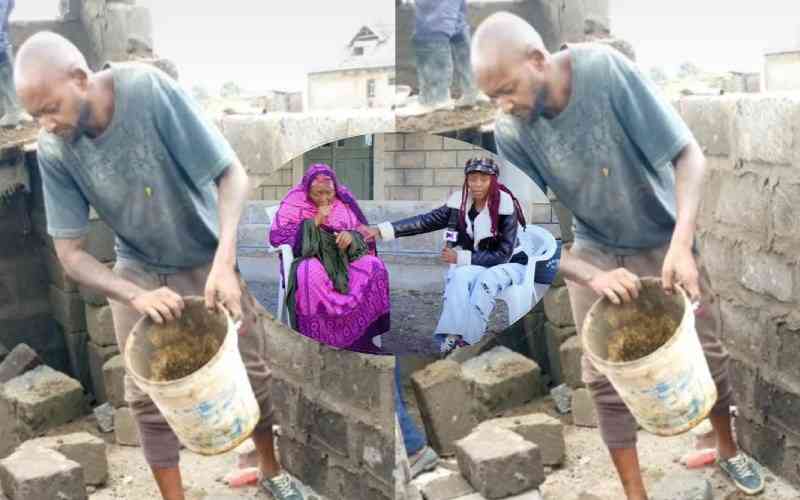 For weeks Colonel Mustafa has been in the headlines, ever since he was recorded at a construction site working as a casual labourer.
He later divulged to the public that he had hit rock bottom and was ready to do anything to ensure his ailing mum got treatment.
In an interview with Eve Mungai, Mustafa's mother said she was saddened to find out what his son was doing to take care of her and at first she thought it was a stunt.
"Mustafa never told me he was in mjengo. Maybe he felt it would hurt me…I found out from his brother and when I asked him about it he confessed to me.
"I thought it was one of their clout-chasing tactics whenever they want to release a song but it wasn't…it really hurt his brother who asked him why he never opened up on the severity of the situation," she said.
Adding: "He wanted to be a man and bring something to the table as well since his brother was doing the most. It really hurt me and I cried a lot on that day but we knew God had a plan."
Cancer Journey
She narrated that she has been unwell since 2021 but her health deteriorated in 2022. Mustafa kept asking her to travel to Nairobi for treatment but she felt she would be a burden to her sons, considering only one had a stable income.
At the time, she was residing in Tanzania and was in and out of hospitals. What started as general body weakness quickly escalated to severe back pain and kidney complications.
She thought she had cervical cancer but when she went for screening she was given a clean bill of health.
"I thought it was ulcers…I also had some back problems. I would improve but at times I would self-prescribe the drugs I was given when they ran out.
"The doctors did more tests and they said I had some kidney complications…the pain never went away. I was told I had kidney stones and I was put on medication," she said.
A subsequent CT scan showed she had a growth on her back and it had eaten into her kidneys.
Part of her liver had also been damaged as well as some blood vessels. At this point, she knew travelling to Nairobi for treatment was a necessity.
"A day after arriving in Nairobi we went to a doctor who looked at my previous tests and the drugs I had been taking. He referred me to Kijabe Hospital where the doctor recommended further specialised tests.
"We were told to wait for two weeks. I was in a lot of pain and the two weeks seemed like an eternity. My sons went for the results and they were informed that I had stage 2 Lymphoma," she narrated, wiping her tears.
After further tests to check her vitals, she began chemotherapy and although the first few days were tough, she managed to pull through and her condition steadily improved.
She is happy to have regained some strength and although she is still in pain, she is thankful to all Kenyans who contributed towards her treatment.
Mama Dee, as she is often called at home, said whoever recorded her son at the construction site was probably heaven-sent because at the time they were stuck and had depleted their resources.
She said she does not harbour any hard feelings towards the person who leaked the video as it was a blessing in disguise.
"My chemo sessions are tough…I was weak for around 10 days. We were stuck after a couple of sessions due to finances and we defaulted on payment.
"We struggled to pay and the sessions had to be stopped…I do not hate the guy who took Mustafa's video. He was heaven-sent because that's how I got help and I have resumed my chemo sessions. It was a blessing in disguise," she said.
Adding: "Cancer is a very unpredictable disease but I can see improvement courtesy of generous Kenyans. I cannot repay them but there's a God in heaven who will reward all those who contributed in cash and kind."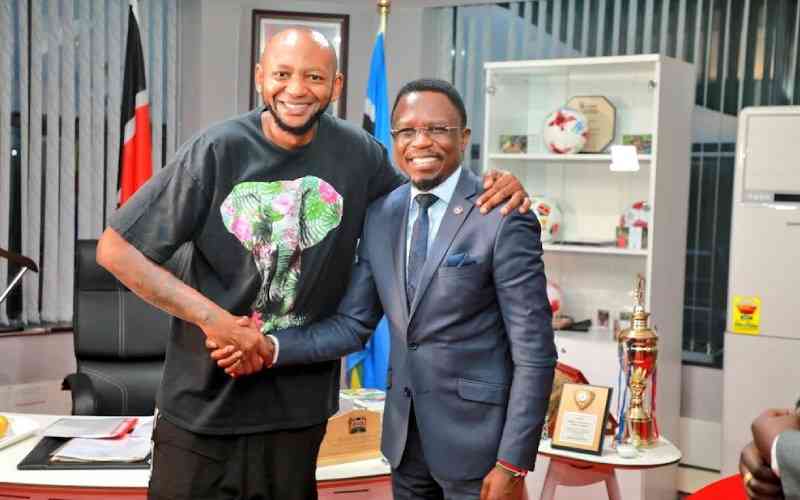 Related Topics