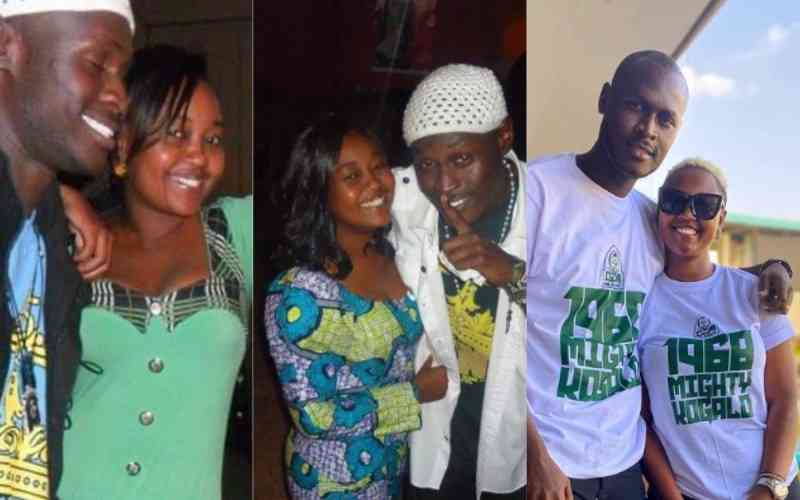 Content creator Nana Owiti has taken her fans down memory lane with throwback pictures of her and her husband King Kaka.
In the post shared on her Instagram page, the football fanatic recalled how she met King Kaka and later went on a date, an experience she describes as the best thing ever.
"I met you a day like this 12yrs ago and we exchanged numbers. Ningekunyima number aje sasa? On our first date, we went for a movie, (We had a football bet and the condition was that should either of us lose the bet then the 'loser' would take the other party for a movie and pay for not only the movie but also the snacks). I saw how competitive you were. You found your match but on this day I paid for everything. We know who lost the bet," she wrote.
For Nana, the date was more than mesmerizing as she had never set foot in a theatre before and couldn't help but think Nairobi people are lucky to have such establishments.
"Wueh! That was the first time I ever set foot in a theatre. 'Watu wa Nairobi mko na Raha ', I thought to myself. Anyway, I remember what we both wore. Lumbutuku unapiganga mtoto. That will remain one of the best days of my life. Our book started here. I'm so glad God allowed our paths to cross even though we were both oblivious of His plans. You are an amazing partner, friend, confidant and a GREAT dad. I love you @thekingkaka #HADITUKUNJEMGONGO #HIIIMEENDA," she wrote.
Nana and King Kaka have stood by each other over the years and together, have navigated the challenges that have come their way.
View this post on Instagram
In 2021, King Kaka fell ill, a situation that took a toll on his family.
Opening up on his ailment in a previous post, the Kaka Empire CEO appreciated his wife for never leaving his side when he needed her the most.
"Let me count my blessings. The last 3 months has been nothing short but terrifying. This lady here @nanaowiti has shown and proven what a wife and a best friend is. From kulala kwa couch ya hospitali next to my bed then you wake up shower in the same hospital, go and smile kwa TV like everything is okay to fighting with Nurses on why they are 'slow' (Big Up to the Nurses who took care of me, ni vile Nana alikuwa anataka nipone haraka), to praying and encouraging me to eat mkisaidiana na moms, to sponge-bathing me when the temperatures were too high…Just learnt the new meaning of the word 'Partner' in a relationship. Be blessed and Asante Nana" he said at the time.
Related Topics