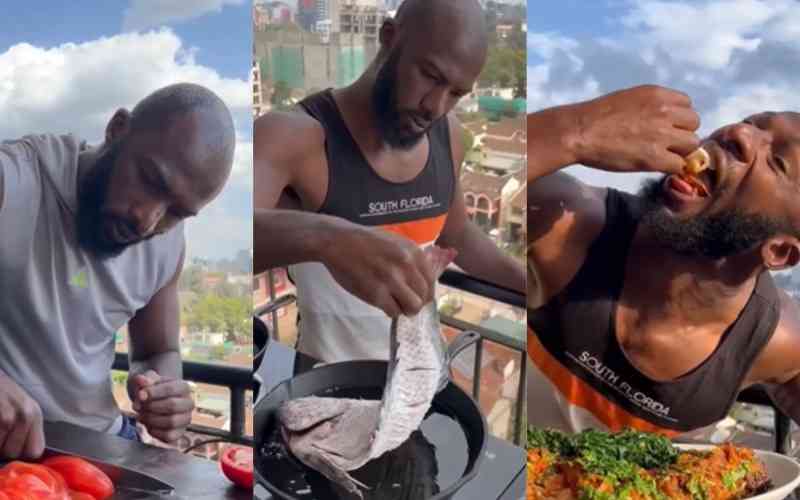 Dennis Ombachi, aka The Roaming Chef, traded his rugby boots for an apron; over time, he has become one of the most popular content creators.
On Wednesday, Ombachi was featured on CNN's African Voices Playmakers where Larry Madowo took time to understand why he left the pitch for the kitchen.
Ombachi said he first played rugby at Kisii School but never thought he would go pro. In fact, he only participated in the sport because he would be exempted from duties like cleaning up the dormitory.
He, however, went on to become one of Kenya's greatest rugby players, having scored the try that ensured Kenya qualified for the 2016 Rio Olympics.
"At the time I was not aware of how big an achievement that was but as years passed I realised it was a great accomplishment.
"We were seconds away from being knocked out but we clinched it right at the end," he said.
Ombachi added that he would watch videos of various chefs whenever he was injured and with time he developed an interest in cooking.
When Covid-19 struck, he began filming his content and was amazed at the positive feedback he was getting.
Ombachi was recently crowned the best TikTok content creator in Sub-Saharan Africa, an award he says came as a pleasant surprise.
"It came as a surprise and a shocker…it makes me want to make better content. I was bursting with emotion but kept my composure. I'm thankful that being a successful rugby player prepared me for such events and winning awards but it was a big one for me and I want to thank everyone who voted for me," he said.
Woke up to my story on CNN, thanks to all of you who have been part of this journey. To greater heights ? https://t.co/kd9rDItitv

— dennis ombachi OLY (@ombachi13) May 18, 2023
In an interview with Standard Entertainment, the retired rugby player attributed his success to discipline and consistency, the same principles he applies in content creation.
"Being an athlete allowed me to perform under pressure in a very competitive environment. I learnt discipline and consistency as an athlete and I apply the same in content creation," he said.
Ombachi labels himself a self-taught chef, admitting that it took a lot of trial and error to perfect his recipes
"We used to travel out of the country a lot when we were playing rugby and fell in love with cooking.
"I loved sampling different types of food and with time I began trying to prepare some of those dishes. With practice I got better and here I am now," he said.
He also advised upcoming content creators to focus on informing, educating and entertaining.
The Roaming Chef currently has over 1 million followers on Instagram and 2.2 million followers on TikTok.
Related Topics