Rhoda Maweu is the third wife of cult leader Paul Makenzie who is accused of urging followers to starve to death to meet Jesus.
Mackenzie's first and second wife died a few years back.
According to the detectives, Rhoda Maweu was identified as a person of interest after an analysis of her husband's phone records and interviews with people associated with the cult.
However Rhoda is known to be a private person, and little is known about her personal life and hobbies. She has been described as a devoted wife and mother, and her involvement in charity work and community development initiatives is not well-documented.
According to their family, Rhoda has been living at their Malindi home, next to the Good News International Church, with her mother-in-law and stepchildren.
That's until her arrest after she was linked to her husband's cultic activities in Shakahola that have led to the death of more than 100 people.
According to various reports, Rhoda was born in 1998 and was a top KCSE candidate in 2016.
Pastor Sarah Odero
Pastor Sarah Odero is the wife of televangelist Ezekiel Odero of New life Prayer Centre in Mavueni Kilifi County.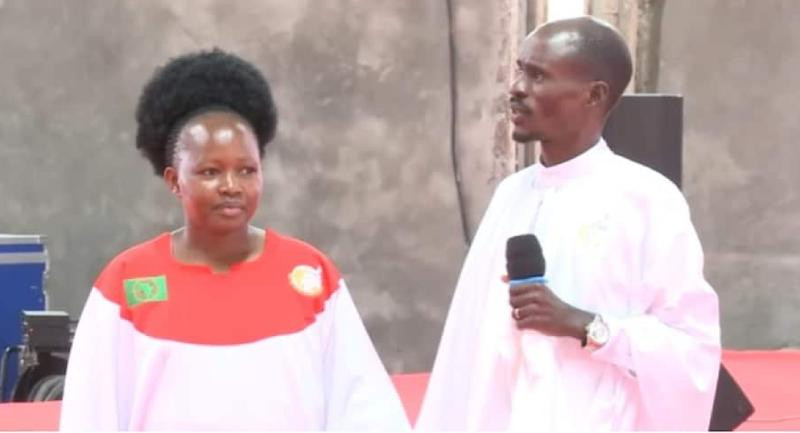 She came into the limelight after her husband was arrested and linked to the Shakahola massacre.
Pastor Sarah met the love of her life in Mombasa when Ezekiel was working as a mason. Their relationship blossomed into romance, leading Ezekiel Odero to propose marriage.
Their love story wasn't a faiy tale, they encountered several setbacks after Ezekiel's parents rejected her because of her level of education. According to reports, Sarah dropped out of Standard Three.
Sarah and Ezekiel have been married for over ten years and have three children.
Two of the children are biological, while one son is adopted – after his brother's wife died giving birth. The couple and their children live in Mavueni, in the same compound where the pastor's church is.
She has been instrumental in the church and she has been preaching alongside her husband.
Families agony
Detectives have exhumed more than 130 bodies from the 800-acre Shakahola since investigations began. Despite the shocking recovery of the bodies, many families are still waiting in agony for news about their loved ones and h to help unravel the mystery of their missing kin.
This is after Chief Government Pathologist Johansen Oduor said that the 112 bodies exhumed in the first phase were badly decomposed and that they were difficult to identify.
"I'm hoping to get the bodies of my sister and my three nephews," said Priscar Zawadi who has been camping at the Malindi sub-county hospital mortuary for the past two weeks.
Zawadi took her DNA samples on Monday after she failed to find her missing relatives among the survivors.
Zawadi is among the 93 relatives who showed up at the morgue to take the DNA test.
Oduor had also earlier disclosed that many of the victims had died of starvation while some from head trauma and most children were strangled and suffocated to death.
The victims were buried in shallow mass graves.
Oduor said DNA testing, is not only more accurate, but it also spares families the trauma of having to view the bodies.
On Tuesday, Interior Cabinet Secretary Kithure Kindiki said the DNA testing also helps the authorities ascertain that they have positively identified the badly decomposed victims.
A DNA testing can be performed in about an hour, and makes it much less likely that the authorities release the wrong body to a family, which can be a nightmare for medical examiners.
On the other hand Kilifi Governor Gideon Mung'aro has asked the government not to victimise all pastors on the basis of the Shakahola massacre where dozens of bodies were exhumed.
Speaking on Saturday during a burial at Chonyi in Kilifi County, Mung'aro claimed the arrest of Pastor Ezekiel in relation to the Shakahola incident is meant to shield the real culprits.
"And even if he has a problem, his church is not in the forest, his church is right here by the roadside. If he has a problem, how come you never saw it until bodies were discovered in the forest?" he posed.
"I want to say that Ezekiel fed the Kilifians during the drought, he donated food worth 13 million and schooled our children," he said.
He has also faulted the Shakahola committee of inquiry, saying a local leader and church leadership should be included.
Related Topics