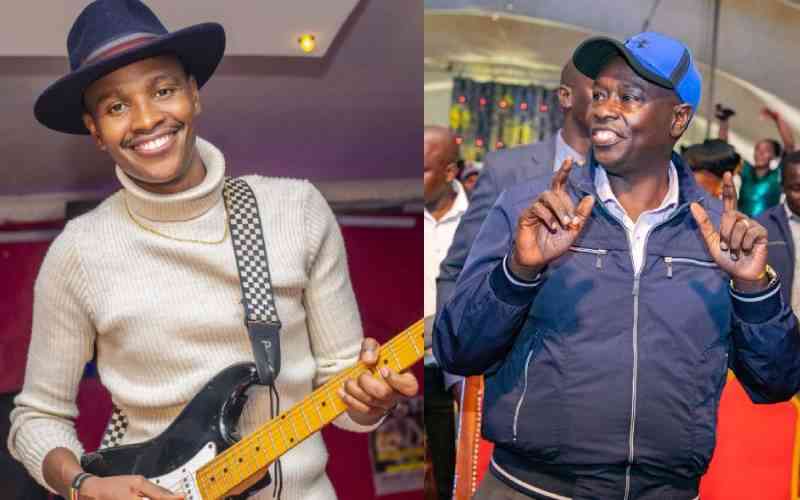 During a recent event celebrating media personality Muigai Wa Njoroge's 25 years in the music industry, Deputy President Rigathi Gachagua made a surprising announcement. He said that he had given the green light to Mugiithi singer Samidoh to perform abroad, after blocking him from doing so in the aftermath of a public scandal.
Samidoh, whose real name is Samuel Muchoki, was involved in a high-profile incident in Dubai in December 2022. His first wife Edday Nderitu and baby mama Karen Nyamu were caught on camera embroiled in a bitter fight at a concert where Samidoh was performing. The incident made headlines across the country and led to Gachagua's initial decision to block Samidoh from travelling abroad.
However, Gachagua now says that Samidoh has "put his house in order," and he is now allowed to travel and perform outside the country. Speaking at the event, Gachagua commended Samidoh for restoring peace and respect in his personal life. "Samidoh is also our police officer," he added, "he will be allowed to go but he should not tell the white people our secrets."
While Samidoh has been given the green light to perform abroad, Gachagua warned him to be mindful of foreign cultures and customs. "When he goes out to perform in a foreign country, he should keep in mind that many foreign countries do not appreciate polygamy," Gachagua said.
The event was attended by nominated senator Karen Nyamu. In January 2023, Gachagua had a stern warning for Samidoh, telling him to "control your people" and restore order in his family. Gachagua added that if Samidoh fails to do so, he may face a ban on travelling abroad.
Following the Dubai incident, Nyamu publicly apologized for her actions and vowed to quit alcohol. She was also summoned to appear before the UDA disciplinary committee. In a series of posts on her Instagram stories, Nyamu announced that she had ended her involvement with Samidoh.
"Great and powerful women will attest that many times our weakest link is the men we get involved with. I am stopping the pattern," she said.
"I have made the conscious decision to end for good my involvement with the father of my babies and now ex."
Despite the public fallout, Karen and Samidoh have been spotted attending events together in recent months, leading to speculation about the status of their relationship.
However, with Gachagua's announcement that Samidoh has restored order in his personal life, it remains to be seen what the future holds for the controversial couple.
Related Topics