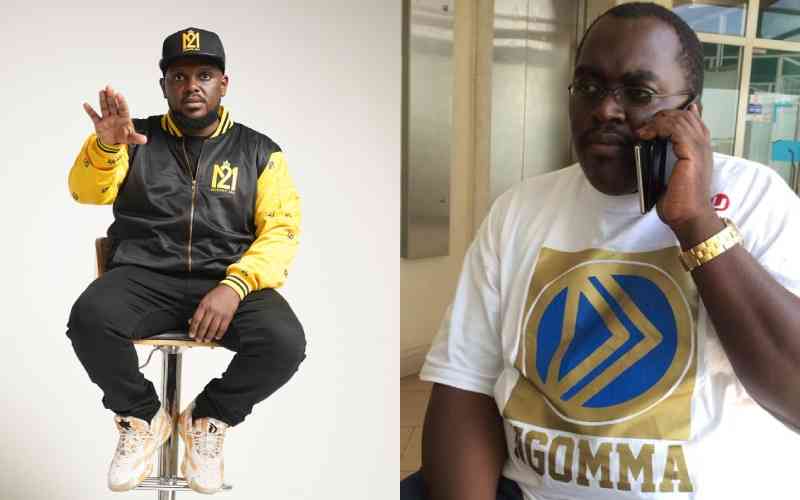 US-based Kenyan rapper Nonini on Wednesday took on his former producer Clemo after he opined on his court win in a copyright infringement case over the use of 'We Kamu'.
In a video that surfaced online, Clemo said: "Someone got paid or rather a judgement got passed and someone was favoured and got paid some money for work that I did... So that track is my track, it is my idea, and I did not get paid," Clemo told SPM Buzz in an interview.
Adding: I cannot go after that cash because I am above that…but I am trying to imagine how other upcoming producers are suffering.
Nonini swiftly responded to his sentiments, challenging him to go to court and warning him that if he (Clemo) wants to go down that road, he is ready.
"Ignorance sometimes huwa Mbaya…ngojeni kwanza nimalizane na influencer and the company then nikuje ni deal na hii ufala yenyu.
"You do know every citizen has the right to appeal any court decision as per our constitution. ????( So reading about things on mtandao utakaa fala sana)," he wrote.
Adding: "If you feel your rights were infringed you are at all liberty to open a suit against the 2 (influencer and company) but court systems are about facts not emotional outbursts on social media. You gotta prove your case."
The 'We Kamu' hitmaker said he had invested his time and resources on the matter and asked Clemo to follow the same path if he wishes to get anything out of the case.
This comes weeks after Nonini won a copyright infringement case against social media influencer Brian Mutinda, who used his song in an advert.
The Milimani Commercial Magistrate Court ordered Mutinda to pay Nonini Sh1million and pull down the video from all social media platforms.
The singer said the ruling was a win for Kenyan artistes and borrowed the words of rapper 50 Cent 'I'm gonna need it by Monday'.
"I have several Copyright Infringement cases in court that have been running simultaneously some for several years!
"March 23rd, 2023 will go down in history (Year of the Jordan) & is a Win for the Kenyan Music Industry #Mgenge2ru Vs the people who used my song "WeKamu" to push a product," he wrote.
Trouble started in April 2022 when Mutinda used the song, which was synchronized with visuals, to promote a product without a synchronization license.
Related Topics