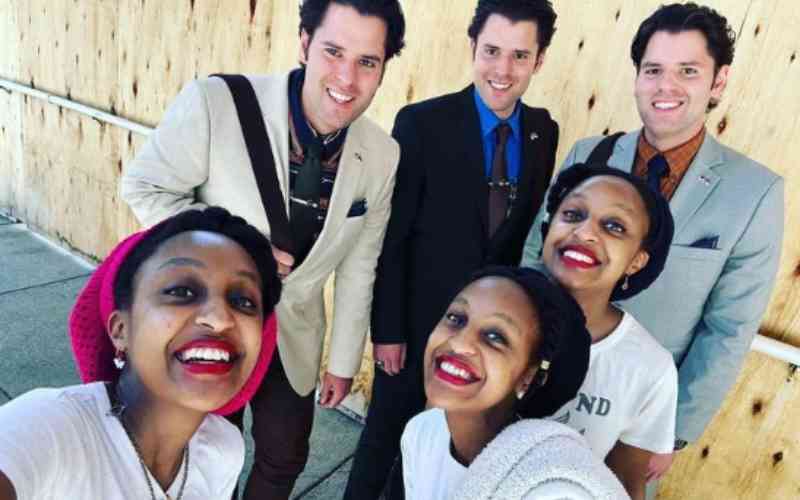 What are the odds of two sets of triplets bumping into each other in a foreign land? Well, the Moipei sisters were lucky to meet an identical male trio and they shared the pleasant surprise with their fans.
While strolling the streets of Washington D.C., the three sisters met identical triplets and could not help but snap the moment.
"What are the odds of running into another set of identical triplets?" they asked.
As expected, Kenyans were quick to give them 'wise counsel', saying this was fate and the numbers balanced perfectly.
Gcaheri: Kila mtu mmoja mmoja tukienda
Belfry: Hii imeenda
Miriam: Nimeanza kushonesha kitenge
Dickens: Hizi zimeenda
Leesa: Looks like destiny
Maria: May be a sign from God. You don't ignore this…'golden platter'
Reine: Perfect set…get married now!
Mary, Maggy and Marta Moipei 30, together with their younger sister Seraphine 28, currently reside in the U.S. but their musical journey began in Kenya where they scooped several awards during Music Festivals.
Their immense talent has seen them tour several countries including Tanzania, Uganda, Canada, Venezuela and China where they have taken part in various cultural festivals.
The sisters have performed sold-out concerts, presenting an eclectic mix of their own arrangements of Broadway tunes, jazz hits, sacred pieces, and Kenyan folk songs.
View this post on Instagram
In 2017, they were featured in their first professional opera, Speed Dating Tonight with the Alamo City Opera Company.
Additional highlights include singing "The Star-Spangled Banner" to thousands of NBA fans at a Spurs playoff game; presenting a program for the President of Kenya in the iconic Rainbow Room at the Rockefeller Center; and performing with the San Antonio Symphony at their Holiday Pops concert singing an arrangement of "Let it Snow," specially commissioned for the trio.
In a recent interview with Nation, their parents Nicholas and Christine Moipei said they do not interfere with their lives but always advise them.
"As parents, we opened up the world for them and gave them space to lead their own lives. We have never assumed a role of controlling their social lives; or how they deal with their boyfriends if they have any. I gave them freedom. They can lead celibate lives, they can live lives where they can have 'friends', get married – whichever way they want; and I think that is one of the things that have really opened up their confidence towards us as their parents," Mr Moipei said.
Adding that he was not aware of their love lives.
View this post on Instagram
Related Topics