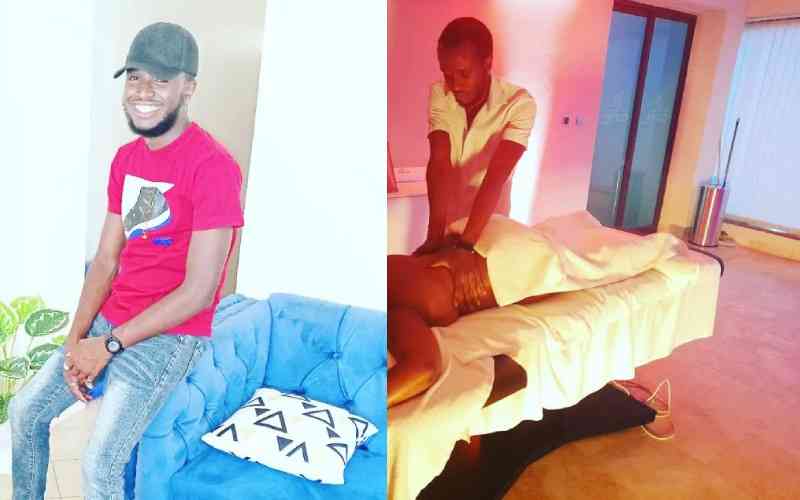 With over 26k followers on Instagram and 17.2k followers on TikTok, Stephen Kariuki is one of the hottest properties on the internet right now thanks to his 'gifted hands'.
Ever since his name was mentioned on a popular breakfast show, Steve's phone has been buzzing nonstop for bookings. A look at his social media accounts depicts a man who loves his job and clients who enjoy the experience.
Speaking on Radio Maisha, Steve said he stopped massaging men because they were very touchy and would ask for extras. He only works with women at the moment because they are 'quite understanding.' "I do not massage men…they are very naughty. I used to massage men but they were very touchy and they would ask for more. I never went to their houses because I wanted to be safe," he said.
Asked how he started out, Steve said he arrived in Nairobi from Nyeri and had to look for a way to survive. He added that he initially wanted to be a pilot but ended up doing a hairdressing course coupled with holistic therapy.
"I wanted to be a pilot…I am from Nyeri and when I came to Nairobi I had to look for a way to make ends meet. I would look at what other masseuses were doing and I developed interest. I started by massaging some close friends and they really liked it. I realized I was passionate about it and pursued it wholeheartedly," he said.
Asked about the nature of his work, Steve said he has been offering the services at his residence but he also does house calls depending on the client's needs.
He admitted that at times things 'get out of hand' and his clients ask for extras but he is true to his calling and remains professional despite the temptation.
Denies being intimate with clients
"I have never been intimate with my clients…I do not mix business and pleasure. Some tell me I am cute and they can pay for more but I do not agree to such arrangements.
"I often ask my clients to be as comfortable as possible. It is not a must for them to take off their clothes but most prefer to do so," he adds.
Steve noted that his family is aware of his hustle and although they were not comfortable with it before, they came to understand it is a job like any other.
On his bookings, he said some are done by men who want their women to feel good and although a handful ask him to record the session, others opt to engage in other activities and pick their spouses later.
Steve said he is not dating at the moment as he believes the nature of his work is too much for a partner to handle.
He is, however, comfortable, admitting that on a good weekend, he can make up to Sh40,000 on staycations that involve travelling with a client.
"This job pays all my bills. I can get five clients in a day and I can work day and night depending on the demand.
"Single ladies make the bulk of my clients and some even ask to travel with me," he said.
Related Topics