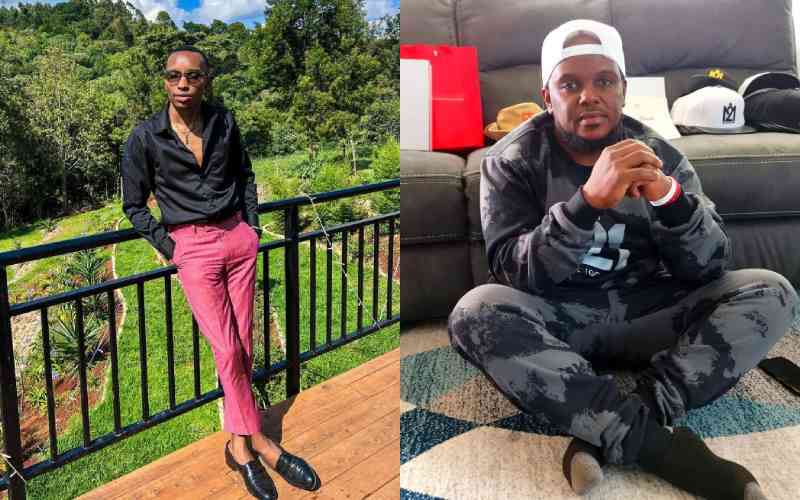 Kenyan musician Hubert Nakitare alias Nonini has won a copyright infringement case against social media influencer Brian Mutinda, who used his song 'We Kamu' in an advert.
The Milimani Commercial Magistrate Court ordered Mutinda to pay Nonini Sh1million and pull down the video from all social media platforms.
The singer said the ruling was a win for Kenyan artistes and borrowed the words of rapper 50 Cent 'I'm gonna need it by Monday'.
"I have several Copyright Infringement cases in court that have been running simultaneously some for several years!
"March 23rd, 2023 will go down in history (Year of the Jordan) & is a Win for the Kenyan Music Industry #Mgenge2ru Vs the people who used my song "WeKamu" to push a product," he wrote.
Trouble started in April 2022 when Mutinda used the song, which was synchronized with visuals, to promote a product without a synchronization license.
Nonini's legal team swiftly wrote a demand letter to Mutinda, notifying him of the copyright infringement.
"A synchronization license was needed but you failed to procedurally procure the same. A synchronization license can only be issued by the composer and publisher as they are the only ones with authority to negotiate and issue a synchronization license," read the letter in part.
Mutinda was then instructed to pull down the videos from his social media pages and issue an apology (in the same magnitude) to Nonini and post it on the verified page of the client as well as his own.
In response, Wanam Sale Advocates said their client was not aware of the copyright infringement and had no reasonable grounds for suspecting subsistence of copyright to the said video.
They proposed a discussion with Nonini to issue their client with a synchronization license in respect of the song (We Kamu).
Nonini's legal team noted that the singer would only engage in such discussions once reparations for infringement of his copyrights were fully settled and there was admission of guilt.
The 2021 Copyright Amendment Bill was signed into law by former President Uhuru Kenyatta and will go a long way in rewarding artistes for their efforts.
At the time, Music Copyright Society of Kenya (MCSK) boss Dr Ezekiel Mutua said the law would make Kenyan artistes wealthy, saving them from years of exploitation.
"The exploitation of musical works through technology has been largely tilted in favour of business people, including tech companies, telecommunications operators and broadcasters, while the real owners of copyright get peanuts," he said.
Adding: "For music to be taken as a serious career, the rights of our talented artistes must take centre stage. The MCSK, therefore, welcomes the new law and commits to work with all stakeholders to ensure smooth and effective implementation."
The law was also welcomed by the Kenya Association of Music Producers (KAMP) who said the law will allow musicians to get fair remuneration for their work.
The latest ruling by the courts will serve as a timely reminder to content creators to ensure they have the necessary documentation to use intellectual property.
Nonini stated that it was time for artistes to stand up for their rights, saying he drew inspiration from the late Poxy Presha's Dhako Kelo wich kuot.
He also warned that he would go for other corporates which used his content without following the right procedure.
Related Topics