Even as investigators continue to burn the midnight oil to unravel the controversial death of interior designer Geoffrey Mwathi aka Jeff, questions abound about the 'exact' assignment he was to do at the house of Kikuyu entertainer Lawrence Njuguna alias DJ Fatxo, who remains a person of interest despite maintaining his innocence.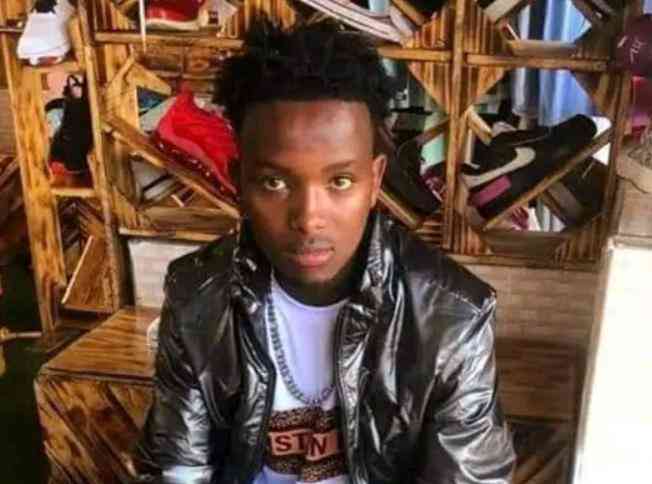 While DJ Fatxo claims he had invited Jeff to do some interior design work in his house at Redwood Apartments along Thika superhighway, the circumstances prior to Jeff's death paint a totally different picture. It was one of endless partying late into the night before the 21-year-old's body was discovered outside the flat.
The young man was half-naked downwards, prompting speculations of possible sexual assault - one of the angles detectives are pursuing as they try to establish how Jeff died after it was initially reported that he died by suicide after allegedly jumping from a window of the 12th floor.
Contrary to DJ Faxto's assertions that they had known each other for a short while, there are claims that the duo had been friends for much longer - a disclosure the DJ himself hinted to when he told journalists that the deceased was his shoe seller, and that most of the footwear he bought was from Jeff.
The shoes claim then leads to the question: why did the DJ in his earlier statement state that Jeff is an interior designer? Could the inconsistencies be an attempt to cover up the exact cause of Jeff's death? It is only detectives using forensic science who will be able to answer some of these questions.
Denied involvement
DJ Fatxo has, meanwhile, denied any involvement in Jeff's death and promised to co-operate with detectives.
Jeff's death sparked an uproar on social media, forcing Interior Cabinet Secretary Kithure Kindiki to order the Directorate of Criminal Investigations (DCI) headquarters to take over the matter.
A preliminary police report indicates that Jeff, DJ Fatxo and two other men retired to the ill-fated house at around 3 am accompanied by three women. This is after they had been clubbing and drinking alcohol in four bars in Kiambu and Murang'a counties.
According to Jeff's mother Anne Wacuka, her son met with DJ Fatxo on the fateful day and, "he even took a short video to confirm they were together and sent it to me," she said. However, listening to the voice notes Jeff on his mother's phone - the man did not sound suicidal.
In one of the voice notes, an excited Jeff is heard borrowing his mum transport money. The mother works in Dubai.
"Please mum send me some Sh200. I have talked to DJ Fatxo and he has asked me to meet him in Ruiru and I don't have any transport," Jeff told his mum.
A crime report filed at Kasarani Police Station indicates that Jeff's body had an open skull, multiple fractures on legs and hands and was naked from the waist downwards.
The detectives are seeking to establish the relationship between Jeff and DJ Fatxo and how long they knew each other as they analyse the footage retrieved from the scene.
They also want to establish the history between the deceased and the two men he was captured with prior to his death.
"It's strange that the two left Jeff in the house and went down together, and when they were up, the deceased exited the house and died in the compound.
"There is a way under normal circumstances buddies will behave and this is a matter to be analysed with the help of experts and study of footages retrieved," states another report poking holes in the initial suicide theory.
Slow investigations
Meanwhile, Jeff's parents have expressed disappointment at the slow pace of investigations wondering why some of the individuals who were seen with Jeff last have not been arrested.
The parents said they were aware of the friendship between their son and DJ Fatxo.
Peter Ngugi, Jeff's father, said he had seen photos of DJ Fatxo and his son on the internet and knew that they spent time together. However, Ngugi clarified that he had not known DJ Fatxo well enough to be worried over his behaviour or influence on his son.
"We did not know the kind of friend he had. If we knew he was a bad friend, we could have warned our son from the beginning," said Ngugi.
On March 13, DJ Fatxo faced a backlash from netizens over his media interviews before the investigations were complete.
Renowned criminal lawyer Cliff Ombeta cautioned him to stay away from media interviews.
In a tweet, Ombeta argued that Fatxo risks contradicting himself if he keeps appearing on mainstream and social media. According to the lawyer, anything DJ Fatxo says is 'dangerous' and could be used against him in a court of law.
He signed off by advising DJ Fatxo to allow his lawyers to speak at all times.
"Dj Faxto. Stop blundering. You are supposed to be quiet at this moment. Nil by mouth. Anything you say now is dangerous to you or your defence.
"Don't give cops ground to contradict or investigate. Let your lawyer speak. You can always deny what he says. "MISQUOTED" always helps," Ombeta tweeted.
Related Topics