The Nairobian has learnt that even as the former partner of Sports CS Ababu Namwamba, Prisca Mwaro will be buried in the CS's homestead, plans are underway to make the ceremony brief and guarded.
Guarded particularly to the crackpot mourners who could be triggered to say what ought not to be said during the sendoff in Magoye village, Budalang'i constituency tomorrow after a private requiem mass in her honour at Namwamba's Karen home in Nairobi this week.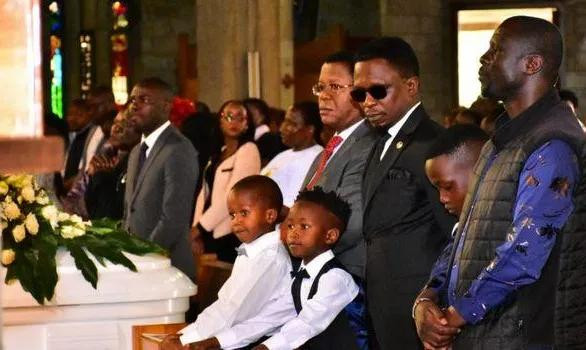 Many in the village nonetheless lauded the move by Namwamba to bury Mwaro even after they separated five years ago.
"It must be remembered that Namwamba ensured she got a job and even helped her brother get some CDF tenders while he (Namwamba) was Budalang'i MP. Theirs was a love that many fail to understand how it collapsed," said Joram Sande of Magoye area.
"Granted, she loved Namwamba to the core, that is not in dispute. Just visit her social media timeline to see it. Even after they separated, she didn't go back to erase the love posts."
One of the posts that cemented the strength of their undying love on Facebook is that which she did in 2016 when her former lover was celebrating his birthday on December 2016.
"My sweet Ababu. I have no complaints about life with you because you have made it what it is today dear. I imagine it just doesn't get any better than this dear, today is your special day and I am going to be your personal genie dear," she said.
"Every wish of yours will be done. Your love makes every minute of my life so warm Shipep, breezy and sunny like Budas. Happy birthday to my sunshine, love and shipepe. I love you dear Ababu Namwamba."
Namwamba, on the other hand, shared their affectionate photos on his social media platforms and even kept her at his side whenever officiating CDF projects in Budalang'i.
Low profile
Besides the private mass in honour of his former lover, the Sports CS has maintained an arguably low profile going to the burial of his lover, a demeanor that has elicited conflicting reactions.
Love or none between them, a close relative to Mwaro had an issue with the funeral arrangement.
He was particularly uneasy with the "shadowy manner" in which her female relative's funeral was being run.
"I fail to understand why her requiem mass was private yet her frustrations were loud. It's a common secret for example that she took a loan to finance a mega project in Karen which failed to pay off in her favour," said the relative in Budalang'i who refused to be named as "the two families (Mwaro's and Namwamba's) had agreed to a peaceful sendoff.
"She ended up receiving pay slips indicating the deductions when someone else was enjoying her sweat. This made her become alcoholic and depressed I believe to the point of her death on March 8, 2023."
He said Mwaro was often hosted by relatives whenever she ran short of money or whenever she needed moral support when her frustrations hit the roof.
Cause of death
The cause of her death is subject to an MP Shah Hospital postmortem report that has also not been made public.
The KenGen administration assistant who was Namwamba's partner for eight years is believed to have become an alcoholic after their affair collapsed in 2018.
Her postings about Namwamba also dropped on social media only sharing KenGen-related publications.
The Nairobian learnt that the Catholic Parish of Port Victoria will preside over the funeral mass.
Joseph Odongo, a Munyala elder, said Namwamba was within the Banyala clan's right to bury Mwaro since he sired children with her.
"Take it in whatever way you want but in Bunyala we don't count divorce where children are sired. The husband has the right to bury his divorced or separated wife as last respect to siring him children," he said.
"It's good for the continuity of the family tree as parents ought to show their children and grandchildren where their patriarchs were buried."
Related Topics