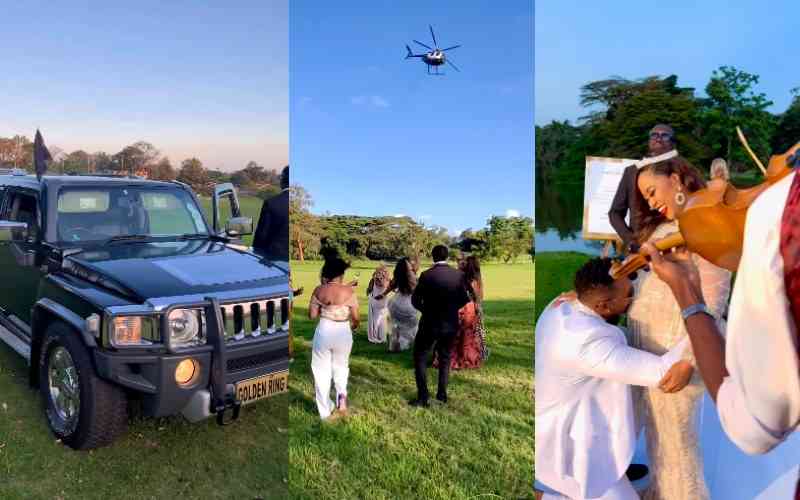 Vera Sidika loves life's finest things and does not hesitate to go out of her way to set the pace.
During her gender reveal party, Vera headed out in a black limousine accompanied by her husband Brown Mauzo and their first-born Asia Brown.
Dressed in an elegant floral gown, the Veetox founder was all smiles in the company of her husband who donned a plain white suit, as they were ushered into a stretch limousine.
The pair, visibly in love, could not hide their joy as they were chauffeured to their destination and made a toast inside the luxury car.
Upon arrival at the Windsor Golf Hotel and Country Club, Vera was welcomed by close friends and family dressed to the nines.
The elegant décor blended perfectly with the well-manicured lawn at the facility, creating the perfect atmosphere ahead of the 'big reveal'.
Trust Vera to do the most and she hired a chopper to reveal the baby's gender!
Guests gathered at an open space a few metres from the dining area as a chopper hovered over their heads and within moments, there was blue smoke, indicating she is expecting a baby boy.
"OMGGGGG I'M SCREAMING!!! We having a BOOOOOY!!! Damn. A Dream come true. I finally have my boy. Our 1st Gender Reveal party was epic.
"This time, we wanted something unique & different so we went for a chopper reveal. TEAM BLUEEEE whoop!! Asia is daddy's girl. We'll finally have mommy's boy. I'm so grateful to God for our growing family," she wrote.
Brown Mauzo also took the opportunity to sing for Vera, backed by a violinist whose impeccable coordination reflected hours of hard work.
The couple announced they were expecting their second child in December 2022 and Vera revealed that she found out she was paged at four months but she was excited to embrace everything that came with it.
At the time, she had plans to travel abroad for a cosmetic procedure but cancelled it to focus on her pregnancy.
"Sweethearts, Asia's sibling is on the way!!! God had plans for our little family to grow bigger. Imagine we Discovered at 4 & half months just when I was about to go for my breast enlargement surgery. I had to cancel my trip & embrace our little miracle," wrote Vera.
Related Topics