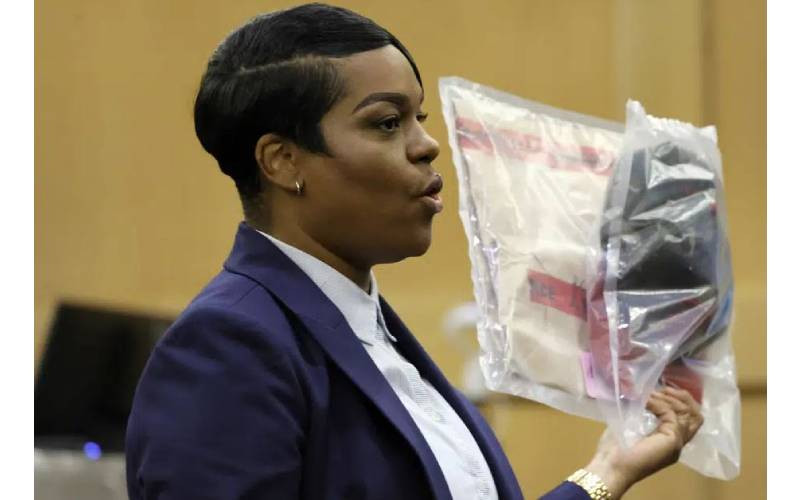 A Florida prosecutor told jurors during closing arguments Tuesday that three men on trial for the 2018 slaying of rapper XXXTentacion were "predators" who waited outside a motorcycle shop to rob and shoot the rising star, escaping with $50,000.
Prosecutor Pascale Achille played cellphone videos the defendants allegedly took hours after the killing that showed them smiling and dancing as they flashed handfuls of $100 bills. Michael Boatwright, Dedrick Williams and Trayvon Newsome are all charged with first-degree murder and face mandatory life sentences if convicted.
"This is who they are. This is their real character. Killers that within 24 hours after shooting the victim dead and stealing $50,000 from him, this is what they do," Achille told the jury as she played the video. "Look at how happy they look. Look at how excited they look."
She also played surveillance video from the motorcycle shop and from where two of them allegedly stashed an SUV that she says link the men to the killing. And she recounted statements from a fourth man, Robert Allen, who pleaded guilty to second-degree murder last year and testified against his former friends.
George Reres, Newsome's attorney, implored the jury not to convict his client based on Allen's testimony or evidence implicating the other two defendants, saying, "He was not there." He said Allen, a 12-time convicted felon, should not be believed and Newsome's DNA was not found on any evidence.
He told jurors they should not believe Newsome is guilty simply because of the video showing him flashing money with the others, arguing he may not have even known where they got it.
"He did some stupid things — he posed with some money," Reres said. "Guilt by association is not something the law permits."
Mauricio Padilla, Williams' attorney, called Allen a "liar." He said the prosecution's witnesses contradicted each other and Broward County sheriff's detectives didn't look at other possible suspects, including the Canadian star rapper Drake — he and XXXTentacion had an online feud. He said his client did tattooing and other work that paid him in cash, so the video of him flashing money means nothing.
Padilla also sought to cast doubt on the evidentiary value of the surveillance video, saying that while it may show his client in the store and walking back to the SUV, there are moments where the vehicle is blocked and Williams could have gotten out and left.
Boatwright's attorney was expected to give his closing argument Wednesday, followed by Achille's rebuttal and then jury deliberations. The trial began a month ago.
XXXTentacion. whose real name was Jahseh Onfroy, had just left Riva Motorsports in suburban Fort Lauderdale on June 18, 2018, with a friend when his BMW was blocked by an SUV that swerved in front.
Surveillance video showed that two masked gunmen emerged and confronted the 20-year-old singer at the driver's window, and one shot him repeatedly. They then grabbed a Louis Vuitton bag containing cash that XXXTentacion had just withdrawn from the bank, got back into the SUV and sped away. The friend was not harmed.
Boatwright, 28, is accused of being the shooter, while Newsome, 24, is accused of being the other gunman. Williams, 26, is accused of being the driver.
Prosecutors say the men, along with Allen, set out that day to commit robberies and went to the motorcycle shop to buy Williams a mask. There they spotted the rapper and decided to make him their target. Allen and Williams went inside the motorcycle shop to confirm it was him. They then went back to the SUV they had rented, waited for XXXTentacion to emerge and ambushed him, according to prosecutors.
The rapper, who pronounced his name "Ex ex ex ten-ta-see-YAWN," was a platinum-selling rising star who tackled issues including prejudice and depression in his songs. He also drew criticism over bad behavior and multiple arrests, including charges that he severely beat and abused his girlfriend.
Related Topics