She has fought many fights in the rings and rehabs, won some and lost others. But in June last year, the legendary Kenyan female boxer Conjestina Achieng alias 'Conje' hit rock bottom.
Photos of the once flashy fighter whose mere mention of her name struck fear in opponents' hearts emerged on the internet with 'Conje' looking like a shadow of her former self.
They showed her unkempt, scrawny, and confused. Touted as a national treasure and pride in her heydays in 2004 and 2005, Conje degenerated right before the nation's face.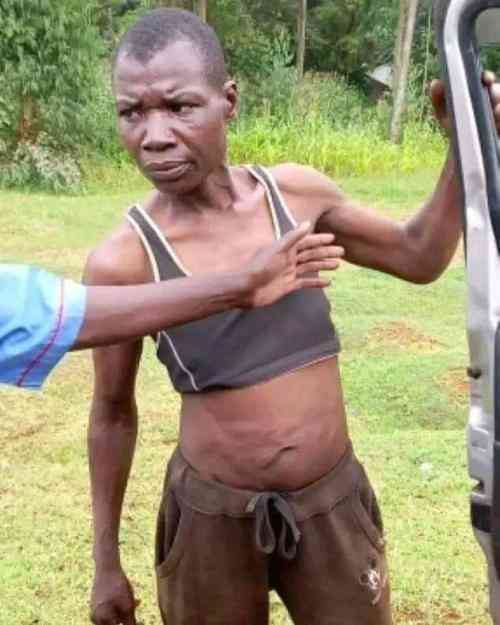 Conje's story is that of a person who has gone to hell and back. But she has not lost her mojo, she craves one final fight.
Just like the legendary Mohammed Ali whose title was declared vacant after his boxing license was withdrawn by the State's athletic commission, Conjestina wants her title back.
"I cannot lose my title I won in the ring by a Knock Out at a rehab centre. It has to be in the ring!" said Conje, the one-time Women International Boxing Champion (WIBF) world number 5 pugilist.
She says her idol is the late American boxer, who one time went around mocking Joe Frazier's and George Foreman's claims to greatness as Chump and not champs like himself.
Conje was flabbergasted to learn that her WIBC middleweight title is held by Slovenian professional Ema Kozin. Although she is still battling depression accentuated by drug abuse, she wants to reclaim it.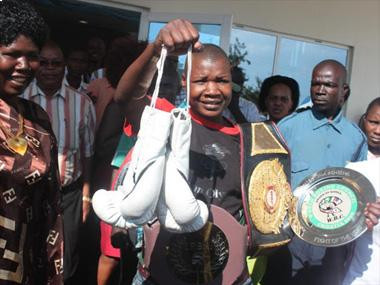 "Like Ali who went ahead to prove he was indeed the rightful ruler of the heavyweight. I'll be back," said Conje.
But back from where?
Last year, Conje was taken to Amina Abdalla's Mombasa Women Empowerment Network, a mental rescue center, by former Nairobi Governor Mike Sonko after her pictures emerged on social media.
But this was not the first time Conje had fallen into the deep ditch of drug abuse. In 2018, she sunk into drug abuse and was admitted to a rehab centre in Homa Bay courtesy of a betting firm.
The rehab kicked Conje out three months before completing her treatment over what her mother, Gertrude Auma, said, due to intolerable aggressive behaviour that threatened other guests.
The boxer was on November 2, 2018, flown to the capital for treatment courtesy of Sonko. This is after a video emerged on social media showing Conje begging for food.
Intensive programme
It is not clear whether Conje completed her treatment but in 2020, she regressed again and was rescued and taken to another rehab by the National Authority for the Campaign against Alcohol and Drug Abuse (NACADA).
These attempts to rehabilitate Conje didn't bear fruit. And in June last year, Sonko enlisted her for an intensive programme at the Coastal rehab centre with a reputation for a tough regimen and thorough therapeutics.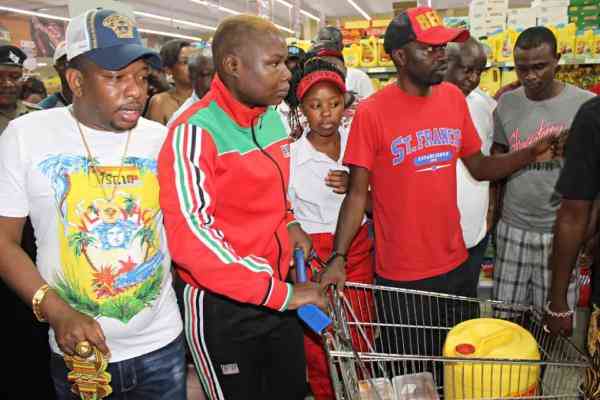 Dr Nancy Kipkemoi, the clinical Psychiatrist who evaluated her, said Conjestina Achieng arrived at the facility displaying manic tendencies. "She was talking a lot and was suffering from delusions of grandeur," she said.
The medic said she was in such a state that she was unable to evaluate her and they had to sedate her for almost a week before a proper clinical assessment could be done.
"It was clear that she had despaired and this led her to drug abuse which triggered depression for which a clinical intervention was possible," she said.
However, the doctor warned that the treatment required could only be successful if the patient came to terms with her condition.
Centre administrator Amina Abdalla says that they are at a phase where they are enlisting Conjestina in a gym as well as boxing training so that she can eventually be released back into the point in her life where she had direction and aspirations.
"There is no point declaring her cured and then releasing her back to an environment of penury and drugs like before. That will be counterproductive and it will be just a matter of time before she regresses again," she said.
As for Conje herself, even at a time when she has fallen to rock bottom, from grace to grass, she has never lost sight of her aspiration to get back onto the top of the boxing rankings.
She now is much better, has accepted her condition, and is aware of the danger that drugs pose in her life and career. She cannot wait to get back into the ring and prove why she was referred to as 'hands of stone'.
She isn't completely fit but she is healthy and says all she requires is to get into fighting condition, something that simply requires a six-month intensive training camp. After her muscle tone defines and all the flab is gone, training with sparring partners and getting a promoter, she hopes to win back her belt.
"I can then launch into a coaching career teaching girls how to be a boxer," says Conje.
She says she was introduced to boxing by watching Mohammed Ali fighting and beating opponents, some of whom were bigger than himself.
Those who have had the misfortune of getting with her in the ring learned the hard way that whereas they were doing all the jabbing and dancing, Conje was stalking and usually it wasn't long before it was lights out for them.
Her greatest memory is the time she was training for her WIBC championship. She says that her training camp was in Europe.
"I knew at that time I could take on anyone as I am a strong boxer. All I need after I get out of here is a promoter that will invest in my getting back in shape as I still got within me a couple of fights," she says.
Father's death
She attributes her situation to the death of her father who is reputed to have been close to her.
"I saw him after he lost her life and after they buried him all of which I witnessed, I was never the same again," Conje said.
The centre says the next phase of treatment is expensive and will require the help of Conjestina's guardian Sonko to help.
"We do not have a gym and a boxing training meaning that she has to be taken to other facilities to facilitate her therapy," says Amina Abdalla.
She will require transportation every day as well as supervisors to ensure she sticks to the program while there.
However, the centre says that in about three months, if everything goes according to plan, Congestina will be back in the ring as new, ready to pursue her career.
As for the fighter herself, she cannot wait to get back in the ring and believes the remaining phase of her treatment is just prolonging the agony of her adversary.
Conjestina Achieng is all set for her resurrection!
Related Topics