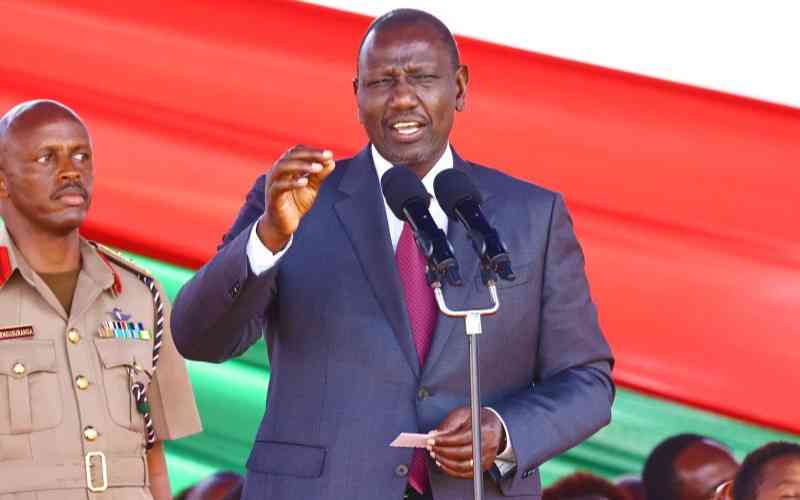 President William Ruto has weighed in on the LGBTQ debate, assuring the nation that he will not allow it.
Speaking during the launch of the Women Enterprise Fund at KICC, Ruto said he respects the rule of law but Kenya has its own culture and traditions.
"I am God fearing and although we respect the ruling made by the Supreme Court, we have our culture and traditions.
"Our religious affiliations (Islam or Christianity) cannot allow a woman to get married to a fellow woman or a man to a fellow man. We cannot do down that route," he said.
Ruto further called on religious leaders to rise up and guide their flock, lest we lose our moral fabric.
"It can happen elsewhere but not in Kenya. We know there are people pushing the LGBTQ agenda and our children are being bombarded with this talk.
"I will not allow women to compete with other women…I will not allow men to look for fellow men to marry. Where will you find men if they do that? I will not agree," he said.
Deputy President Rigathi Gachagua, on his part, said the country's core values need to be respected and Kenya will not condone any attempts to legitimise LGBTQ actions in Kenya.
Various religious bodies have also opined on the matter and this week, the Jamia Mosque Committee said the decision by three Supreme Court judges to allow the gay community seek official registration was 'totally unacceptable'.
The Committee termed the judgement as unfortunate saying it will have far-reaching consequences on religious and cultural traditions.
"We are dismayed that the Supreme Court chose to ignore the fact that homosexuality is 'unAfrican' and repugnant to local traditions and instead chose to open a window for the vice to be spread in Kenyan homes under the guise of human rights.
"The Muslim community will under no circumstance accept such a law which seeks to promote acts that are anathema to the beliefs of the vast majority of Kenyans," read the statement in part.
Christ Is The Answer Ministries (CITAM), on its part, commended the judges who had a dissenting opinion, saying the Bible considers homosexual behaviour a sin because it is disobedient to scriptural teachings.
The church, however, welcomed those struggling with the 'vice' for counselling and prayer, promising them restoration.
CITAM also called on Kenyans to stand firm on the matter and speak in one voice against the legalization of same-sex unions as it would erode societal norms.
Related Topics