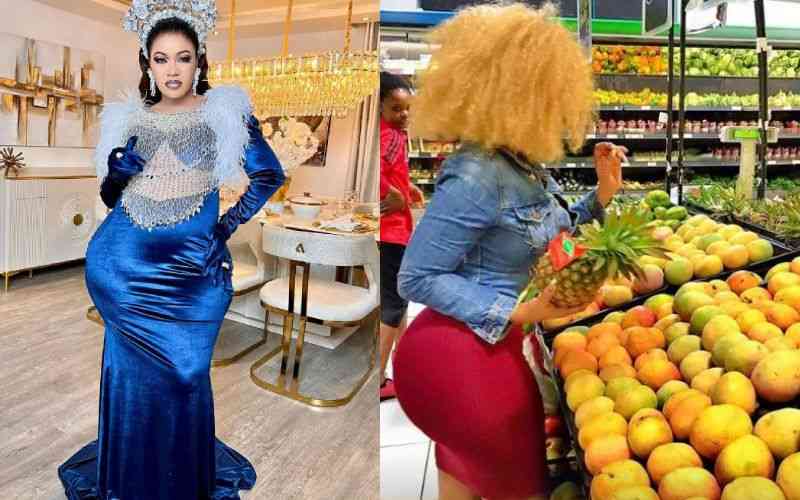 Socialite Vera Sidika on Monday said she stopped going to supermarkets over five years ago since people would stare at her.
Through her instastories, Vera shared a throwback photo while she was shopping at Village Market and stated that even staff stopped what they were doing to look at her.
"This was the last time I was in a supermarket in Village Market. More than five years ago.
"I caused wahalla. All cashiers stopped scanning products to stare. Including other staff like this lady here," she wrote.
Vera, who commands an impressive following (2 million) on Instagram, has often shared snippets of her life, including the nannies she has, to ensure everything inside her home runs smoothly.
Through a question and answer session with fans in 2022, Vera divulged that she got her nannies from a professional nanny boutique that often deals with high-end clients.
She further stated that the proprietor of the business ensures her nannies and house managers are well-groomed and fluent in various languages.
"There is a lady that moved back from the states and set up a professional nanny boutique. She gave me all my nannies and house managers.
"She does not like having her business overly publicized...since her rates for nannies are not cheap. Salaries range from minimum 50k going up. They are very well trained...fluent in English and other languages," she wrote.
Adding: "If everyone has access to her and their budget is not what she offers, it will make her work very difficult."
A curious fan also asked Vera how she handles her baby with long nails and she said she is used to it plus Asia Brown has two nannies round the clock who attend to her when she is busy.
The socialite also said she prefers nannies who are over 40 years and not active on social media due to their experience in handling young ones.
Vera transformation
Vera has been throwing around figures for fun and even said she got her bust and teeth done for Sh7million.
She, however, maintained she has never undergone any procedure to enlarge her butt.
Related Topics