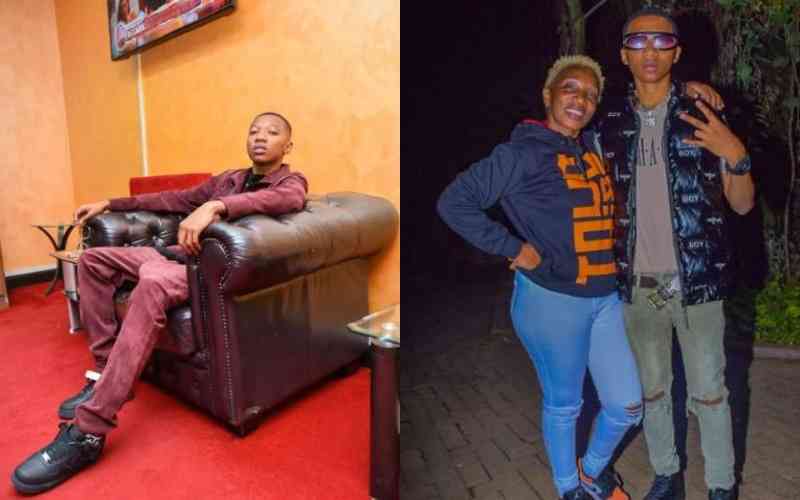 The 2022 KCSE results were released on Friday, January 20, 2023, by Education CS Ezekiel Machogu at Mtihani House.
Away from past tradition, the CS did not name the top schools or the candidates, opting to give a general report, breaking down the distribution of grades among males and females.
Many netizens, however, were eager to see how rapper Mario TJ Kasela aka Trio Mio performed, especially after he hit out at critics who ridiculed him prior to the release of the results.
In a phone call with Standard Entertainment, Trio Mio's mum Irma Sakwa asked the public not to put too much pressure on his son as he is content with his results and they will not change his career plan.
"I have seen people spreading rumours on social media and it is sad. Trio is happy with his results and they will not change the plans he had initially.
"Tulieni. The boy did his best and am very proud of him. And those speculating a D ....poleni!" she said.
Adding: "I can assure you that he will still continue with his music journey," she said.
Asked about the grade, Irma assured the public that Trio will make his results public in due course.
A few weeks ago, the singer was a topic of discussion on a local radio show where presenters Chito Ndhlovu and Cyd Wambui said they were waiting for his music 'post-KCSE'.
"I am waiting for his music post-KCSE. Already he has released one song and guys are saying that the pressure of KCSE was what was making him release good music. This year is his make-or-break point…if he passes this year and doesn't put out a major hit, imagine he'll be forgotten," Ndhlovu said.
Trio swiftly responded by releasing a two-minute freestyle track S'kosi Usingizi, talking about his upbringing, admitting he is not the best in class but makes up for that in the studio.
He also hit out at those who had created memes to mock him saying they will not affect him, adding that intellect is not only measured by one's grades in exams.
View this post on Instagram
Related Topics