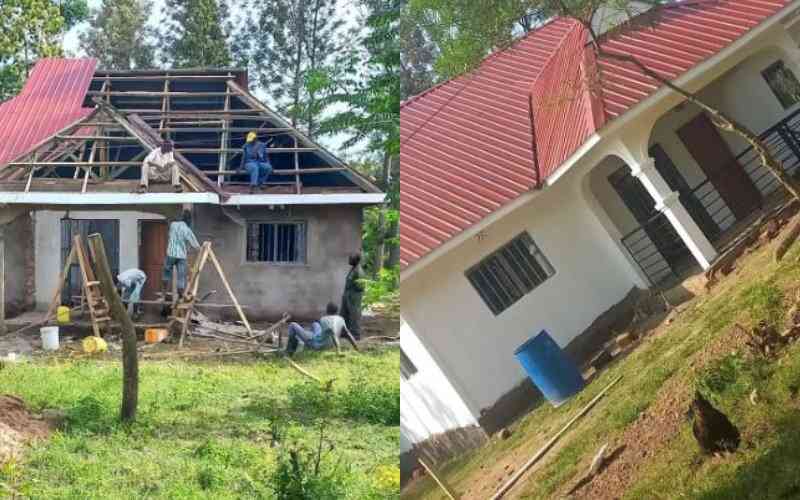 Kelvin Ikwara rose to fame in early 2021 while dancing to Kendrick Lamar's song Love. His routine was an instant hit online and many other TikTokers took up the challenge.
Fast-forward to 2022 and Ikwara, 29, is already making strides. Through an Instagram post on Tuesday, the content creator shared photos of a house he is constructing back in the village, urging his followers to never give up.
"The journey wasn't that easy, but if you have a goal, never give up until you achieve it. Thanks be to God.
"The home is 79% complete #happynewyear in advance," he wrote. His followers trouped to the comment section to congratulate him for the milestone and he was more than proud to showcase his progress.
In a previous interview with Standard Entertainment, Ikwara, who is also a contractual factory worker, said he never imagined he would become famous.
"I posted the video in the evening, and when I woke up and opened my account the next morning, I was shocked by the rise in numbers. Before, I would get 10-15 likes per post, but this post had 3000 likes in less than twelve hours. I also had over 50 new followers the same night. I noticed that most of the likes and comments were from people in different countries and continents," he said.
The video, which catapulted him to online fame, was enjoyed by social media users across the globe, who buttoned up their shirts to perform choreography duets with Ikwara on the app.
"When Lupita Nyong'o posted my TikTok video on her Instagram story, my social media accounts were filled with new followers and many more likes. That is when I knew that my content was reaching people far and wide," he said.
Ikwara added that TikTok star Azziad Nasenya gave him the inspiration he needed to let his guard down and be more creative with his posts.
Nasenya had been enjoying success on the application and was catapulted to fame after dancing to Femi One and Mejja's song 'Utawezana'.
Ikwara ventured into TikTok in mid-2020 after hearing his colleagues and friend discuss the application, which had become more popular than ever with lockdowns imposed due to the coronavirus pandemic.
"It wasn't until I saw Azziad's success on the app that I began to look at it as a serious thing. After seeing how far and quickly she took off, I figured it was definitely worth a try," he stated.
Related Topics