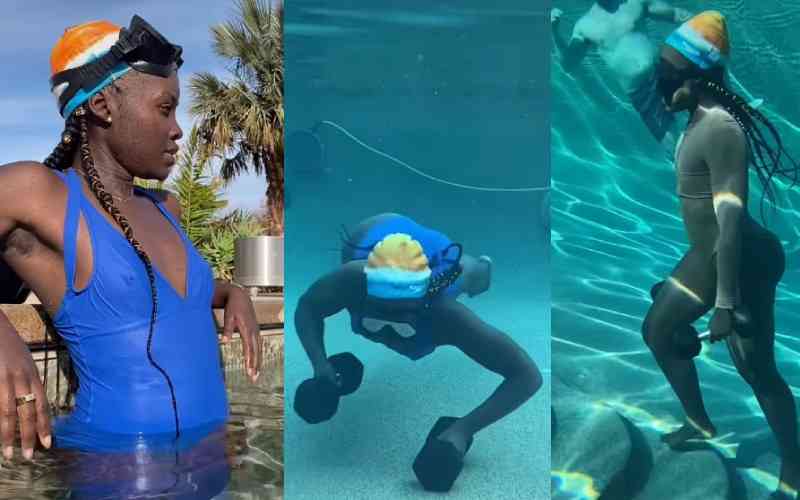 Weight training is an uphill task. It involves challenging your muscles and pushing them with every additional kilo you lift. Weight training in the water? An even tougher task.
But that is just what Kenyan actress Lupita Nyong'o did to get in tip-top shape for her major role as Nakia on Black Panther: Wakanda Forever. She has documented parts of the intense training she underwent, showing that her swimming skills were nurtured and sharpened ahead of the film installment.
Taking to her TikTok and Instagram account, the Oscar-winning actress posted clips of the training, writing, "How I trained to swim in 'Wakanda Forever.'
As the video begins, Lupita swims from one end of a pool to the other holding a dumbbell.
In another scene, she crawls on the pool's floor with weights in each hand, lifting them one after the other to propel herself forward.
Among other routines, Nyong'o showcases underwater lunges and other intense exercises in the swimming pool.
"Swimming down to Talokan was not as easy as it looked! Safely supervised by XPT Life and Mark Roberts Fitness," Nyong'o captioned the TikTok Video, now viral and with over 3.6 million "likes" on the app.
"I felt like a crawfish," Nyong'o tells the person holding the camera when she finally resurfaces following a strenuous walk across the floor of the pool, weights in hand.
The cast of Black Panther: Wakanda Forever has opened up in interviews about their experiences sharpening their swimming skills for their roles.
Variety Magazine reports that before filming the movie, Director Ryan Coogler did not know how to swim.
"A lot of us were raised to have fear of water. I had to figure out how to swim so I could direct this movie," he told the magazine.
Variety Magazine notes that a big part of the film featured underwater scenes.
"As 'Wakanda Forever' introduces Namor, ruler of Talokan - a hidden underwater realm and surprising new threat to 'Black Panther's' fictional African kingdom of Wakanda - about half the movie's scenes take place in the depths of the ocean."
The director said that as he dived into his role in the film, he had to be in the water along with the cast.
"If the camera is in the water, actors are in the water, I have got to be in there too," he said, while Variety Magazine notes that his skills in the pool went from "knowing how to stay alive" to being able to go to the deep parts.
The cast and crew also trained in holding their breath for periods of up to two minutes.
"Before we started this film, I knew how to swim, but I was not a confident swimmer. I did not need to swim in public, that's for sure. That is a lifelong skill that I now have," Lupita said.
Related Topics