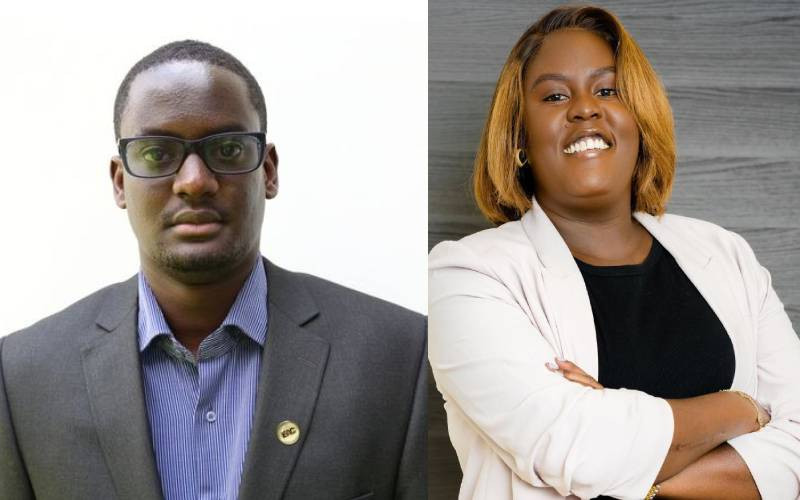 The battle is on for the fifth session of the East African Legislative Assembly (EALA). While the various political parties submitted 27 names, two stood out – Kennedy Kalonzo and Winnie Odinga.
Most people have their eyes on Kennedy and Winnie because they are the children of long-serving and prominent politicians in the country, Kalonzo Musyoka and Raila Odinga.
However, the two are keen to show that their ambitions to represent their country in the regional parliament go beyond having famous surnames.
For Kennedy, nominated under his father's party Wiper, this would be his second run for EALA, which he believes makes him suitable for the job.
"I believe having now learnt the ropes, I want to focus on private member Bills at the regional House. Kenya has always had the tendency of sending a whole new team, which then means they start from a position of disadvantage," he told Nation.
On the other hand, Winnie is on a mission to build her brand name and showcase her abilities to serve the country, saying that her interest in EALA had nothing to do with his father.
"For me, I am not going to EALA as a representative of the Odinga family. If that is the case, the Odinga family could have nominated me over dinner two days ago. I am going to represent the people of Kenya...," she said.
However, politics wasn't Kennedy's first choice, saying he hated its dynamics because it was "too personality-based."
He aspired to be a deejay and even ventured into music during his high school and college years, but his dreams came crushing down after a friend borrowed and spoilt his equipment, adding that he was "so heartbroken" and "never went back to music."
But after studying Kenyan politics in Australia, Kennedy's stand started to change after he realised that it was how politics was practised at the time that he hated.
His political views seemed to have changed after he became the youngest member representing Kenya in the EALA in 2017 at 32 years.
Even though most people thought his father pushed him for the EALA job, Kennedy said he took that route due to his frustrations working on a regional project.
But be that as it may, Kennedy still had a rough ride at the time, given that Raila Odinga's ODM also nominated his brother Oburu Oginga to another EALA slot.
But Kennedy defended himself as his own man: "I have been consulting for Wiper party for a while. I have been making my own contribution in strategy and I believe that is how I ended up with the nomination."
Kennedy is Kalonzo's first-born child and reckons that growing up wasn't easy due to his father's absence, who he was told was trying to build a better country.
Nevertheless, Kennedy says his family has supported his and his siblings' ambitions. A case in point is that his youngest brother Klein chose to become a rapper.
Klein launched his music career in 2014 under the stage name K-Deuce and has a recording studio, Heart Beats Studio.
Kennedy studied for his O-levels at Brookhouse, did an International Relations degree at the University of Newcastle in Australia, and then pursued a Law degree at the University of Nairobi.
Winnie Odinga, nominated under ODM, has exuded confidence she would clinch the seat, despite critics claiming her nomination was due to her family background. She says the position called for anyone capable of representing Kenyans irrespective of where they come from.
"The name Odinga has gotten me very many things…it has gotten me into trouble, abused, blamed for many things and persecuted. It has also been a blessing and it is a name that I emphatically am proud of and defend. The name Odinga does not define Winnie," she said.
And when asked why she went for the seat, Winnie firmly responded, "Why not me? I have all the requirements for EALA…I have passed and achieved all of them, so why not me? I had not applied for EALA nor was I thinking of taking that step."
But Winnie's main goal is to uplift young Kenyans and Africans by building a coalition of the willing following Western's interference with Africa's governance and resources.
"Western countries have for years interfered with Africa. They interfere with our sources and governance. The US is divided. Instead of focusing on themselves, they are interfering with the African continent and they pick different things or leaders to put their money into, and the result is to leave our people in extreme poverty," she said.
She added: "The state of young Kenyans, East Africans and Africans is in dire strains, and I want to begin and to lift some of those people up."
Winnie is the fourth-born child of Raila and Ida Odinga. She was named after the late South African President Nelson Mandela's ex-wife, the late Winnie Mandela- a South African apartheid heroine.
She went to Rusinga School and later Brookhouse High School. After that, she proceeded to the University of Philadelphia, where she earned a double major in International Business and Corporate Communication.
In a previous interview with The Standard, Winnie said she worked as her father's bodyguard, briefcase carrier, transport companion, and driver if needed. In 2017, she was a pillar in her father's political campaigns.
Related Topics