Born in Sudan and raised in the US, Emmanuel Jambo is famously known as the president's photographer. The award-winning photographer recently took President William Ruto's portrait. He has also photographed former President Uhuru Kenyatta.
His bachelor pad feels like a gallery studio or a posh art boutique showroom. Antique lovers and collectors will undoubtedly fall in love with it.
It has enough character to hold an antique auction, and Jambo would fetch a fortune for his invaluable pieces – if he decides to sell them.
Huge windows allow the perfect amount of lighting into his living room. The space is bright and airy, and it has a neutral grey pallet wall painting that he painted.
This brilliant canvas allows him to play with all his sentimental collections.
The wooden floor adds warmth. A perfect reflection of the owner, there is no clutter in his living room. This allows one to appreciate the tastefully restrained look that he has created.
When I ask him why he loves the apartment style, he shares that he appreciates the old-style spaces because they have character.
Jambo is a DIY enthusiast. If all the furniture in his space is anything to go by, he reached out to an artisan friend to help him realise his vision for his home furniture. He informs me that he would like to study carpentry.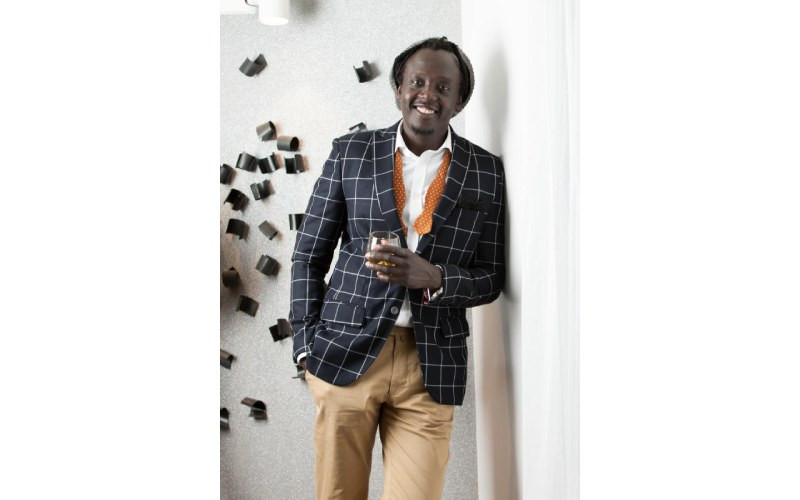 He handcrafted the brown leather sofa seats, which are stylish and comfortable. The room also holds more pieces he has made, including threadbare antique chairs, a stylish ottoman, unique picture frames and a bookshelf.
There is also a TV stand, a table made of neat wood pallets, and a glass table with wheels that rolls away to any space in the house. These give the room an eclectic effect and a distinct personality.
An authentic zebra rug he bought in the United States infuses charm and pulls all the elements together.
His space is quaint and striking. I am fascinated by Jambo's art pieces' logical and unconventional display.
The animal print brown wingback chair is a piece of art. Its unique character complements his space perfectly. Jambo shares that it was a gift from his sister when she moved back to the US.
Statement art pieces – and his favourite pictures hanging on bare stone walls – tell a story of places he has visited worldwide and his charity work with the United Nations High Commissioner for Refugees.
Jambo collects skulls and old cameras. One of the skulls looks real. When I ask how he managed to get one, he reveals that it is from one of his photo shoots. It is plastic but looks like a real human skull. Somehow, this is scary but evocative.
The vintage cameras gifted to him by his sister and his friend express how much his loved ones appreciate his passion for photography, a renowned photographer's pursuits.
His favourite model fashion photographs display his incredible art and skill in photography.
I jokingly ask him when he plans to settle down, and he quips, "No one wants to marry me, including the Chinese."
The Ankole skull on the wall is striking. It is from the bulls found in South Sudan, Uganda or Rwanda.
"The big horns symbolise power. One of the South Sudanese tribes put their hands up as a sign of power, and I reconnect with my roots by looking at it," he says.
A vintage vinyl recorder and records are a majestic trademark. They recapture the good old days, his parents' heydays, and they remind him of his childhood.
I am thrilled by some quaky pieces, such as an old Singer sewing machine, an old typewriter, and a hurricane lamp. The Ajua game and small seats from Lamu depict his care and precision for everything rustic and vintage.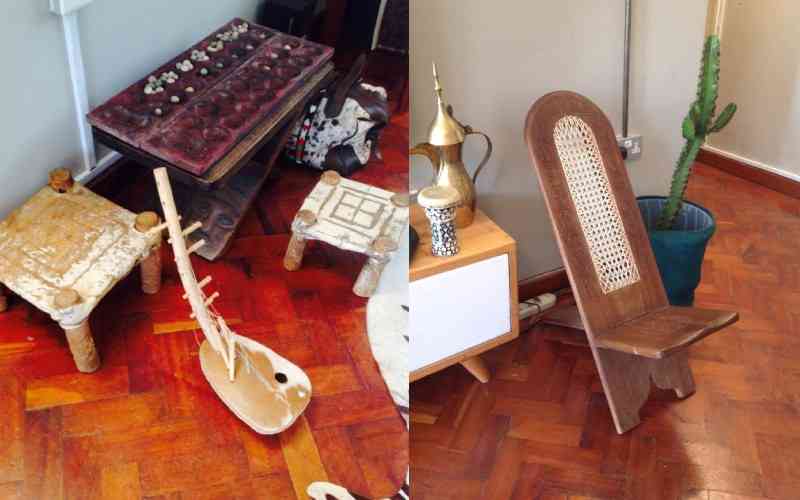 He reluctantly agrees to show me his master bedroom, which is stylish with neutral pallets on the walls and huge windows that stream in sunlight. His custom-made bed is authentic.
The antique guitar beautifully displayed in the room is a perfect aesthetic. Another vinyl recorder in his room speaks of his passion for music. A brown cow skin rug adds a masculine feel to the space.
Jambo's bachelor pad depicts his passion for antiques. His laid-back and artistic personality is felt throughout his home. The relaxed and imaginative atmosphere is a fantasy escape where his creative juices flow.
Related Topics