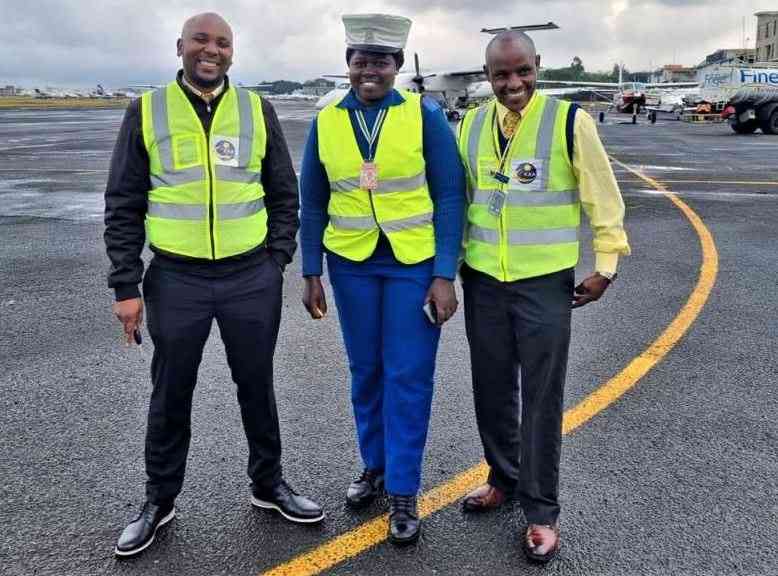 What would you do if you lost over two million shillings in cash in these hard economic times? Go insane, perhaps.
Well, Benson Nickolson, a citizen of the United Kingdom almost lost his mind when he momentarily lost a bag full of cash—$19,000, thousands of Kenya shillings and credit cards a couple of weeks ago. The bag also had some valuable regalia given to him by his late grandmother.
"I developed temporal insanity as it appeared we had no hopes of recovering the bags," he wrote recently on social media.
"I was in charge of all the resources and finances, so I had a substantial amount of cash and plastic money in form of cards that facilitated our movements and comforts."
Unbeknown to him however, staff at Nairobi's Wilson Airport and one of the busiest in the region, had found his bag and were frantically trying to locate the owner through one of Benson's contact cards found in the bag.
Joseph Okumu, Regional Aiport Manager, Wilson Airport and Northern Region, said when security warden, Martin Kamau and his supervisor, Joseph Kabangi finally managed to get through to Benson, he mistook the caller for a porter he had used in Masai Mara.
"He actually told our security warden, Mr Martin Kamau, that he was in the middle of something and would call later. He mistook our caller for a porter in the Mara. But we kept calling for we could fathom that he was in distress as he was in charge of all the cash from his travel group," said Okumu.
Benson said he took the caller seriously when he insisted on getting to know his identity. The caller also said he was calling from Wilson Airport. Benson calmed down and was informed that his bag has been found at one of the exit gates at the airport.
"I told the caller with disbelief that I was almost at the airport. I told my driver to drive faster. I was directed to the office of the airport supervisor where I found my bag with the cash, my wallet, my cards, all intact. The police were also there to verify the account. It was a daydream for me," said Benson.
Benson and his family had been on a three-week vacation in Kenya and Tanzania. He had used almost all the transport hubs such as Jomo Kenyatta Airport, Wilson Airport, the SGR, and the airstrips in Masai Mara and Serengeti.
However, his experience with the airport staff at Wilson Airport is what will be etched in his mind for a long time to come since it is "not easy to find such honest people in many places".
What surprised Benson all the more was the fact that the particular baggage collection area at the airport has no CCTV cameras and the bag could have disappeared without a trace.
"Without any CCTV, I could not comprehend how my bag with such valuable items could still be found and that the owner was called to collect it. My brother lost a tenth of that [amount] in South Africa where they have a robust CCTV system. Therefore, it is not about systems, it is the human factor, the people, the staff who are the greatest asset. In my country, this is not possible to recover. Only in Kenya, I can assure you," wrote Benson.
Okumu said the airport serves a large number of people especially those visiting national parks, reserves and the many wildlife conservancies in the country. The integrity of the staff, he says, has to be top notch "so that passengers can have a delightful travel experience".
"When we called Benson, he expected to find a bag with no contents. If that were to happen, that would have been the last time for him to visit the country. We want our staff to be good ambassadors especially now that Covid is abating and people have started to travel again," said Okumu.
Okumu said although people misplace their bags at the airport, this is the first time that such a bag with a large amount of cash has been left behind. The security office, he adds, normally documents all cases of lost and found items and tries to trace the owners.
Mohamed Hersi, group operations director with Pollman Tours and Safaris said "though we feel we have lost trust, we still have many men and women in Kenya including the public service who have a heart and truly love this country".
For Benson, he has vowed to make Kenya his holiday destination of choice. "Our next holiday was scheduled to another country but we have since reviewed to come back to Kenya due to the experience we got from this official and his team," he said.
Related Topics