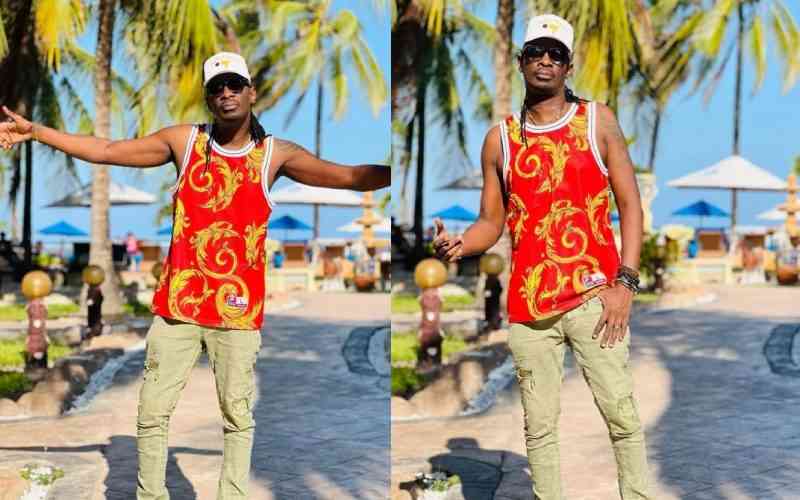 Veteran Kenyan singer Nameless is considering going for a vasectomy after recently welcoming his third child with his wife Wahu.
Through a post on social media, the Nasinzia crooner asked his fans for recommendations on where to get a good doctor to perform the procedure.
"Where can someone get a good vasectomist?" he asked.
Vasectomy, a surgical procedure to cut or seal the tubes that carry a man's sperm to permanently prevent pregnancy, has been a hotly contested topic in recent months.
While some men have expressed their openness to the procedure, others have slammed the idea, arguing that women should be responsible for family planning.
In a previous episode of Bald Box Session, an online show hosted by Sauti Sol's Bien Baraza, the singer urged men to be more considerate and save their spouses the troubles of the side effects of family planning methods.
"If I had kids yes, but I don't have kids now but when I eventually have kids, two or one I don't see why not. I'd rather you as a man do it so that your woman doesn't have to be on a contraceptive that gives her hormonal imbalance, weight change, cramps... the list is endless. Vasectomy is a painless procedure that you heal from in a week," he said.
According to rugby player Dennis Ombachi, male contraceptives have not been hyped enough hence the cold reception.
"I think when it comes to vasectomy maybe we still lack information about it. Just like the way we were all scared of Covid-19 in the first few years and got to know more about it, the same should be done with vasectomy," he said.
Radio personality Nick Ndeda is among those who have undergone the procedure although many bashed him, claiming he was influenced by his ex-girlfriend.
"One final thing on this matter, I did not get a vasectomy for her. I did that for me because I also do not want kids. Any other questions, not up for debate or discussion. There is no single video or thing that I did in the 7 years we were together that I did because I was forced to. Muthoni is a great woman and just because we aren't together now is no reason for the rude insensitive and dumb comments. Like we said, we were just letting you know. Whatever random mess you think you know that's on you," he posted on Twitter.
Related Topics