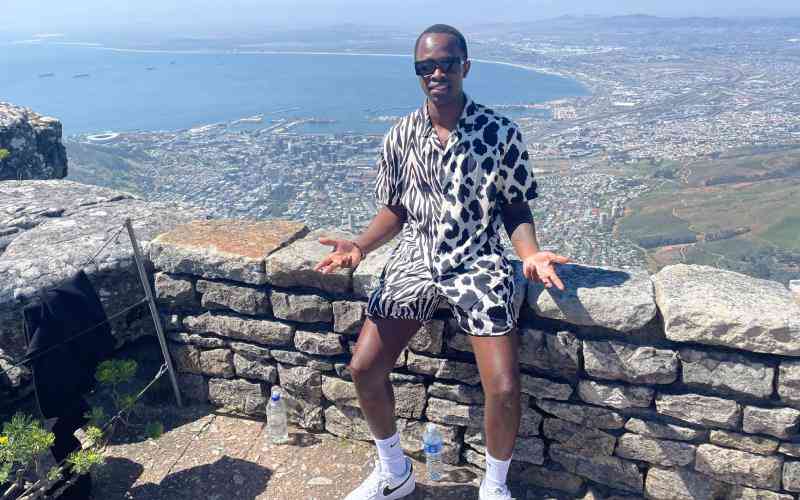 A Kenyan-born actor and producer, Raymond Watanga acts in two episodes of Netflix's True Crime hit series Monster - The Jeffrey Dahmer Story.
Watanga plays the role of Sopa PrinceWill on the show, which is based on the true story of American serial killer Jeffrey Dahmer's murderous path.
Sopa PrinceWill was the complex manager at the apartment complex where Dahmer lived.
"On May 14, 1990, Jeffrey Dahmer moved from his grandmother's house to the Oxford Apartments at 924 North 25th Street, Apartment 213, in Milwaukee, Wisconsin. As it is dramatised in DAHMER — Monster: The Jeffrey Dahmer Story, he murdered 12 victims at this location until his ultimate capture on July 22, 1991," entertainment website Cheatsheet reports.
Cheatsheet adds that the residents reported odd smells, falling objects, and at times the sound of a chainsaw to the apartment manager, PrinceWill.
"However, when confronted, Dahmer provided numerous excuses and reasons for the sounds and smells. He said that his freezer broke and the food spoiled or that his tropical fish had died."
Watanga appears in Episode Nine, dubbed 'The Bogeyman'. The episode is described on the film database IMDb as one where "victims and their families do their best to move forward despite haunting memories, while Jeff attracts fanfare from behind bars".
The Kenyan-born actor also appears in Episode Seven, dubbed 'Cassandra'.
"A prominent activist meets with Glenda, who recounts her harrowing experiences living next door to Jeff and how her concerns went largely ignored," a description of the episode on IMDb reads.
Watanga was born and raised in Nairobi, Kenya. He and his family moved to the States and settled in Euless, Texas when he was 12 years old.
"After years of focusing on basketball, he took a chance on acting after injuring his ankle. Soon after, he ended up taking on acting for non-majors class at Midwestern State University and thereafter changing his major," the actor's biography on IMDb reads.
It adds: "He then graduated in 2018 with a BA in Theatre performance from the University of North Texas and then moved to Los Angeles a month later to further pursue his career."
The 28-year-old actor and his family moved after they won an Electronic Diversity Visa Lottery, according to Africans in America, a website that tells the story of immigrants.
The actor said in an interview that he looks up to the Oscar-winning Kenyan star Lupita Nyong'o, who has attained global recognition and success as an actress.
"My biggest aspiration is to become the first Kenyan-born male actor to win the best actor Oscar. That is my biggest goal in doing all this," said Watanga.
One of his first roles was on the CBS action series S.W.A.T, where he appeared in a December 2019 episode.
He described his role there as "one of the villains."
"That is one of my biggest things; my go-to. I am very good with the accents, languages, and things like that," he said about his Somali accent on the series.
In another interview with Voyage LA magazine, Watanga opened up about pursuing his passion for film, noting that it has been a difficult path getting as far as he has in the film industry.
"It has not been easy at all. Having only known about three people before I moved and struggling to find housing was a challenge," he said of his move to the film industry in central Los Angeles.
"In only my second month, my car got totalled and I ended up having to buy a new one. And when it came to auditions, I kept hearing crickets. No callbacks, no bookings or anything, so that was the more frustrating part."
The actor noted that he specialises in dialect proficiency, accents and strong voice.
"I am most proud of sticking to my guns and having the discipline to keep pushing even when things are tough. Making my way and not caring what other people think. Always believing in myself and my brand."
Watanga's recent appearance on the true crime series Monster - The Jeffrey Dahmer story is a promising reflection of the great things that could lie ahead for the actor's career.
The show has been received with massive success, becoming one of Netflix's most successful series of all time.
"Since its release on September 21, it has been watched for nearly 300 million hours by subscribers, and became the second-most viewed show on Netflix within a week of its release, behind the fourth series of Stranger Things," Insider Magazine reported.
Related Topics