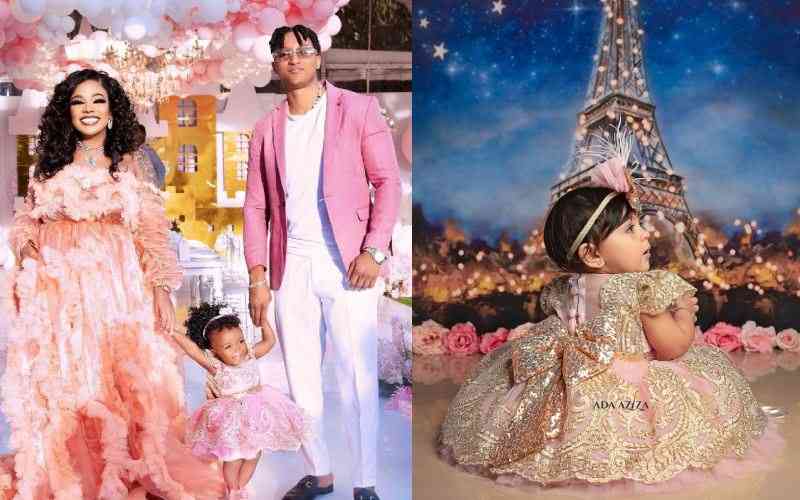 Socialite Vera Sidika has said Asia Brown's birthday dress cost Sh30,000 and she imported it from Florida, USA.
Through her Instastories, Vera said many people had asked about the dress her daughter wore during her birthday and she directed them to a high-end online children's boutique that specialises in such.
According to the website, the Esmeralda Dress (pink) goes for Sh30,600 and comes with a matching headpiece.
The outfit, made of tulle and satin is smoothly double-lined with cotton from top to bottom and can be custom-made for children up to 12 years.
In March this year, Vera, who is a lover of the finest things in life, claimed she spent Sh300,000 to import daughter Asia's bed from the UK, in a quest to ensure she gets the best life.
"How I wish I had this life as a newborn. Kweli it's true we work hard to give our kids what we never had. God bless all mothers for doing the best for their babies."
In recent weeks the Veetox founder has opened up about how motherhood has transformed her despite her initial fears and hinted at baby number two.
In an interview with Kiss FM's Kamene Goro, Vera said she is ready for more experiences, especially after the pain-free delivery of Asia.
"My biggest fear of becoming a mum was giving birth. When I thought about the labour process, I wondered whether I could do it. I kept postponing it.
"Then I realised there is a way you can give birth and avoid the whole pain process. I would say I love kids and the fact that I had a good experience with Asia, I feel like I am ready for more experiences."
Related Topics