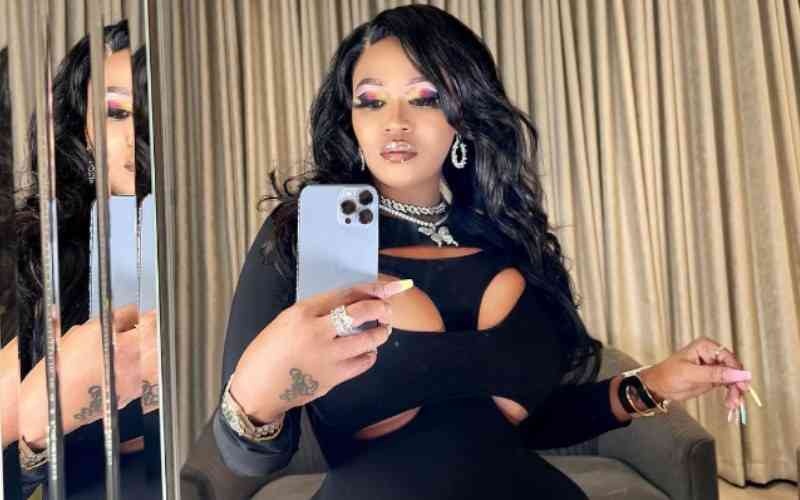 Socialite Vera Sidika has hit out at 'haters' days after she duped Kenyans into believing that she had undergone surgery to reverse a Brazilian Butt Lift (BBL) procedure.
Through a post on social media, the Veetox CEO said she is only focused on making money and will not waste her energy on those trying to pull her down.
She also hinted that she will go all out as her 'quiet girl era' is up
"My fingers were made for counting money. Not responding to haters...I've been in my quiet girl era for a minute, times up!!!" she wrote.
Having made headlines during the past week, Vera kept her fans guessing as she stuck to the narrative that she had undergone surgery due to the health implications of butt implants.
She even shared a video that she claimed was the first part of the surgery and teased that she would be releasing the second part in due course.
"I had to undergo a series of tests before the procedure so the doctors could assess me. The many wires in my chest & leg is called ECG Test for the heart. I didn't focus much on this since my main concern was the actual surgery. Which I got my anesthesiologist to film," she wrote.
Adding: "I will be posting the full theater video here tomorrow, it's clearer even though I was unconscious. But I'm sure this will truly help many girls out there trying to go down that path. If you're alive & well. Thank God. Never take it for granted. I was given a second chance to start over, stay alive before it got worse. I might not have the body y'all are used to seeing but I am alive & nothing beats that," she added.
After directing her fans to her YouTube channel, the socialite released a song titled Popstar.
Despite getting stick for using the 'surgery stunt' to gain views on her song, Vera is undeterred in her quest to remain relevant in the showbiz world.
The song, which is just four days old, has already amassed over 400,000 views.
Some of her fans are, however, far from pleased by her antics and have expressed their disappointment after showing her sympathy.
View this post on Instagram
This is what they had to say;
Betty Ongoma: You just wasted some good publicity from your stunt. You could have launched products or a brand that could have been visible and sold for years.
Diana Mkeu: It's so okay to your hates but it was not fair to those who decide to open up to you! And those who love you and cared for you especially fans! Its a win situation on your side but you have to know that you hurt some of people's feelings! If artists have to lie about something for their music to be viewed then its all bs..
Marion Mwende: Very lame and stupid of you to use such a serious matter for clout. People out there are dying from plastic surgery...SMH
Related Topics