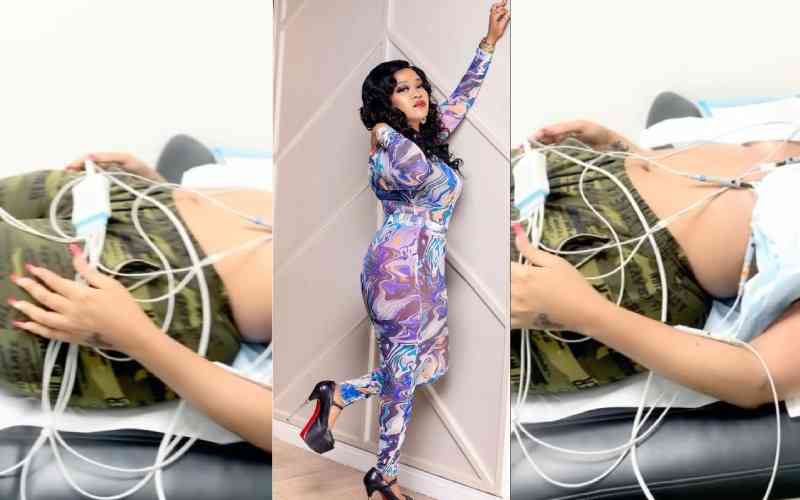 Socialite Vera Sidika has shared snippets of her BBL reversal surgery in a series of videos posted on her social media.
In the videos, the social media influencer is seen at her doctor's office undergoing numerous tests before her surgery.
"Part 1: Preparations. I had to undergo a series of tests before the procedure so the doctors could assess me. The many wires in my chest & leg is called ECG Test for the heart. I didn't focus much on this since my main concern was the actual surgery. Which I got my anesthesiologist to film," she wrote.
Considering the businesswoman only posted her surgery preparations, impatient followers demanded she shares the rest of the surgery videos, which she promised to share on Friday, October 7th.
"I will be posting the full theater video here tomorrow, it's clearer even though I was unconscious. But I'm sure this will truly help many girls out there trying to go down that path. If you're alive & well. Thank God. Never take it for granted. I was given a second chance to start over, stay alive before it got worse. I might not have the body y'all are used to seeing but I am alive & nothing beats that," she added.
View this post on Instagram
Speaking on her current health condition, the mother of one assured that she is doing well, adding that she would not have made the mistake of sharing her struggles while in pain and recovering from surgery.
"Y'all asking if nimepona must be crazy. Kwani I got the surgery done yesterday??? Shaking my head. By the time I posted here I was feeling better already. I wouldn't let myself be in pain and still stomach y'all hateful comments at the same time," she wrote.
Vera caught many by surprise by revealing she underwent surgery to remove her butt implants.
"This has been the hardest phase in my life, Due to health risks & complications, I had to undergo surgery. It's Still very unbelievable But I've come to terms with it & learnt to love myself regardless. Ladies; pls learn to love yourself & don't ever let peer pressure rush u into things that will ruin you in future. I'm lucky to be alive, God loves me so much. Honestly, It's been pretty hard, I didn't even celebrate my bday this year, but here we are."
Related Topics