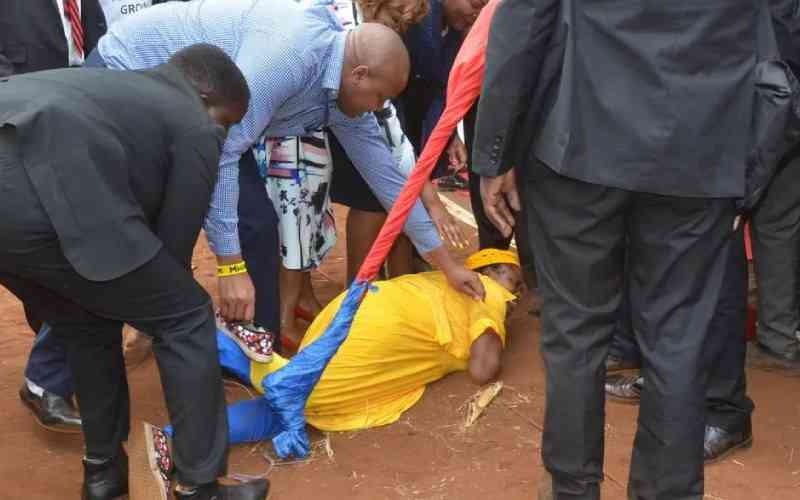 As President William Ruto addressed mourners in Nyeri during the burial of DP Rigathi Gachagua's brother, Jack Reriani, a woman interrupted his speech.
Lucy Wangui wanted the Head of State to help her with Sh400,000 to facilitate her son's trip to the US.
"Nimefika mwisho, nataka kukuona, nataka kuona Mama wa Taifa" she shouted.
President Ruto assured her that First Lady Rachel Ruto would assist her as security personnel dragged her outside the dome.
"Keti tu chini ntakuona baadaye...Mama Rachel yuko hapa atakuona...mambo yako tutaangalia," said the President.
While speaking to the press, Wangui said she wants her son to travel abroad and seek greener pastures since life has become unbearable.
"My son is a tout at the 2NK Nyeri stage and has three kids; two in secondary and one in primary. They are often sent home for school fees.
"I came here because this was my last resort. I was extremely frustrated," she said.
Further, Wangui narrated that her salary is not enough to cater to the needs of her family hence reaching out to the President for assistance.
"My son has been invited abroad by his cousin where he can work odd jobs such as driving as he was promised a salary of Ksh.70,000. With that he can take care of us and educate his children," she said.
She previously told The Standard that upon hearing the President would be in Nyeri she rushed to the venue early in the morning and secured a front-row seat, waiting for the perfect opportunity to capture Ruto's attention.
"I know how dangerous it is to interrupt the Head of State and I can easily lose my life but poverty has pushed me to do this for my son. I know the President for his generosity and I know he will assist my son get to America," said Wangui.
Related Topics