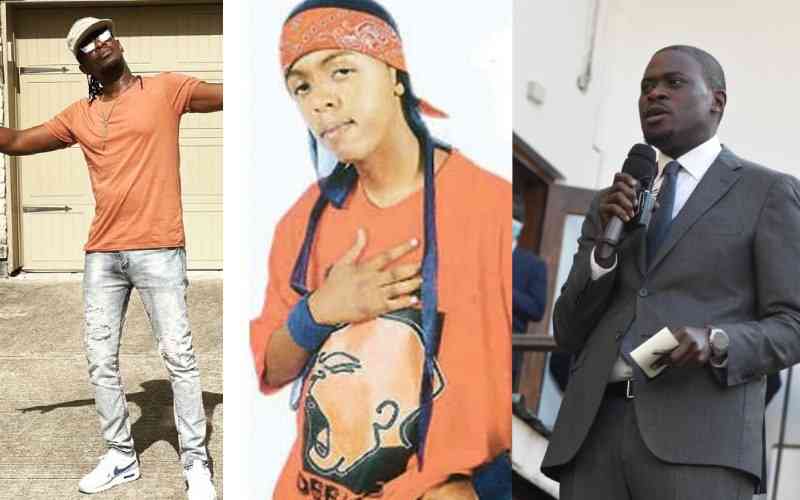 Kenyan musician Nameless has started an online petition to have a road in South C named in honour of the late E-Sir.
The petition, which had over 2200 signatures at the time of publishing, notes that naming a road or street after E-Sir would go a long way in recognising his contribution to Kenya's entertainment scene.
"In honour of this iconic Kenyan artist who was not only a great talent and friend to many but a pioneer in his genre of music we are calling on the Nairobi County Council (NCC) and The Office of the Ombudsman to name a road, drive or street in South C in 'E-Sir's" name as a way of celebrating artistic talent and in honor of his memory.
"To date, E-Sir is remembered for changing the game in the Kenyan music scene. Long after his death, he is still widely regarded as one of the best rappers to emerge on the Kenyan hip hop scene," it reads.
E-Sir (Issah Mmari) died in a tragic road accident along the Nairobi-Nakuru highway 19 years ago aged 21 but his music is still appreciated in East Africa.
Also read: Kenyan artistes unite to celebrate E-Sir
Nameless has time and again intimated that E-Sir saved his life as they were in the same car and the deceased swapped seats with him.
"We performed the night before, and we were all rested. We departed from Nakuru at around 11am and got distracted by a view of Lake Elementaita for a quick second. That was the last conversation we had. The car had started to veer off the road, and when the driver tried to get back on the road, he lost control, and we rolled a couple of times. Apparently, E-Sir did not have his safety belt on at the time," said Nameless while eulogising him a year ago.
He added, "On this day, a dark cloud covered our skies, we lost one of Kenya's most gifted musicians. His lyrical delivery and command of the Swahili flow were unmatched. Long after his death, his music and legacy live on. We miss you, bro; till we meet again."
Earlier this year, Nameless partnered with Nelly the Goon, Habib, Dmore and Trio Mio in an urban pop cross-generational collaboration in 'Bandana ya Esir' that aimed at remembering the star by introducing his legacy to the younger generation.
Also read: Celebrities remember E-Sir 19 years on
Related Topics