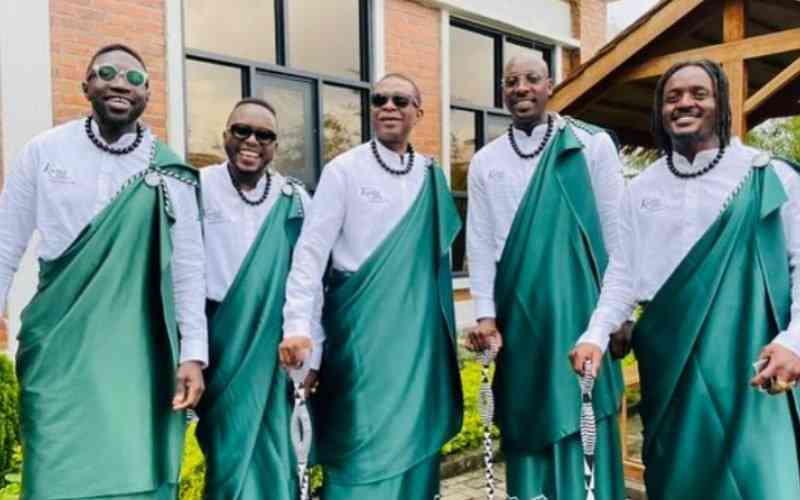 Kenyan boyband Sauti Sol was among guests who were invited to the 18th edition of Kwita Izina, a Rwandan ceremony for naming baby gorillas.
This year's event was held at Kinigi, the foothills of Volcanoes National Park and was graced by industry captains, philanthropists, sports and music icons as well as leading conservationists.
Sauti Sol disclosed that they named a new family of mountain gorillas 'Kwisanga,' which means "feel at home" in Kinyarwanda.
"We have chosen the name Kwisanga, which means Feel At Home. This name is given to the newest gorilla family in Rwanda as a celebration of the peaceful splitting of the Kwitonda group that left both groups equally sharing members," they stated.
"Since Kwisanga and Kwitonda were formed, the groups have met a number of times without any aggressive interactions, allowing members from two families to meet and socialize."
Taking to social media, Sauti Sol expressed gratitude for being accorded the privilege of being the first ones ever to name a whole gorilla family and
"What an amazing day and evening spent courtesy of the @rdb_rw and @visitrwanda. We had the great honour of being the first ever to name a whole gorilla family during the 18th Kwita Inzina ceremony. Joined by some of our idols @didierdrogba @gilbertosilva @jpsorin6 we couldn't be happier to be part of history," they posted.
Among other notable personalities at the event included former Chelsea striker Didier Drogba, who named a baby gorilla Ishami, Kinyarwanda for offspring and former Villareal fullback Juan Pablo Sorin.
The heir apparent to the British throne Charles, Prince of Wales, also had the privilege of naming a male baby gorilla. He named the baby Ubwuzuzanye which translates to harmony in Kinyarwanda, a name that was chosen to raise awareness of the need for humanity to come together as one to protect the environment and achieve sustainable development.
View this post on Instagram
Related Topics