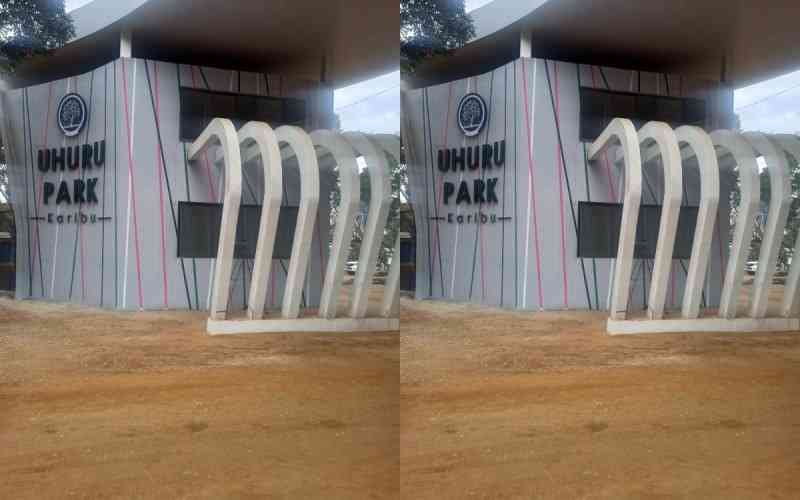 It is just a matter of time before Nairobians have a taste of the refurbished Uhuru Park and Central Park, which have remained out of bounds for several months now.
The parks were closed for renovation to give them a facelift in a changing world where modernity matters most.
The previous Nairobi County Assembly gave the nod for the refurbishment of the two parks amid growing concerns the recreational facilities were fast losing their allure.
The motion allowing the Nairobi Metropolitan Services (NMS) to spruce up the parks was led by then Majority Leader Abdi Guyo.
So much had the status of Uhuru Park waned that it became a den of criminals posing as visitors, gum-sniffing street boys and piles of litter on the grass lawns, pathways and benches.
In fact, the once-glorious dam at the centre of the park had turned into a dull, smelly swamp with patches of hyacinth and aquatic weeds choking the fish underneath.
"We must cherish parks and green spaces. As you are aware, when you go to Uhuru Park now, ithas turned into a den of thieves and a haven for street families.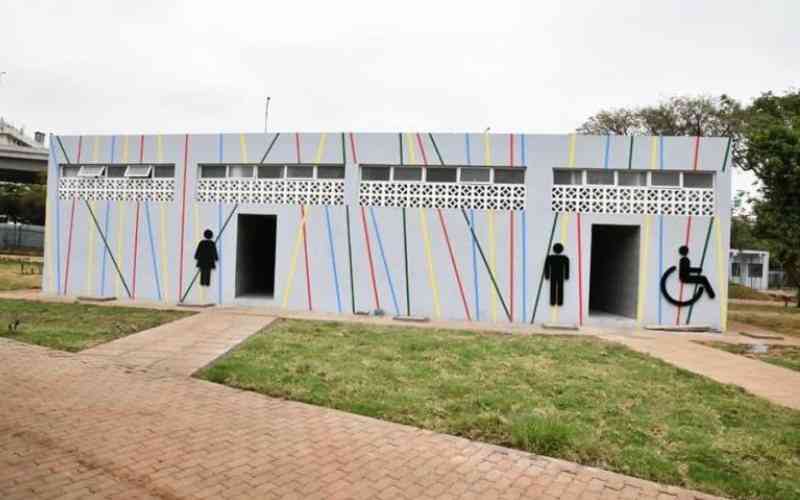 Around the City, the only area where someone can go and unwind is Uhuru Park, but now members of the public cannot access the park because of these vices," Guyo, now Isiolo governor, said while making his case for a refurbished park.
And now, thanks to the NMS and a hefty budget injection from Nairobi city coffers, Uhuru Park is now a clean and magnificent green square worthy of international accolades.
With the renovation at the tail-end of completion, the park has undergone a makeover that will excite even the dullest of eyes.
Before its closure in September last year, Kenyans and even foreign tourists in need of rest could walk to the park to relax.
Equally, families held outdoor activities while lovers enjoyed the quiet environment at the recreational facilities.
One year down the line, the park is breathing a new lease of life thanks to the installation and erection of fresh features that are giving it a dazzling touch.
A sneak peek into a renovated Uhuru Park gives the impression of a facility sparkling with beauty and modernity. It is expected to be opened to the public soon.
And on August 30, NMS shared online photos of features and facilities at the park, which has been expanded and partitioned with well-paved cabro walkways.
It has a section for skating, an outdoor gym, a library and amphitheatre installed with an audiovisual screen.
"The rehabilitation works which come 52 years after the green spaces were first opened to the public involved construction of various buildings and landscaping features," NMS tweeted.
The Mau Mau freedom fighters' monuments have also been touched up with a fresh coat of paint, and water fountains reassembled. The walkways have been replaced with colourful slabs surrounded by well-manicured lawns, beautifully trimmed trees and sculptures of different animals.
Another massive attraction at the park is the skeleton of a giant airplane that has since been installed. From a distance, it looks like an aircraft that is about to take off.
The area that was previously used as a podium was brought down and the open field now boasts of several small fountains and expansive publi benches made of hardwood. The park will also have a children's play area, complete with bouncing castles and merry-go-rounds.
NMS noted: "Nairobi's most popular recreational parks, Uhuru and Central Parks have undergone a major facelift to ensure both facilities meet international standards.
Uhuru Park was gazetted and opened to the public by Kenya's first President Mzee Jomo Kenyatta on May 23, 1969. Since then, the facility has been an embodiment of Kenya's freedom struggle.
It is also the home of the Mau-Mau freedom fighter's monument that honours victims of torture during the colonial era.
Before rehabilitation, the park was a free walk in-walk out facility. But not anymore as visitors will have to pay to enter.
At the entrance of the park are specially designed gates with superior security features for controlling movement. Each gate also has a sentry box for security guards.
One of the imposing gates with the word 'Karibu' inscribed on it, stands directly opposite Serena Hotel.
A similar gate will be towards Parliament Buildings, another access and exit point will be adjacent to Nyayo House, while the other gate links Green Park Terminus.
The old neglected toilets and urinals have been replaced with modern lavatories. As well, visitors to the park will get to sample exotic meals from different parts of the country.
Other outstanding features include sculptures of warthogs and rhinos placed strategically along the grass lawns. The artificial lake at the centre has also been cleaned up and filled with fresh water.
Interestingly, at Central Park, a monument is being erected in honour of frontline health workers who lost their lives during the Covid-19 pandemic.
And the stately 'Fimbo ya Nyayo', which has also undergone renovation glimmers under a fresh coat of paint. Similarly, the cockerel, a symbol of independent Kenya African National Union (Kanu) party has been replaced with a new one that bears a golden colour.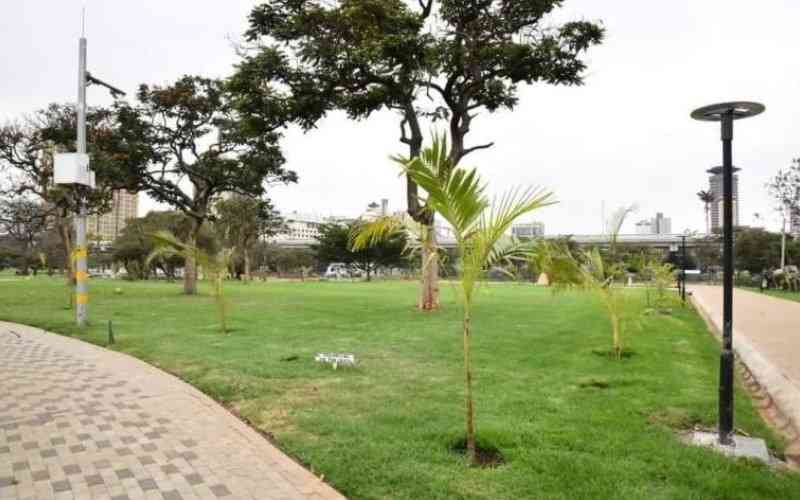 On the other side of the monument is a design of cereals symbolising food security; and a mother with her children representing the country's rich population.
"I'm happy that the monument is getting a fresh look, it had been neglected and no one was even able to understand what it was meant for but the new look is amazing," said James Mungai, a photographer stationed in the park.
He added: "When the rehabilitation started last year, we were told to vacate until it is completed, we hope we will be allowed back like before because I'm sure many people will be interested to pose next to the monument."
The park will also have an outdoor library for use by children, which will also host presentations for book reviews.
Related Topics